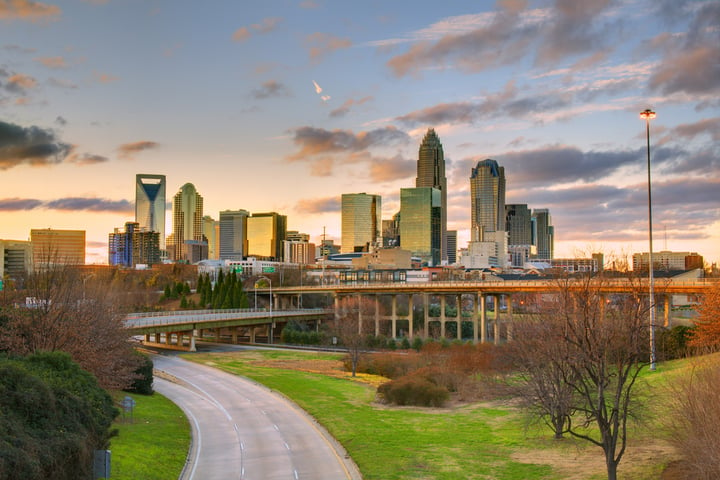 The long-term impact of the coronavirus pandemic is still being determined: but at this point, recruiters in Charlotte, NC are faced with a decisive shift from the candidate-driven market of the past several years. Instead, high unemployment and increased economic uncertainty are driving more conservative behaviors in companies, who have in many cases slowed hiring and adjusted recruiting targets to meet these changes.
Related Reading: How to Improve Your Talent Acquisition Strategy During the Pandemic


This shift is more dramatic in cities and markets like Charlotte, where an extended period of growth – in the population, the economy, and in jobs – led to processes that support companies competing for a limited number of skilled candidates. Now, companies have to change the ways that they conduct sourcing, selection, and hiring to deal with the realities of their new environment.
Many employers are also exploring different ways that they can maintain a more flexible workforce, to accommodate any future changes to the business environment. This means that more companies are considering temporary staffing, contract-to-hire, and payroll services to keep headcount low while still getting necessary work completed.
However, the overall slowdown in hiring has only increased the focus on the positions that still need to be filled. Companies have gone through a period of adjustment, and the jobs that they are hiring for are likely those that have been evaluated and are considered to be most critical for success: which means that for recruiters, the pressure is still on.
Read More: Charlotte Recruiting Strategies To Take Your Business To The Next Level
To improve your talent acquisition strategies in Charlotte, NC, consider:


1. Temporary Workers
Temporary workers offer a flexible solution for companies that have tasks that need to be completed, but either do not want to add more people to their headcount, or that have a limited need for support. For example, if an employee is out on maternity leave, or a company experiences a seasonal surge in demand, a temporary worker can be brought on for a designated period of time.
Related Reading: Candidate Sourcing Strategies: Upgrade Your Talent Pipeline


2.Employee Referrals
Creating or refreshing an employee referral program offers numerous benefits to a company. A candidate sourced from an employee referral is 2.6 - 6.6 percent more likely to accept a job offer after an interview than a candidate from alternate sources. This reduces wasted time and the administrative burden on Charlotte recruiting teams.
82 percent of employers rated employee referrals as having the highest ROI of any candidate sourcing strategy, and 88 percent agreed that candidates referred by current employees are of the highest quality as well.


3.Charlotte Staffing Agencies
The American Staffing Association estimates that staffing agencies help to place more than 15 million employees per year in temporary, contract, and permanent positions. There are numerous benefits to partnering with a staffing agency including:
Access to qualified candidates
Expertise in recruiting top talent
Pre-screening and job matching
The potential for a contract or temp-to-perm placement
By leveraging support from staffing agencies in Charlotte, NC, companies can relieve the administrative burden on recruiting staff and hiring managers by forwarding only pre-screened, highly-qualified candidates for consideration. Using their expertise in connecting job seekers with new positions, a staffing agency can reduce time-to-hire, improving employee productivity and performance metrics throughout the company.
Sparks Group is a nationwide staffing and recruiting firm with specialized divisions in Charlotte, NC. dedicated to helping enterprise and local businesses maximize their talent acquisition capabilities. As a strategic hiring partner, we remove the administrative burden on internal hiring by managing the entire talent acquisition process with top talent that aligns with your business goals.
Begin leveraging Sparks Group's Charlotte staffing services for a holistic strategic approach to hiring the best candidates available. Contact our staffing experts in Charlotte, NC.