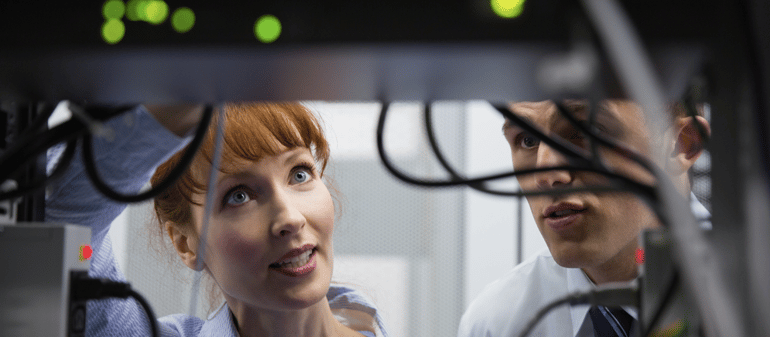 Many companies are discovering the benefits of using a temporary staffing agency to meet IT recruiting challenges, especially in the face of a shortage of highly-skilled candidates.
Unemployment in technology jobs remains low, while growth in IT jobs continues to rise across industries. This puts companies in tough competition to find, recruit, and hire top candidates. Adding to this complexity is the need to scale the workforce rapidly in order to meet changing business conditions.
A temporary staffing agency can help your company to meet these challenges with the following benefits.


5 Ways Temporary Staffing Agencies Benefit IT Recruiting

1. Proactively Maintain Staffing Levels
Temporary IT staffing agencies can help your company maintain optimal staffing levels in the face of employee turnover or changing business needs. It takes an average of 36 days to fill an open position, but this timeline can be extended greatly for candidates in high demand or requiring special skills.
Gaps in the workforce can result in reduced productivity, decrease in work quality, employee burnout, and even have a negative impact on customer service. Temporary staffing agencies quickly fill open positions with skilled technical staff, alleviating the burden on existing employees and providing decision makers more time to find and hire the right full-time employee. In some cases, high-performing temporary staff may even receive offers for full-time employment.
2. Access to Larger, More Diversified Talent Pools
One of the main benefits of a temporary staffing agency is that they are continuously maintaining a vast network of talent. Through constant networking, partnerships, and pre-screenings, IT staffing companies maintain a large, diverse database of top candidates.
Often, temporary staffing agencies have access to candidates whom other recruiters would not, including passive candidates who are not actively seeking a new position, but may be willing to move companies should the right opportunity arise.


3. Reduce Time to Hire
IT staffing services are able to streamline the search, interviewing, and on-boarding process to greatly reduce the time it takes to fill an available position. A company looking to fill a temporary staffing need could have a more difficult time reaching interested candidates, as many candidates are looking for full-time employment. A temporary staffing agency, however, has the structure in place to draw in and engage candidates who are open to, or prefer, a temporary employment situation.
Learn More: Why Time To Hire is a Recruiting Metric That Matters


4. Cost Savings
While clients pay a small uplift to the agency on the hourly salary of temporary employees, that amount is offset by the recruiting costs, statutory taxes, benefits, and various other employments costs that are not incurred. A temporary staffing agency helps a business to control costs and save money by reducing labor costs for existing employees, relieving the burden on the recruiting team and/or hiring managers, and creating a cost-effective solution to temporary scaling requirements.
5. Reduce Burden on Internal Teams
Not only do temporary staffing agencies relieve the burdens brought on by gaps in the workforce, but they also save time for decision-makers and HR teams. Recruiting, interviewing, and on-boarding requires a hefty time investment for those involved throughout the hiring process. This diverts decision-makers and HR teams from their many other strategic and administrative duties.

By partnering with a temporary staffing agency to provide highly-qualified candidates, internal teams can best utilize their time on higher-level initiatives.


Recruiting is a challenge: and recruiting technical staff in a tight market even more so.
Partnering with a temporary staffing agency, like Sparks Group, to meet IT recruiting requirements can help your company become more flexible, scaling as needed without the burden of taking on full-time staff to fulfill a temporary need. It can also help you to become more efficient, optimizing the use of your internal resources by entrusting recruiting functions to a proven expert.
Sparks Group's specialized IT staffing division helps place IT professionals across positions for temporary, contract, and full-time positions. Contact Sparks Group today to learn how our staffing services can help your company respond to a changing business environment efficiently and effectively.
---
Source:
1. https://www.channelpartnersonline.com/2019/06/07/tech-unemployment-reaches-20-year-low-worker-shortages-likely/
2. https://www.shrm.org/hr-today/trends-and-forecasting/research-and-surveys/Documents/2017-Talent-Acquisition-Benchmarking.pdf