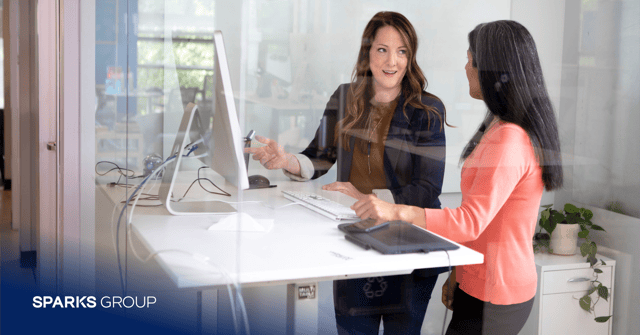 Basic interpersonal communication skills are one of the must-have skills to look for when vetting candidates. Exceptional communication skills align everyone on project details and goals to ensure maximum productivity and high-quality work. It also involves picking up on non-verbal cues about a person's likes and dislikes to provide a respectful work environment.
Despite its importance, research shows communication is one of the most lacking soft skills in the modern workplace. According to McKinsey, 31% of HR professionals surveyed said communication is one of the top three missing soft skills in candidates.1 Our employer poll found communication is the soft skill candidates lack the most, and a follow-up poll found active listening is the most lacking part of communication, followed by verbal communication, written communication, and body language.
Fortunately, companies can bridge this skills gap by developing a strategy to vet candidates for communication skills and upskill their current staff.
Before reading, remember candidates with disabilities may find certain aspects of communication more difficult. These are ways you can help create a comfortable work environment2:
Educate yourself about their disabilities and how you can be accommodating
Acknowledge their strengths that can be a valuable asset to your team
Make sure you have policies in place to create an accepting workplace culture
How to Vet Candidates for Verbal Communication Skills
Good basic verbal communication skills refer to articulating your thoughts clearly in spoken words. Depending on an employee's role, this can include conversations with coworkers, clients, and prospective customers and employees.
Verbal communication can be broken down into different topics, such as3:
Conciseness
Being easy to understand
Asking open-ended questions
Tying verbal communication into non-verbal communication
When vetting candidates, these signs could be good indicators of solid verbal communication skills4:
Not giving long-winded answers and giving interviewers opportunities to respond
Talking in a respectful volume and tone
Asking questions to understand, not just to respond
Being visually engaged in the conversation, such as by making eye contact (but not too much)
Additionally, these questions about verbal communication can help you further understand the candidates' strengths and potential weaknesses:
Describe a time when you had to communicate something complex to someone who didn't have background on the subject. How did you ensure they understood you?
How do you like to interact with your team members?
How do you approach conversations differently depending on the situation, such as a client meeting versus a water cooler chat with a coworker?
How does your verbal communication change in a virtual vs. in-person environment? This is an important question for hybrid roles, both from the comprehension and technical side of ensuring everyone can understand you.
There are several strategies for upskilling employees to improve or build upon their verbal communication skills. One suggestion is to hold internal mock interviews to give employees a safe place to practice their verbal communication. Additionally, you can provide external training opportunities and encourage them to speak up more during meetings.
How to Vet Candidates for Non-Verbal Communication Skills
Good basic non-verbal communication skills refer to showing you're engaged in a conversation through non-verbal cues, such as active listening, written communication, and body language.
When reviewing applicants, these signs could indicate solid non-verbal communication skills.5 (Make sure to have the camera on during virtual meetings so you can pick up on non-verbal cues.):
Facial expressions
Body movement and gestures
Eye contact
Posture
In addition to observing their non-verbal cues, these questions can help you further understand an applicant's non-verbal communication skills:
How do you show your coworkers/clients you're engaged in the conversation when you're not speaking?
What are your go-to non-verbal cues to show people you're listening to them?
What non-verbal cues do you look for in others when making sure they understand you?
(If in a hybrid role) How do your non-verbal cues change in virtual versus in-person meetings?
Like verbal communication, you can also provide training opportunities for employees to work on their non-verbal communication. If you hold a mock interview, recording them allows employees to observe their non-verbal cues to see if they need improvement. Additionally, you can provide external training courses and give employees feedback on non-verbal cues you notice.
Partner with a Staffing Firm to Create a Basic Interpersonal Communication Skills Assessment Strategy
The Sparks Group team can help your company vet candidates for basic interpersonal communication skills. Without the proper foundation for communication, candidates can't excel in their hard skills related to their roles. Soft and hard skills come together to create a well-rounded employee and company.
Sources
1McKinsey & Company, Soft skills for a hard world.
2HelpGuide.org, Disability at Work: Cope with Challenges and Thrive, October 12, 2023.
3Indeed, 10 Effective Ways To Improve Verbal Communication Skills, September 30, 2022.
4Indeed, 8 Types of Positive Verbal Communication for Interviewing, June 9, 2023.
5HelpGuide.org, Nonverbal Communication and Body Language, August 14, 2023.