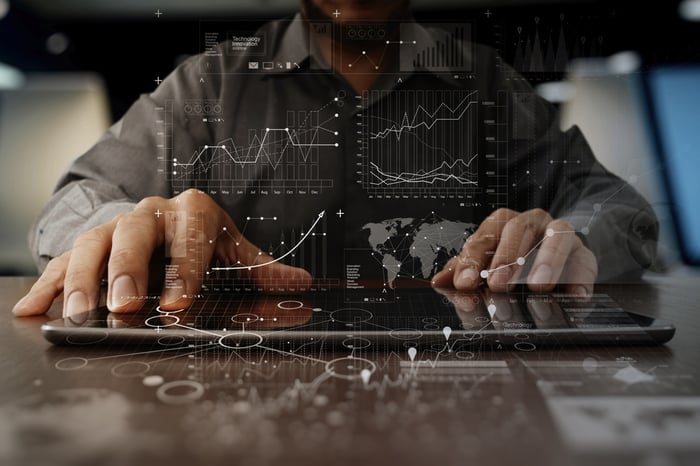 Today's business environment is subject to rapid, unpredictable changes. To succeed, companies must respond to these changes with speed and agility. Excelling at agile responses to a changing business environment is becoming one of the key indicators of a company with a competitive advantage, and one way to gain that advantage is by enhancing your recruiting strategy by employing technological tools. Ensuring that your technology supports business continuity in the face of unpredictable change is one way to gain an advantage in a difficult market.
However, many companies are not employing talent acquisition technology to improve their own results. In the Deloitte Global Human Capital Trends1 survey, only 6 percent of respondents reported that they have best-in-class processes and technology, while 81 percent believe that their recruitment processes are at or below standard.
In-office and remote recruiting both rely on technology - to streamline processes, improve communication, and reduce time-to-hire and cost-to-hire among other staffing KPIs. This makes it important to ensure that you have the best tools in your talent acquisition tech stack - tools that can facilitate recruiting throughout the hiring life cycle - that can function for recruiters and for candidates, regardless of location.
Related Reading: Remote Working Now is an Investment in the Future
With all of the benefits that a comprehensive talent acquisition tech stack can provide, more companies are considering how to turn technology to improving recruiting and providing an advantage in a rapidly changing business environment.
A Talent Acquisition Tech Stack for the Entire Cycle
A comprehensive talent acquisition technology stack can be directed to improve recruitment, including recruiter productivity, candidate quality and diversity, and KPIs such as time-to hire and cost-to-hire. To create an effective tech stack with tools that can be integrated to work together, recruiters should consider the different tools that are available throughout the entire recruiting cycle:
Sourcing
Engagement
Application
Interviewing
Onboarding
These tools should be selected with practical considerations in mind: not only what benefits they can provide, but will they integrate with one another, so that processes can be streamlined? Will they facilitate anywhere, anytime access to meet the needs of a changing workforce?
What Tools are Available?
1. Sourcing
Technology can be applied to help companies find and communicate with candidates for open positions - both current and future. Many companies have employed an applicant tracking system (ATS) to record resumes, and other details about the candidate - whether they were selected for assessment or interview, etc. There are also tools available that can automatically post a job opening to a number of online sites and job boards, automating the repetitive copy and paste tasks required for manual posting.

2. Engagement
A candidate relationship management (CRM) tool takes an ATS one step further, adding contextual information to basic resume and stage data, and enabling ongoing communication and interaction. This helps to keep candidates engaged, even during an extended process or when building a talent pipeline for future positions.

Related Reading: Incentive Programs: Improving Employee Retention and Engagement

3. Application
According to CareerBuilder, 60% of applicants have abandoned an application because it is too lengthy or complicated. To make sure that you are getting the right candidates, it is important to streamline the application process, and ensure that it is mobile-optimized. Technology can be applied on the front end, allowing candidates to access job descriptions and applications on their smartphone, upload resumes from the cloud (e.g., Dropbox and Google Drive), apply to jobs using third party quick-apply services (e.g., Apply with LinkedIn, Apply With Indeed, etc.) , then on the back end to automate data entry into an ATS or CRM.
4. Interviewing
Video interviews allow a company to be more flexible in scheduling interviews, making them convenient for candidates as well as hiring managers. However, an AI-powered video interview provides even more benefits: questions are standardized, ensuring a consistent (and comparable) experience between candidates, while AI-driven analysis of video interviews automates preliminary screening ensuring that only top candidates are moved forward for consideration for in-person interviews.
5. Onboarding
Once the selection process is completed, the onboarding process begins, and the strength and efficiency of a company's onboarding process can have a significant impact on the new hire experience. One in five new hires leave or quit during the first 45 days of employment: but a strong onboarding program has been shown to improve retention by 82% and new hire productivity by more than 70%.
Related Reading: 9 Tips for Effectively Onboarding Remote Employees
Technology can be applied to onboarding by extending the process in both directions: the strongest onboarding programs begin before the employee's first day and continue beyond the first month. Technology can be used to engage new hires through social media, automated emails, and distributed information prior to the first day; onboarding paperwork and training can be streamlined and duplicated effort eliminated with an integrated tech solution, and regular check ins can be automatically scheduled to ensure that the new hire remains engaged for several months beyond the hiring date.
Creating a comprehensive talent acquisition tech stack can help a company to improve recruiting processes and outcomes, ensuring that top talent is located, engaged, and hired - and that a foundation is laid for retention as well. If you are struggling with locating top talent, or are considering different solutions to improve recruiting outcomes, you may consider engaging a staffing partner to help.

Sparks Group is a nationally-awarded, certified diverse staffing agency with proven experience in finding the right candidate for every open position. As a staffing partner, Sparks Group can also help companies streamline and improve recruitment processes to ensure the best possible outcomes. Contact Sparks Group today to connect with top talent and improve your recruitment efforts today.
[1] https://www2.deloitte.com/us/en/insights/focus/human-capital-trends/2019/talent-acquisition-trends-strategies.html#rewiring-how-organizations-use-t