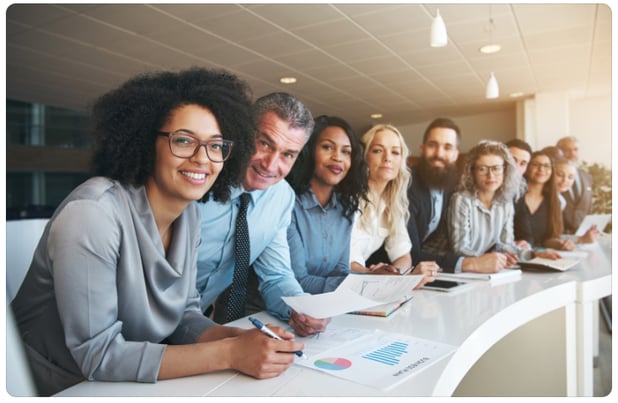 Candidate recruitment to attract top talent, particularly in a competitive market, can be challenging. Low unemployment and continued job growth across industries have increased the competition for qualified candidates among potential employers.
A recent study by PWC found that 80 percent of CEOs are worried about finding and hiring employees with key skills required for success at their company, particularly digital skills, while 38 percent are "extremely concerned."
Companies are looking for high-quality candidates to fit their business, not only now but in the future. However, being too selective can increase the time to hire and cause several stresses that can impact the company's productivity and bottom line.
Businesses seeking to improve their ability to attract exceptional talent with the right skills and best culture add should consider implementing these five candidate recruitment strategies.
Candidate Recruitment Strategies for Attracting Top Talent
1. Re-Evaluate Positions
Do not rely on standardized job descriptions that could be out-of-date or obsolete. As organizations evolve, job descriptions must be updated to reflect those business changes. By precisely describing the position requirements, businesses can target their ideal candidates more closely and streamline the interview process. This leads to a better eventual fit between employee and job.
Learn More: How to Recruit Passive Candidates and Simplify Your Hiring Process
2. Reinforce Your Brand
A positive brand image can help a company attract top talent, even passive candidates who aren't necessarily considering a job shift. In one survey, 84 percent of employees said they would consider leaving their current job if they received an offer from a different company with an excellent reputation.
An organization's brand is its representation to the public; aligning the brand to appeal to the type of candidate the company wants is a critical component of an effective recruiting strategy.
Related: How to Build a Great Employment Branding Strategy
3. Expand Your Search
Job boards and company websites are good places to post open positions. Additionally, social media is growing as a method of connecting with both active and passive candidates. One study found that 79 percent of candidates use social media in their job search. Another reported that 84 percent of employers currently employ social media as part of their recruiting strategy.
However, with many employers utilizing social recruiting, competition for top candidates is high on social media sites as well. Look to other online resources to connect with candidates, such as a professional association that may host a job board or a public forum where professionals from a specific industry or job type can network.
Moreover, including in-person networking events and employee referral programs are an excellent way to connect with potential candidates for current and future business needs.
4. Build Your Talent Pipeline
Finding the ideal candidate to vet and interview is a sizeable portion of the recruitment process. Proactive hiring is an effective way to build your talent pipeline by creating a pool of attractive candidates who are ready to fill current and future available positions. This can help companies to improve time to hire, access better-quality candidates, and increase the likelihood of an offer being accepted.
5. Streamline Your Process
47 percent of job offer rejections happen because the candidate accepted a different job. This underscores that recruiters need to move quickly to secure the best candidates as long as competition is high. While the average time to hire is 27 business days, the best candidates are off the market in 10. A streamlined recruiting process to quickly identify, interview, and extend an offer to a top candidate is fundamental to a successful recruiting process.
6. Consider a Staffing Agency
As the labor market becomes more competitive for companies looking to attract and retain top talent, an experienced staffing agency can provide a several benefits to support a proactive recruiting strategy.
Staffing agencies maintain a wide and varied pool of talent, many of whom are passive and difficult for a standard recruiter to reach. Agencies have expertise in evaluating candidates for skills, knowledge, aptitude, and fit with a position. This improves the quality of candidates, reduces the time to hire, and eases the administrative burden of reviewing and screening applicants for open positions at a company.
These improvements mean a company can fill its positions, continue working at maximum capacity, and retain top talent for a longer duration, all of which help a company's bottom line.
Sparks Group is an authoritative resource for candidate recruitment, expediting the acquisition of talent with specialized recruiting experts for industries ,including administrative, accounting, creative, and technology professionals at all levels of an organization.
For more information on how Sparks Group can help your business attract and hire exceptional talent, now and in the future, connect with a staffing and recruiting expert today.
---
Sources:
https://www.pwc.com/gx/en/ceo-survey/2018/deep-dives/pwc-ceo-survey-talent.pdf
https://everyonesocial.com/blog/social-recruiting-statistics/
https://www.shrm.org/hr-today/trends-and-forecasting/research-and-surveys/pages/social-media-recruiting-screening-2015.aspx
https://www.mrinetwork.com/media/303943/recruiter_sentiment_study_1st_half_2016.pdf