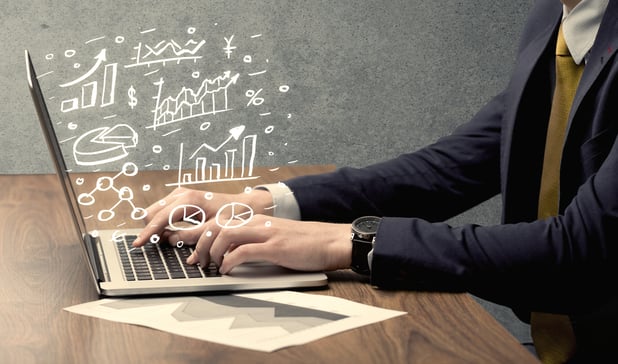 Cost to hire is one of the key recruiting metrics for human resources departments to benchmark and track. In part, this is because budgets are always under scrutiny, and keeping costs low is important. In a time of economic uncertainty, this is even more critical.
Cost to hire is measured by dollar amount and is directly related to an organization's bottom line - but it also has a deeper meaning for the organization, as it is intricately tied to a number of recruitment processes. Reducing recruiting costs means that the processes are becoming more efficient, that selection processes are effective, and that the quality of candidates is improving.
When the recruiting processes are inefficient, resources are wasted, which increases the total cost to hire. For example, jobs may be posted on expensive job boards that don't get results. Ineffective selection processes – where the wrong candidate is passed forward to the interview stage - waste the time of recruiters and hiring managers and inflate costs further. And low overall quality of candidates is a further waste of recruitment resources and can result in a bad hire, which can cost an organization even more.
In order to manage cost to hire, the first step is to calculate current cost of hire, to establish a benchmark. Recruitment process strategies can then be implemented to reduce cost to hire, and the metric can be monitored over time to measure the effectiveness of new strategies.
Related Reading: Uncovering Cost to Hire: How a Bad Hire Impacts Your Bottom Line
Calculate Cost to Hire
Estimates of cost to hire can vary, depending on the factors that are used in the calculation. For an accurate picture of your company's cost to hire, be sure to include:
Technology
Marketing
Advertising
Job Boards
Career Fairs
Agency fees
In-house recruiter salary + benefits
Or use the Sparks Group Cost to Hire Calculator, an easy-to-use tool that provides users with a structured means of calculating cost to hire, in order to establish a benchmark and monitor progress in reducing cost to hire over time.
Strategies to Reduce Cost to Hire
Once you have a benchmark, there are a number of strategies you can take to reduce cost to hire. These include:
1. Candidate Persona
Use information from the job description, hiring managers, and peers to build a picture of the ideal candidate for an open position: a candidate persona. Give the persona additional layers based on insights about company culture, attributes of employees that have been outstanding in similar positions, company surveys, etc. to include not only job knowledge and skills, but also other attributes that will help determine fit, and will contribute to success in the open position.
This persona will help sourcing, as it will help you target where to find the best candidates, and eliminate the expense of posting jobs on the wrong boards, or looking to career fairs where a careers page on your website might serve you better.
It will also help with selection, as the hiring team will have a standard – the ideal candidate persona – that all applicants can be compared against. This helps to standardize evaluation to ensure only those candidates closest to the ideal candidate persona are moved forward to the interview stage, saving time and resources.
2. Talent Pipeline
A talent pipeline is one of the best candidate sourcing strategies to reduce cost to hire, by improving the overall efficiency of the recruiting process. To build a talent pipeline, a recruiter should not only identify candidates for positions that are currently open, but also identify and cultivate relationships with candidates for positions that may open up in the future. With a talent pipeline, a recruiter can have pre-qualified talent on hand, so when a job becomes available, a short list is available immediately for review.
This affects cost to hire by reducing the resources that are required to source candidates, and the time and effort necessary to evaluate candidates, as they are pre-qualified when placed in the pipeline. Moreover, it can help to significantly improve the overall quality of candidates, as recruiters aren't limited to candidates that happen to be available when a job is available. A pipeline can include passive candidates that are currently employed, but interested in hearing about opportunities that arise, giving recruiters a larger pool of candidates to choose from.
3. Automate the Processes
Automating processes like candidate communication, multi-channel posting, requisition and approval processes and more can help to reduce cost to hire. Automation improves the efficiency of recruiting processes, relieving employees of the administrative burden of repetitive, low-level processes and allowing them to focus on higher-value tasks. Also, automation helps to reduce human errors, so that nothing is forgotten or falls between the cracks of a manual process.
This reduces cost to hire by channeling resources to high-value tasks, as well as eliminating costs associated with identifying and correcting errors.
Related Reading: Recruiting Process Tips to Find the Perfect Candidate
4. Establish a Referral Program
Candidates that are recommended by current employees1:

Are 5 times more likely to be hired
Perform up to 15% better
Have a shorter time to hire
In fact, 82% of executives rate employee referral hires as having the best ROI of any candidate sourcing channel.
Referral programs help to reduce cost to hire by providing fast access to quality candidates that are likely to stay with the company longer. Any rewards or bonuses offered to employees for successful referrals can be gauged against the overall elimination of recruiting savings, such as job board postings, etc.
5. Partner with an Agency
A hiring agency can help a company control cost to hire, by providing quick access to pre-screened, qualified candidates. Moreover, a qualified staffing agency like Sparks Group can leverage years of experience to ensure that only top talent is advanced to recruiters for review – saving the time and resources required for sourcing and screening low-quality candidates.
Learn more: How Partnering with a Staffing Firm Saves Your Company Resources
Sparks Group offers diversified staffing and recruiting services to help businesses attract and retain top talent. For more strategies to attract and retain top talent for your company, contact Sparks Group today or set up a free consultation with one of our talent acquisition professionals.
[1] https://blog.clearcompany.com/10-erp-fast-facts-with-bonus-tips