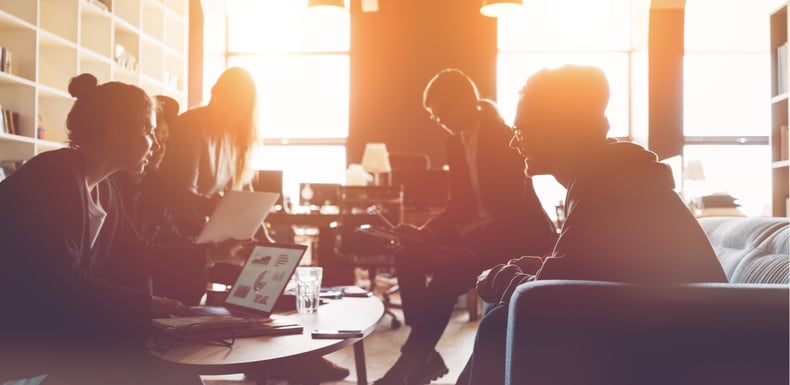 Successfully recruiting millennials demands a fresh spin on an old strategy.
Estimates predict that by 2025, this generation will comprise up to 75 percent of the workforce – which means companies must learn how to engage with them effectively.
Millennials are unlike any other generation of professionals. With this demographic, it's about all about what your company can offer. The central theme is to focus on growth opportunities, perks, benefits and cultures that are important to those born between the years 1982 and 2002.
With that said, here are the four best practice HR teams should keep in mind when recruiting millennials:
1. Offer flexible work schedules
74 percent of millennials desire flexible working schedules. With an ability to work anywhere, modern professionals often feel pressured to be perpetually "on."

When recruiting millennial employees, give them the option to individualize their schedules, on their terms. For example, permit working from home if they don't have client meetings, leaving the office for an hour during the day to pursue personal development, or creating compressed, four-day workweeks.

2. Prioritize growth and development
It's important to remember that young professionals want to learn and contribute. They want to develop their careers – and they aren't afraid to leave your organization and work elsewhere to obtain the growth they need.

According to a survey, millennial employees that are most likely to remain with their company are satisfied with its support of their professional development. To attract and retain top talent in this demographic, create development opportunities they crave.

3. Highlight perks that are important to millennials
About 64 percent of millennial workers care about company perks. Although competitive salaries and robust health benefits are appealing to all workers, millennials are also looking for unique bonuses. Some ideas include an onsite fitness facility, onsite meals, matching 401(k) contributions, paternity leave, PTO for volunteering, and unlimited vacation time.

4. Focus on improving your company culture
Millennial professionals care deeply about company culture. According to Deloitte's 2016 survey on millennials, 76 percent are more likely to report high levels of satisfaction in a creative, inclusive environment. As a group, millennials want to feel good about the work they are doing and proud of the organizations they affiliate with.

Achieve success when recruiting millennials by incorporating company culture and crafting a compelling brand story. Create a mission statement with heart. Refine your values and stand behind them. Let millennials know that there is an opportunity for them to influence the workplace and make a difference.

Your talent acquisition strategy should take into account the perks, benefits, schedules and company culture this demographic desires. Focus on what they are looking for in a company – and on what you can offer them – when engaging with and recruiting millennials.
If you're struggling to recruit or attract millennial talent, partnering with a staffing and recruitment agency that can provide proven tips and strategies to attract young professionals, like Sparks Group
, can save valuable time and resources. Recruiting partners can assist in matching your organization with talented and qualified millennials and help you maintain some of the strategies outlined in this piece.


To learn more about how partnering with a staffing agency can improve your access to those in the millennial workforce, schedule a free consultation with a Sparks Group recruitment expert today.
Sources:
https://www.forbes.com/sites/workday/2016/05/05/workforce-2020-what-you-need-to-know-now/#3fe67b572d63
https://www.forbes.com/sites/workday/2016/05/05/workforce-2020-what-you-need-to-know-now/#3fe67b572d63
https://www2.deloitte.com/content/dam/Deloitte/global/Documents/About-Deloitte/gx-millenial-survey-2016-exec-summary.pdf
https://business.linkedin.com/talent-solutions/blog/hiring-millennials/2016/new-insights-that-may-make-you-rethink-how-you-recruit-millennials?utm_source=feedblitz&utm_medium=FeedBlitzEmail&utm_content=946764&utm_campaign=0