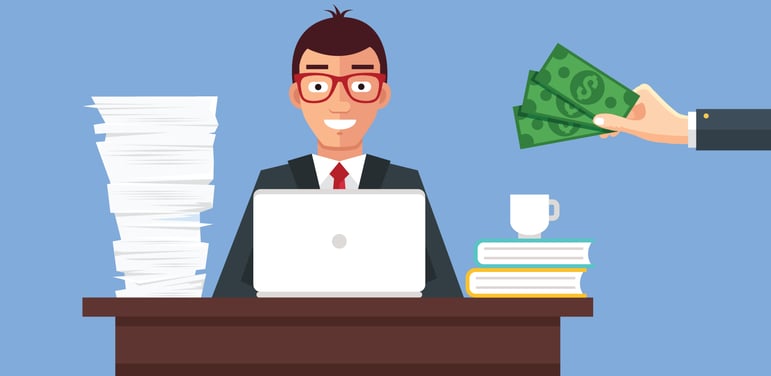 It's no big secret that all successful organizations have great staff. In order to build a strong workforce, you want a team of hardworking, talented, dedicated people who are committed to your company.
However, if you want to attract the top talent in your field, you need to be prepared to offer highly attractive wages.
This is what the staffing industry calls "competitive compensation", i.e., paying your employees slightly more than the going rate. Many workforce experts have found that there's no advantage to employers to simply offer average salaries to talented employees—and a big disadvantage to not doing so.
So, how does competitive employee compensation work?
Talented employees are usually aware of their abilities. They know that they have the in-demand skills to attract the attention of employers and expect to be compensated accordingly. Employees rarely leave an organization to take an offer of less money, but they do regularly go elsewhere when they feel they could be making more money in a comparable position.
In order to stand out as a company that values talent and wants to retain the best people, you might want to consider offering a more competitive compensation package to your current and future staff. Becoming the company in your industry that is known for offering great salaries makes you a highly desirable place to work. And this is exactly what most employers are looking for.
Learn More: Employee Benefits That Attract Top Tech Talent In Washington, DC
When you have the best people on your side, everything about your organization benefits. Your team feels valued and, as a result, puts more time and effort into making your company excel.
Don't get carried away
Now even though we've just outlined the importance of competitive compensation when it comes to attracting top talent, it's also key to keep yourself in check. Never offer wages that your company is unable to provide long term. You don't want to bankrupt your company by trying to keep up with the compensation offered by your competitors.
Learn More: Where to Get Salary Data You Can Actually Use
Rather, look at your business model and consider where you might be able to re-allocate funds into staff salaries. Enlist your human resources department in examining where and how you might be able to rearrange dollars to allow for a more competitive compensation allowance.
For more information about employee compensation strategies, contact the staff at Sparks Group. We'd be happy to discuss your company's needs with you further!