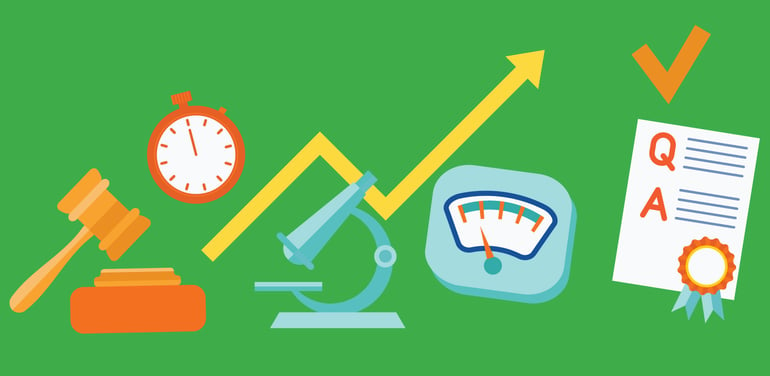 In 2004, the US Department of Labor updated the standard salary level for "exempt" employees -- those who did not have to be paid time and a half for overtime hours in excess of 40 hours per week. At the time, the DOL set the minimum compensation for "exempt" employees at $455 per week, or $23,660 for a full-year worker.
This past fall, the DOL proposed an update to this rule -- one that has rocked the business community. Among other things, the DOL proposes to increase the standard salary level to $921 per week, or $47,892 per year.1
Here's what you need to know:
What is the Rule and What Do I Need to Know?
The current proposal would:
Set the standard salary level at $921 per week ($47,892 per year)1 for all salaried workers
Increase the total annual compensation requirement for "highly compensated employees" to $122,148
Create a method for automatically updating these levels in the future
In other words, employees who make less than $47,892 per year would have to receive time and a half for overtime work -- no matter what kind of work they do.
Related: How Will the FLSA Overtime Rule Affect Employers?
When Does the Rule Take Effect?
The public comment period for the proposed rule ended on September 4, 2015. During the comments period, the DOL received over 270,000 comments, including 50,000 in just the last week before the comments period closed.
The deluge of comments represents just one more delay in this rulemaking process. Originally, the DOL had planned to issue the proposed rules in November 2014, but they weren't released until May 2015. Now, it's not clear when the finalized rule will appear. And the upcoming presidential election may represent another "wild card" in the process.
Learn More: 5 Employment Laws Every Manager Should Know
Nevertheless, experts are convinced that the minimum salary threshold will be increasing. The question is how high it will go.
Who Does the Exempt vs Non Exempt Employee Rule Affect?
As it currently stands, the proposed rule will affect every worker who makes more than $47,892 per year. The DOL relied upon 2013 data in the development of the "Notice of Proposed Rulemaking," under which the 40th percentile of weekly earnings for full-time salaried workers was $921 per week. Using 2016 data, however, it's likely that the threshold will increase to $970 a week, or $50,440.
In addition to the threshold increase, the DOL has recommended eliminating an exemption based on job description. So managerial or professional workers who are currently exempt based on the work they do won't be exempt on this basis any longer. The proposed rule would apply to all workers.
However, this plan isn't set in stone. When it released the proposed rule for public comment, the DOL specifically asked for feedback on how to change the duties tests. It also asked commenters to weigh in on how well the current duties tests work to screen out employees who are not doing the kind of work the tests are meant to identify. It's possible that the finalized rule will include some kind of duties test for screening out bonafide white-collar exempt employees.
How Can we Implement the New Rule?
While the final rule isn't in place yet, many companies are already strategizing methods for implementing this or a similar rule. Here are some steps to consider:
Sort employees by salary. The numbers make it easy to see who will be considered "exempt" and who won't -- just look at their annual salaries.
Calculate the hours each person actually works. For exempt employees making less than $50,440 per year, figure out how many hours they actually put in each week. Workers who hit close to the 40-hour number every week probably won't earn a great deal of overtime -- but those who routinely put in 50 to 60 hours per week will.
Determine the most cost-effective option. Some employees work enough hours over 40 each week that simply paying them more than $50,440 per year is the most cost-effective option. For others, this is not the case. You won't know until you do the math, though, so focus on the employees who are regularly clocking more than 40 hours per week.
Create a no-overtime rule. Tell your staff that they are not allowed to put in overtime. While you'll still have to pay if someone breaks the rule, you can also impose sanctions, up to and including firing the person for their transgression.
How Can Staffing Firms Assist?
Staffing firms specialize in helping their clients control staffing costs without sacrificing quality. For special projects or a seasonal rush, your staffing partner can help you find qualified temporary staff to help you avoid excessive overtime costs. For direct hire positions, work with your recruiter to create a clear job description that states the job's expectations -- and keeps them within the 40-hour window.
Control overtime. Make smarter hiring decisions. Contact Sparks Group for a free consultation today.

Note: This article is not intended as legal advice and should not be understood as such. For legal questions related to your specific business, please contact an attorney who is licensed to practice law in your state.
Footnote:
1 The Department of Labor relied upon 2013 data in the development of the NPRM, under which the 40th percentile of weekly earnings for full-time salaried workers was $921 per week. In 2016, the salary level would likely be $970 a week ($50,440 a year) based on the proposed rule.