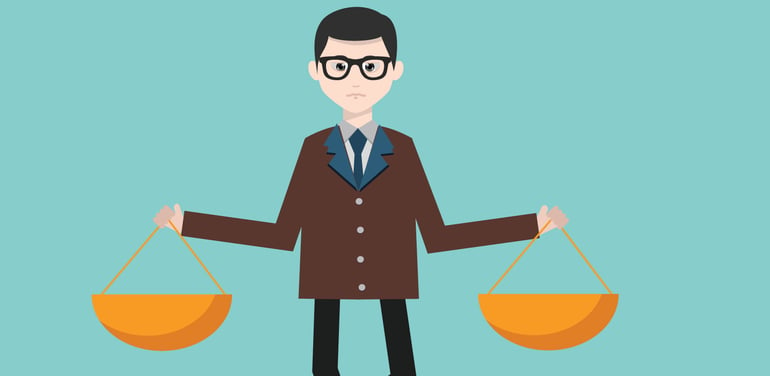 There's a whole lot more to being the boss than simply hiring, firing and assigning work to your staff. As a responsible employer, it's your job to be cognizant of all applicable employment laws, and ensure that your company adheres to all government standards.
5 Employment Laws Every Manager Should Know:
1. Overtime Eligibility for Non-Exempt Employees
Under the terms of the Fair Labor Standards Act (FLSA), you're required to pay your non-exempt employees at least one and one-half times their regular rate of pay after they've exceeded 40 hours of work within any given workweek. There's a good chance you have both exempt and non-exempt workers on staff, so periodically check to ensure people are properly categorized. Exempt employees must earn at least $23,600 per year, be paid on a salary basis and perform certain exempt responsibilities governed by job type.
Related: Exempt vs Non Exempt Employee Overtime Eligibility
2. Military Personnel Returning From Active Duty
Under the terms of the Uniformed Services Employment and Reemployment Rights Act (USERRA), you must give a reservist their job back if they've been away from the position for five years or less. Timing, frequency, duration and nature of the service do not matter as long as the employee meets the basic eligibility requirements. If the same job is no longer available, you can put the person in an equivalent position as long as it has the same seniority, status, pay and any other associated benefits.
3. Never Hiring Undocumented Workers
No matter how talented the person is and how much you want to help them, hiring and employing undocumented citizens is illegal. If you're caught, you'll be subject to serious fines and could even face jail time. Avoid this by carefully vetting each and every new hire by requiring them to complete an I-9 prior to their first day.
4. Providing a Safe Workplace
Your company doesn't have to be housed in a trendy loft with an expensive cappuccino maker, but you are required by law to give your team a safe place to work. The Occupational Safety and Health Administration (OSHA) requires employers to provide a workplace that's free of known hazards and conform to OSHA standards. Accidents may happen that are out of your control, but it's your responsibility to build the foundation for a safe and healthy work environment.
5. Accommodating Nursing Mothers
If you have a new mother on staff who is nursing her child, allowing her reasonable break times to express milk isn't just a courtesy — it's a law. Section 7 of the FLSA requires you to grant the mother sufficient time throughout day to express milk for a period of one year after the child is born and to give her a private place — besides the bathroom — to handle this responsibility.
Need a little help finding the right administrative, professional, technical or creative talent to add to your team? Partner with Sparks Group. We've been providing top talent Our tenured staffing professionals will work with you to create a customized solution that meets your company's unique needs.
Note: This article is not intended as legal advice and should not be understood as such. For legal questions related to your specific business, please contact an attorney who is licensed to practice law in your state.