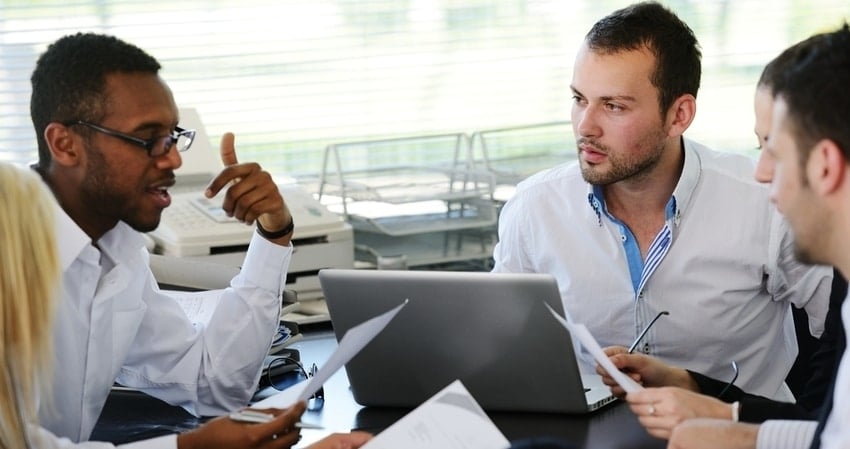 Recruiting the best employees for a company is an entire job in itself. Yet often, human resource management teams are responsible for the discovery and on-boarding of new hires in addition to a growing list of administrative duties and strategic initiatives. Juggling these tasks can quickly become burdensome. Not addressing this issue can lead to lower quality hires, decreased productivity, and decreased retention rates.
One solution to reduce the burden on HR teams is to leverage the support of a dedicated recruiting firm. By outsourcing recruiting to a team of specialized hiring experts, HR teams can spend their time interviewing only the most qualified candidates, hand selected by an expert recruiter.
A recruiting firm helps to improve the recruitment process in many ways, including:
Save time and resources

: A recruiting firm saves time by advertising open positions, pre-screening candidates, and conducting background checks on behalf of the company, forwarding only the best candidates to the hiring manager for review.

Shorten hiring cycles

: Recruiting firms maintain a talent pool of qualified candidates and can draw from this pool to find the ideal candidate for an open position quickly and easily.

Gain access to larger talent pools

: Recruiting firms provide access to in-depth talent pools and strong relations with professional networks across locations. This helps to diversify and expand a company's reach to find the perfect candidate.

Increase the quality of candidates

: Recruiting firms leverage years of staffing expertise to fill open positions with the best available candidate.

Control costs

: A recruiting firm helps a company to save money by taking on the burden of advertising, administrative and overhead costs by shortening the hiring cycle and reducing employee turnover.
So when is the right time to begin outsourcing staffing and recruiting services? To better understand if the services of a recruiting firm are necessary for your company, hiring managers can look for these five signs:
1. Trouble Filling Open Positions
A job that remains unfilled despite active recruiting efforts is a sure sign that the current recruiting strategy isn't working. Unfortunately, the longer a job is open the greater the costs to the company in lost revenue, as well as reduced productivity and increased stress on current employees.
A recruiting firm can draw from their talent pool to find quality candidates for open positions, far more quickly than starting from scratch. Firms have relationships with candidates and expertise that can be focused to meet your company's recruiting needs.
2. Your Company Lacks Internal Resources
If your human resources department and hiring managers are already stretched thin, managing a variety of responsibilities and competing priorities, it can be difficult to find the time to recruit and hire. Rather than taking on additional human resources department staff members, a recruiting firm is available when needed but without the full-time, permanent obligation of an internal hire.
3. Increasing Turnover Rates
One study found a $15,000 average cost of turnover for an employee earning $45,000 per year. If your company is losing good employees, recruiting may be one of the reasons. Perhaps the employee that is leaving is a bad hire or a bad fit for the position or for the company. Job vacancies also increase stress on existing employees, which could contribute to turnover as well.
A recruiting firm can help to reduce turnover by improving the quality of candidates and hires, screening for cultural fit, and helping to fill open positions quickly to reduce the workload stress on existing employees.
Learn More: How To Build An Employee Retention Plan
4. Spike In Demand For New Staff
A sudden growth in your organization or a spike in demand for a high volume project may lead to an urgent need for new employees. This puts a great deal of stress on in-house staff and HR processes.
A recruiting firm can be mobilized to fill positions quickly and may offer employees on a temporary, contract, or temp-to-hire basis to accommodate short-term changes as well.
5. Poor Quality Of Hire
The cost of a bad hire, both directly and indirectly, can be tremendous and costly. Bad hiring decisions may be caused by a misunderstanding of job requirements, poor assessment of the candidate's skills, abilities, or temperament, or a rushed, overworked, or inexperienced recruiter or hiring manager.
Partnering with a recruiting firm can improve the quality of candidates by filtering through job applicants to find a candidate that has the ideal skill set and soft skills to join your team.
Consulting with staffing agencies and recruiting firms, like Sparks Group, can have a positive effect throughout an organization. Improving the quality of hire, reducing turnover, and mobilizing quickly to fill open positions can relieve stress on recruiters, hiring managers, and employees that are working hard to fill in for vacant positions.
Sparks Group is a staffing and recruiting firm dedicated to helping companies build and optimize strategic recruiting efforts to place top talent across all industries and reduce hiring spend for sustainable growth.
Is your company experiencing any of the five signs above? Connect with our recruiting experts to see how our staffing services can streamline your recruiting process for business growth.
Or check out Our Divisions to see our industry specializations in:
---
Sources:
https://www.hrdive.com/news/study-turnover-costs-employers-15000-per-worker/449142/