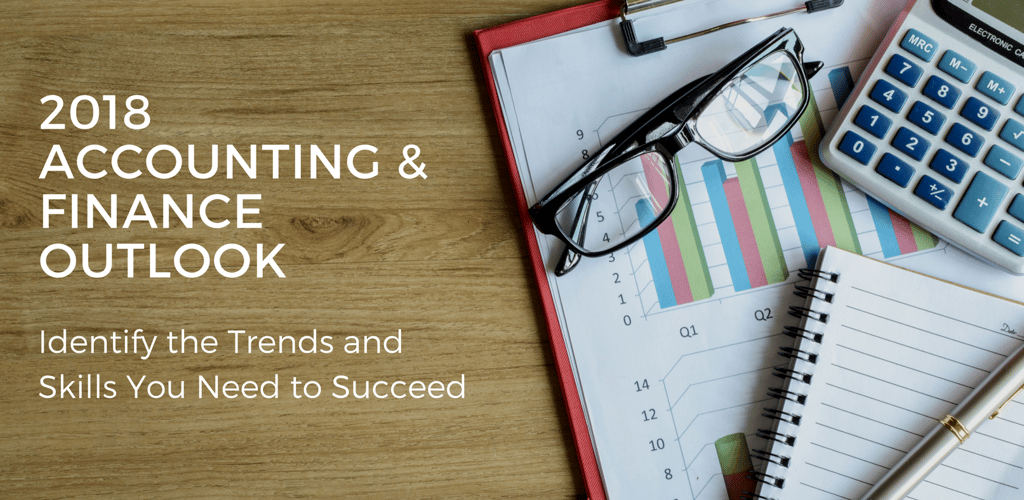 Accounting and finance, along with the entire U.S. marketplace, is currently experiencing a huge shift in demographics, as Baby Boomers are retiring in droves to the tune of 10,000 per day, according to Forbes. This span of change in the workforce, coupled with the rapid transformation in today's business world, will require new skills of Millennials and Generation Z.
Future Accountants and Financial Executives of tomorrow should prepare themselves for the technological advances in automation, outsourcing, and new forms of regulations. These positions are in high demand and pay competitively. In fact, accounting was ranked by U.S. News and World Report as its #6 'Best Business Jobs,' for its median salary at $67,190, low unemployment rate at 2.5%, and availability, with 142,000 new positions expected to be created by 2024 (an 11% growth rate, faster than the average according to the U.S. Bureau of Labor Statistics).
Let's take a brief look at the three specific areas that are revolutionizing accounting and finance, and then we will outline the five most important skills to acquire and succeed with these industry changes.
1. Automation
The ongoing evolution and increased sophistication of artificial intelligence (AI) is transforming the accounting industry. Forbes identified accounting as "One of 10 professional disciplines threatened by technology capable of learning." Automation tools are now able to perform transactional and record keeping tasks. More specifically, taxes are the most threatened by AI. This means one thing: accountants will need to act fast to future-proof their careers.
Learn more: AI In Recruiting: How It's Changing Hiring
2. Outsourcing
The globalization of reporting is here, and smaller firms, as well as larger companies, have begun outsourcing accounting recruitment needs. "Toys R Us, New York Life Insurance and Cengage Learning have reported significant offshoring of their accounting functions, especially taxes. The CEO of Cengage even predicts that soon there will be more people in India knowledgeable about the U.S. Tax Code than there are tax CPAs in the U.S." – Accounting Today.
Learn More: Attracting Top Talent With Accounting Staffing Agencies
3. Regulations
Cybersecurity is the driving force behind new forms of regulations. Corporate policies will need to be created to emphasize safe technology practices. Firms must be aware of the open network threats. Accountants who abide by new industry regulations will be prepared if and when open network attacks happen.

How To Ensure Accounting and Finance Skills Continue to Set You Up for Success
1. Specialize
Accountants must educate themselves on the evolving role of technology in the business world. Specialize quickly because those entry level positions are at more of a risk of an AI takeover than high-level roles. Areas to consider include:
Risk Management
Tax Compliance
ERP (e.g., SAP, Oracle)
Multistate payroll
2. Advance Your Education in Technology
Today's digital innovations are leading accounting firms to search for employees who are skilled in both the accounting field and information technology (IT). "One Big Four firm predicts that it will be hiring only half as many new staff as it currently does by 2020." – Accounting Today
Software and technical skills often seen in job descriptions:
Accounting software such as MS Dynamics, QuickBooks, and Sage
Advanced Excel ability
Expertise in data analytics, advanced modeling techniques, and SQL
Familiarity with business intelligence software (e.g., SAP Business Intelligence, Oracle Hyperion, MicroStrategy BI, IBM Cognos, Tableau)
Microsoft Visual Basic proficiency
3. Refine Your Business Acumen
Accounting roles are expanding to non-traditional functions and financial professionals are making strategic decisions that impact the entire organization. Employers are seeking team members who can see the big picture. Professionals need to understand how every department plays into overall company goals. Additionally, the automation movement and the industry talent shortage is causing employers to outsource entry-level accounting functions, causing companies to then hire a multitasking accounting professional.
4. Sharpen those Interpersonal (communication) Skills
With the acceleration of technology and AI, the accounting profession is moving toward a consulting profession. For example, human social skills come into play when explaining complicated tax forms to clients. Accountants today must have top leadership qualities, world class customer service skills, and an extreme grasp how to successfully multitask.
5. Build Your Network
Last but not least, always continue to expand your network of colleagues. Attending industry conferences through associations will help you garner the latest trends and bring top of mind awareness of your abilities to your network.
In conclusion, technology is responsible for the evolving landscape in the business world. Take the time to learn the Baby Boomers experience and apply their deep industry knowledge to the future of Accounting and Finance. However, the most important action is to continue to learn and pick your specialty!
For more information on current job openings in these advancing roles contact Sparks Group today!