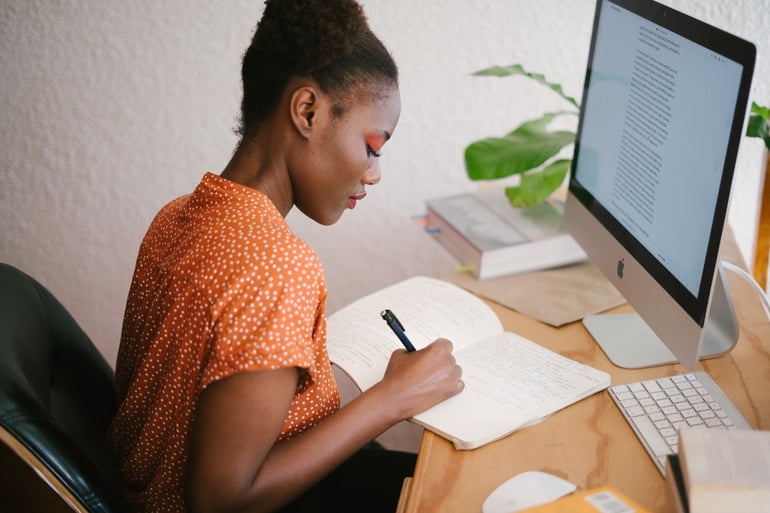 At the onset of the COVID-19 pandemic, millions of U.S. workers became test subjects in what Bloomberg1 dubbed the "World's Largest Work-From-Home Experiment." What used to largely be considered a privilege (or often an incentive to recruit/retain top talent), quickly transformed into a necessity to ensure business continuity and productivity during the pandemic. At its peak in April 2020, nearly 50% of all U.S. workers were remote, more than double the number that reported working from home (at least occasionally) in 2017-18.
Despite some initial logistical and technological hiccups (e.g., distributing laptops, ramping up VPN access for additional staff, and dealing with the occasional internet outage at home), a majority of workers reported that they were able to maintain or increase productivity, according to a survey/report from getAbstract.2 Additionally, over one-third of respondents reported an improved work-life balance. This is somewhat of an ironic (but very much encouraging) discovery, especially during a time when the lines between work life and home life have never been more blurred.
Related Reading: 3 Ways Staffing Companies Can Assist as Employees Return to Work


As states and municipalities lift shelter-in-place orders, many organizations have begun the process of bringing their employees back to the office. While a return to work (RTW) was inevitable and even welcomed by many U.S. workers, large-scale remote work options remain available.

What Do Employers Expect Future Telework to Look Like?
Over the last couple of months, a number of large companies, including Google, Microsoft, and Zillow have announced that remote options would be extended until at least October 2020. Human Resource (HR) professionals largely believe that remote work will continue to grow too. According to a May 2020 survey from the Society of Human Resource Management (SHRM), approximately 68% of respondents stated that their organization "will probably or definitely" adopt broader or more flexible telework policies for ALL of their employees. Some organizations are taking it a step further—nearly 29% of respondents say that they will allow their employees to work full-time through the remainder of 2020.
Teleworking also has buy-in from those that make financial decisions—in a survey by Forbes nearly 20% of surveyed Chief Financial Officers said they planned to keep at least 20% of their workforce working remotely to cut costs.
Related Post: Remote Working Now is an Investment in the Future


What About the Federal Government?
Unlike employers in the private sector counterparts, many government agencies did not have in-place the infrastructure to support the telework demands for hundreds of thousands of additional federal workers. Due, in part, to appropriations provided (estimated at $10.5 billion) in the Coronavirus Stimulus Package, many federal agencies were able to accelerate their long-term goals of accommodating large-scale remote workers. In an article on NextGov,3 a Department of Defense (DoD) official stated "The previous pace was one to two years from planning to implementation for such upgrades. Now, they're being completed [in a matter of days or weeks]." These telework capabilities and options are expected to remain in place after the pandemic subsides. In the article, the official concluded "There will be some permanency to what we have here, specifically, more on the network side and we will also have to create a base of teleworking equipment, which we will have to in some cases reuse…there is going to be an enhanced teleworking capability that will be sustained at the end of COVID-19."


What Do Workers Expect Future Remote Work to Look Like?
Overall, employees are expecting remote work to grow. In the getAbstract report, nearly two-thirds of respondents felt that their employer will allow more flexibility in remote work after COVID-19. The survey results underlined the strong popularity of remote work, making a societal return to the traditional nine-to-five office job hard to envision. Asked about the potential drawbacks of telework, many expressed fears of isolation (27.3%), technology limitations (24.4%), and disconnection to the company (19.4%). Health and safety issues were also of concern, with over 25% of respondents stating that they did not feel safe returning to the office post COVID-19. Despite these concerns, the vast majority of U.S. workers want to work from home (nearly 80% according to Global Workplace Analytics)4; this number is expected to continue to grow.
Free Download: Ensuring a Safe Work Environment Checklist


Conclusion
As the pandemic continues into the summer months, the "work-from-home experiment" remains just that—an ongoing trial with new findings being discovered and new protocols being regularly implemented. As employers find the right combination of workplace safety, productivity, employee satisfaction, cost control, and technological considerations, they will continue to scale remote options (up or down) for their employees. Ultimately, time and adaptability/agility will be the largest determining factor in how telework will evolve post-COVID-19.
If you're looking to evaluate your teleworking program, or are looking to grow your remote-enabled team, consider partnering with a staffing and employment expert. Sparks Group, one of the top staffing and recruiting firms in the U.S., features a deep pool of candidates, ready to contribute to your organization, remotely from anywhere. We place remote candidates across a number of areas of expertise, including accounting and finance, creative, information technology, and office /administrative.
For more information on navigating hiring and employment during this public health crisis, as well as for the future, view our ongoing information series on COVID-19, or contact us today.
---
Sources:
[1] https://www.bloomberg.com/news/articles/2020-02-02/coronavirus-forces-world-s-largest-work-from-home-experiment
[2] https://journal.getabstract.com/wp-content/uploads/2020/04/ga_remote_survey_2020_compressed.pdf
[3] https://www.nextgov.com/cybersecurity/2020/04/defense-department-details-rapid-increase-teleworking-capacity-here-stay/164590/
[4] https://globalworkplaceanalytics.com/telecommuting-statistics
https://www2.staffingindustry.com/Editorial/Daily-News/More-than-half-of-workplaces-plan-to-reopen-by-July-15-54076
https://www.nextgov.com/ideas/2020/05/how-agencies-can-sustain-telework-after-covid-pandemic/165434/
https://www.brookings.edu/blog/up-front/2020/04/06/telecommuting-will-likely-continue-long-after-the-pandemic/
https://federalnewsnetwork.com/mike-causey-federal-report/2020/05/feds-are-enjoying-full-time-telework-but-doubt-agencies-will-embrace-it-later/
https://www.bisnow.com/national/news/office/americans-lukewarm-on-permanently-working-at-home-104558
https://www.shrm.org/hr-today/news/hr-news/pages/coronavirus-and-teleworking-tips-for-preparing-your-workforce.aspx