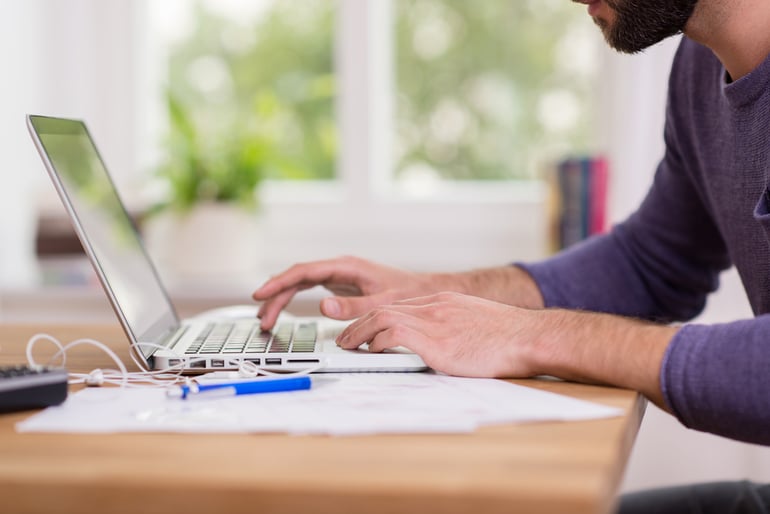 In recent years, remote work has become more attractive for the employee who loves the freedom and flexibility and for the employer who draws in top talent when nontraditional positions are opened outside of company borders. The mobile workforce is projected to include three-quarters of U.S. employees. Employees have cited family care, workplace safety, long commutes, and increased productivity as their top reasons to work remotely. The State of the American Workplace by Gallup concluded that, "Fifty-three percent of employees say a role that allows them to have greater work-life balance and better personal well-being is very important to them."
Related Reading: How to Evaluate IT Candidates Remotely
Retention rates are higher in remote work as well. According to Owl Lab's (a video conferencing company) State of Remote Work, companies that allow remote and flexible work experience 25% lower turnover than companies that don't. Sales professionals are at the top of the remote workers list, followed closely by Engineering, Marketing, and IT. Gallup's study on benefits and perks found that 51% of employees said they would switch to a job that allows them flextime, and 37% would change to a job that allowed them to work off-site part of the time. Millennials and Generation Z are more likely to assign a higher importance to this flexibility. With demographics shifting and baby boomers rapidly retiring, companies must prepare for this request to attract and retain talent.
However, managers and human resources have both been given a complex task in managing the remote workers job performance and integrating them into the organization's culture. The first point of evaluation when greenlighting an employee to work off-site is to ensure this individual has excellent communication skills and a solid work ethic. Communication should always be clear with the goals and timelines mutually agreed upon.


When establishing the framework for a remote workplace, institute these five policies for a successful outcome.
1. Include Remote Employees In Your Company's Onboarding Process
A great employment experience for your virtual work teams begins with having an effective and efficient employee onboarding program. Ideally having the person available for face-to-face onboarding would allow the employee to establish relationships with teammates in person, get hands-on training, and better understand the organizational culture. Though, in some cases this face-to-face is not possible and video-conferencing is required. Ensure the remote employee is equipped with the entire suite of office tools that in-house employees receive. Finally, discuss individual career goals and set forth a path to success.
Related Content: 9 Tips for Effectively Onboarding Remote Employees


2. Foster Precise Communication
Since employees located off-site are not visible, it can be challenging to engage everyone during meetings and daily interactions. You want to foster a sense of the entire team being together. Video conferencing increases communication by 30% with multiple cameras and microphones versus audio-only setups, according to Owl Labs State of Remote Work. Consider the cloud-based team collaboration tool, Slack, which provides real-time messaging, search and archiving capabilities.


3. Adjust Your Performance Management Processes
Evaluate the effectiveness of the remote workforce without micromanaging. SMART goals (Specific, Measurable, Actionable, Relevant, Timely) and clearly defined competencies can help leaders accurately assess the performance of team members located across locations.
Related Reading: Maximize the Success of Employee Performance Reviews
Since this is the biggest concern managers face, consider web-based project management software applications such as Asana and Trello. These provide the easiest way to track work from remote employees. These applications will keep employees in the loop by giving them access to real-time company files, tasks, deadlines, updates and news.

4. Promote Company Culture
Foster a strong company culture among all workers by aligning your organization's values. This will provide a sense of community and loyalty. When remote employees miss company celebrations and the daily water cooler conversations, they could feel isolated. Build trust with these employees who perform consistently by paying them fairly, offering respect and positive feedback.
Related Reading: Tips for Incorporating Company Culture into Your Recruiting Process


It is important to implement these core practices when managing the remote workforce. Clear communication is the key to success. Proper delegation also plays an integral role between the manager and the employee since daily face-to-face interaction is non-existent. The remote employee can then take ownership and feel empowered when projects are completed.
With the traditional workplace continuing to transition, prepare your company as CareerBuilder's 2017 midyear hiring forecast found that 46 percent of employers plan to hire temporary or contract workers, up from 32 percent last year. This growing trend should be adopted to keep your competitive edge and retain your company's most valuable players.
Sparks Group is a nationally-awarded agency with in-depth experience across various industries and local markets. Connect with our dedicated recruiting experts to streamline your recruiting process and access top-quality candidates.