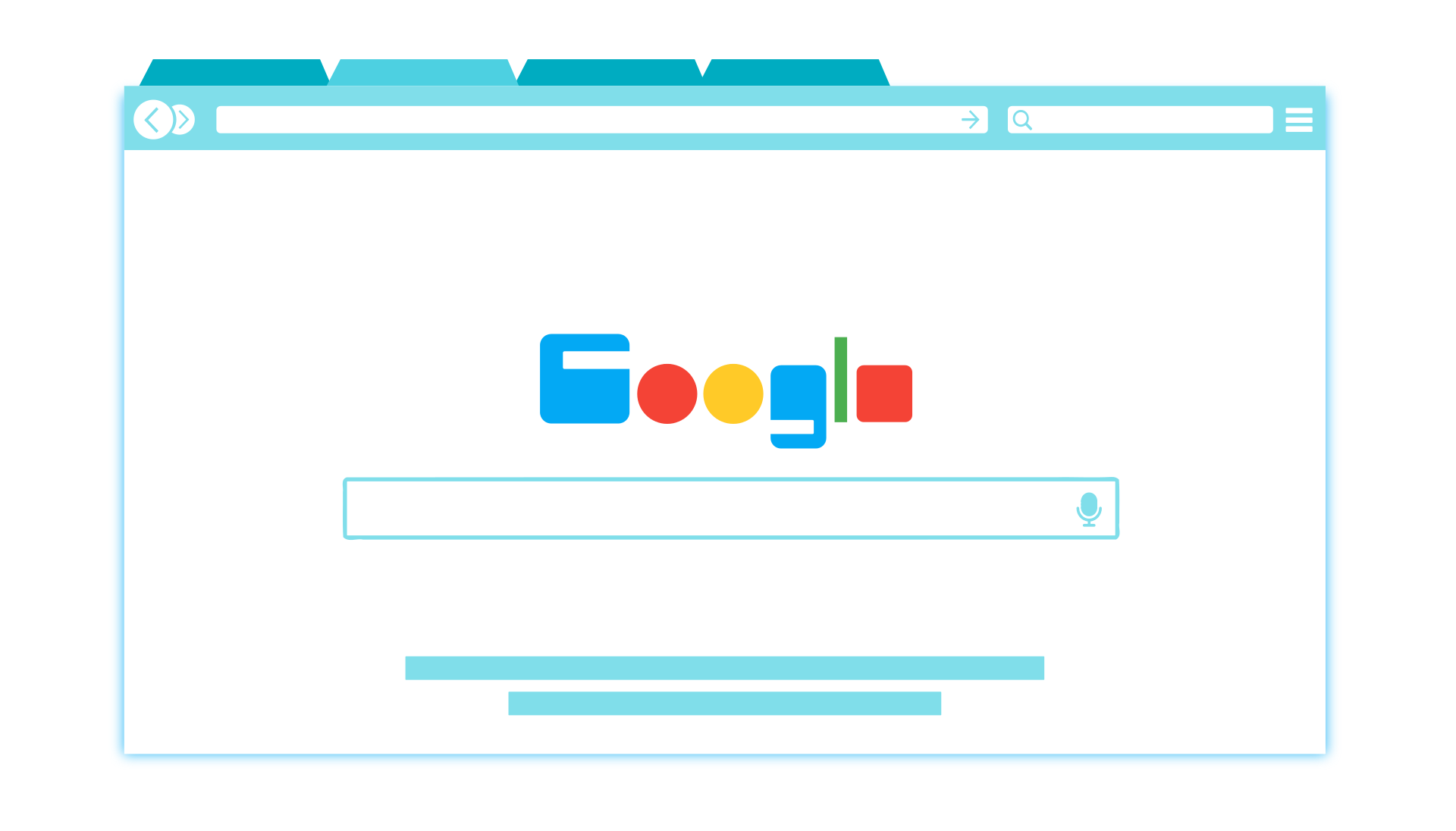 Launched in 2017, Google for Jobs is the tech giant's venture into the $12+ billion job board market. Differing from other job boards and job aggregator sites, Google for Jobs uses machine learning and artificial intelligence (AI) to help job seekers search and apply for open job opportunities that are uniquely tailored to their requirements and search history.
Rather than using a separate search tool, Google For Jobs streamlines the search process by having visitors simply type in a keyword/phrase into the Google search bar. This can include a phrase such as "great jobs near me" or something more specific like "cyber security jobs northern Virginia security clearance."
Search results will appear in a box titled "Jobs" that will contain an aggregated list of relevant jobs from various employment websites (CareerBuilder, Monster, Dice, ClearanceJobs, LinkedIn, ZipRecruiter), corporate career sites, staffing agency job boards, and more.
The box will display approximately 3-4 jobs with more opportunities viewable by clicking on a link. Job seekers are able to filter using a number of criteria such as category, location, date posted, employment type, company type/industry, and employer/company name. Job seekers can save their searches and subscribe to receive alerts from Google for when other relevant positions become available.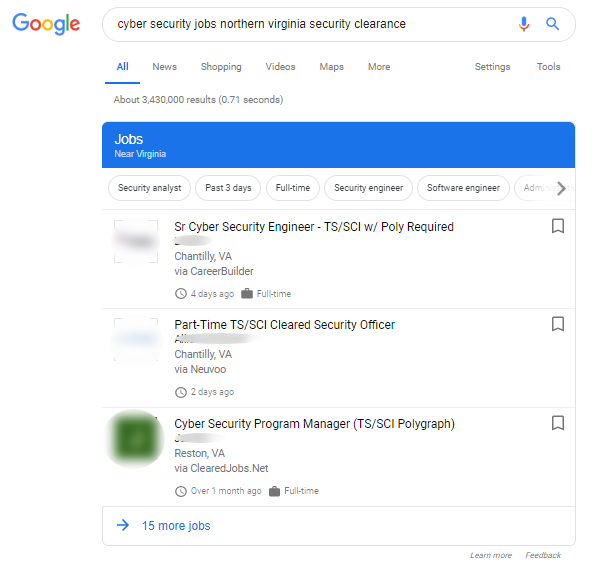 After drilling down to view the individual post, job seekers can view the full details of the position (role, responsibility, requirements). Below the post, a section titled "Typical pay for this type of work" will display salaries for similar work from sources like ZipRecruiter, PayScale, and Glassdoor. Finally, online rating data for the company from sites like Indeed and Glassdoor will appear at the bottom of the post.
Depending on the original source of the job post, candidates may be able to apply for the position via one-click tools/options such as "Apply on LinkedIn," "Apply on CareerBuilder," or "Apply on [Company Website]." If Google recognizes duplicate postings across multiple sites (for example the position may be posted on the company's career page, on CareerBuilder, and on Dice) it may offer multiple application options.
How to Post Jobs on Google
If your organization is already posting to 3rd party job boards, then there is a very good chance that your positions are already appearing on Google for Jobs. Jobs from sites such as LinkedIn, CareerBuilder, Monster, Facebook and Glassdoor have appeared on Google for Jobs since product launch.
Since then, Google has added integrations with a number of integration partnerships including employment websites (e.g., Dice andClearanceJobs), aggregator sites (e.g., ZipRecruiter and Jobilize), applicant tracking systems, and human resources information systems.
Related: Improve Your Job Post SEO With These 4 Tips
If you are not using 3rd party job boards, then you will want to ensure that your website has a great careers page that features plenty of jobs and easily connects to Google For Jobs. While Google's guidelines are pretty stringent, they do an excellent job of advising companies on the latest specifications. Speak to your developer or webmaster to ensure that these 5 best practices are being considered and that the service consistently crawls and displays your jobs properly.
Ensure that the Googlebot can crawl your job posts. Pages should not be protected by a robots.txt file or meta tag.
Ensure that your site's settings allow for frequent crawls by Google.
Ensure that your postings follow Google's guidelines with regards to structured data. These guidelines contain both required data elements and optional data elements. If you're not sure if your site follows these guidelines, Google also offers a free structured data testing tool.
If you have duplicate content that appears on multiple pages of the same site, choose one as the canonical URL using Google's consolidation recommendations.
Utilize the Indexing API to prompt Google to quickly crawl your page. Google recommends this as a more effective option, rather than updating your sitemap and sending a GET request. If the Indexing API is not an option for your job posting web pages, you can submit a sitemap.
Optimizing Your Job Posts
In addition to the technical requirements described above, Google provides optimization recommendations for the content and details for each job post. These include:
Job Description
The job description should include all aspects of the opportunity such as roles, responsibilities, qualifications, software skills, educational requirements, years of experience, and work hours.
Job Title
This field should only include the job title (e.g., "Cyber Security Engineer"). Avoid including things like fluff words ("Guru", "Ninja"), superfluous adjectives ("Aspiring," "Career-Driven"), location ("Exciting Opportunity in Charlotte!"), commands/action steps ("Apply Today!"), and spammy formatting like all caps and special characters.

Location
To best serve job seekers Google recommends providing the physical address of where the job will be located (street address, city, state). This will allow job seekers to search jobs based on proximity to where they want to work and consider factors such as walkability, commute time, access to nearby public transportation, and more.
For those industries where the position will be located at a client's facility (e.g., government contracting, consulting, staffing, etc.) or otherwise at a location that should remain confidential, Google does allow only city and state to be used. For jobs that are remote, Google provides a separate tag that should be included in the back-end coding.
Employment Type
Google allows the position type to be listed as one or more of the following tags: full-time, part-time, contractor, temporary, intern, volunteer, per diem, or other.
Salary information
Google recommends providing the actual base salary for the job or a range. Salary can be expressed in a variety of units such as per hour, day, week, month and year. If no salary information is provided, Google for Jobs will display an estimated annual salary, based on aggregated salary data from various 3rd party sources.

By following these development guidelines and optimization recommendations you can better facilitate your jobs appearing at the top of search results and help ensure that the best candidates are applying for your jobs.
For more information on how Sparks Group can help your business attract and hire exceptional talent, now and in the future, connect with a staffing and recruiting expert today.
About Sparks Group
Sparks Group is an award-winning resource for talent acquisition, expediting the hiring process with specialized recruiting experts for industries including administrative, accounting, creative, and technology professionals at all levels of an organization.
---
Sources:
https://techcrunch.com/2017/05/17/google-to-launch-a-jobs-search-engine-in-the-u-s/
https://www.cnbc.com/2018/08/01/google-job-search-is-using-ai-to-make-job-searching-a-whole-lot-easier.html
https://developers.google.com/search/docs/data-types/job-posting
https://www2.staffingindustry.com/Editorial/Daily-News/List-ranks-largest-job-boards-global-job-board-revenue-up-9-43941