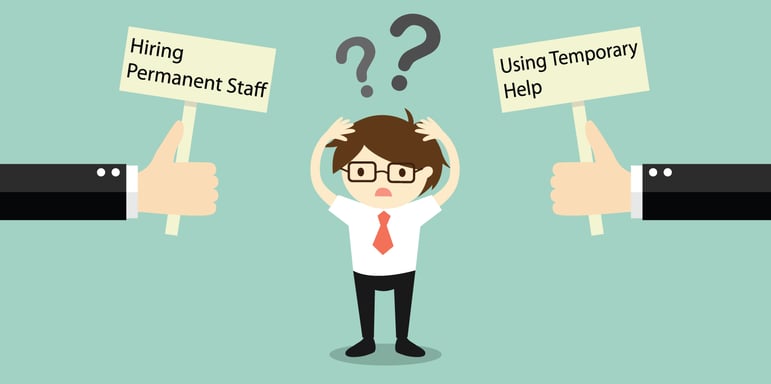 Is your company a bit short-staffed? Do you need a team member with a very specific skill set? If you want extra help but are hesitant to make a hiring decision because you're not sure if your company has a lasting need for new talent, consider hiring temporary help.
Temporary workers are a great solution to short-term staffing needs. You can hire them for specific projects or for a certain period of time, but there's no obligation to keep them on for the long haul.
Temporary vs Permanent: 3 Ways to Know What Is Ideal for Your Organization
Sometimes the decision to hire temporary staff versus taking on a permanent employee is a tough one. If you're struggling to decide what type of position is best for your company, use these three tips to decide what you really need:
1. Determine Ongoing Need
Consider the reason you need to hire additional staff. If your business is prone to fluctuations in demand, hiring temporary help may be the best idea, as you don't have to keep them on when things slow down. However, permanent workers could be the best idea if you don't believe business will slow down anytime in the foreseeable future. Hiring workers with specialized skill sets on a temporary basis can also be a wise decision, as you may only have a need for their specific services for a short period of time.
2. Calculate Budget Size
Hiring temporary staff is typically less costly than taking on permanent help. While you'll have to pay staffing agency fees, you won't have to pay employee benefits ─ including health insurance, paid time off, and other perks used to entice your permanent staff ─ which can result in significant savings.
Learn More: Use These 5 Strategies to Decrease the Cost of Hiring Employees
3. Establish Hiring Timeframe
If you needed a position filled yesterday, you're going to have to hire someone fast. While this may satisfy an immediate need, it doesn't help you find the best candidate for the long run. Hiring a temporary worker can be a great way to fill an immediate need, so you can take your time searching for the best person to permanently hold the job.
If you're looking to add temporary or full-time staff to your team, contact Sparks Group. Our flexible staffing and recruiting services include temporary, contract, and direct placement. Our customized recruitment solution is designed to meet the unique requirements and objectives of our clients.