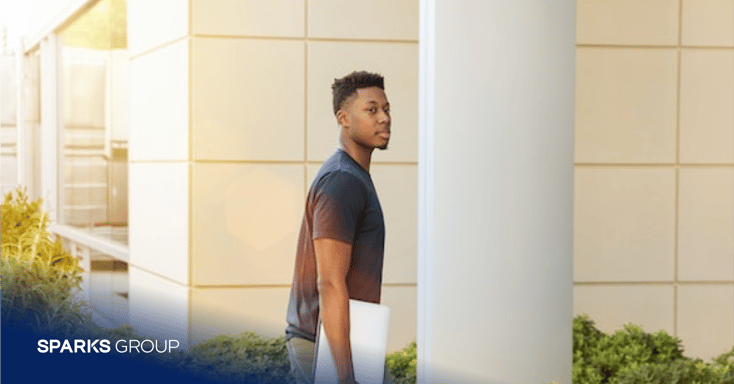 Stay updated on the candidate journey, according to your peers. We asked a series of poll questions to get further insight into the candidate job search and hiring process. Every Friday, we post a LinkedIn poll to gain valuable insights from our followers. We appreciate your feedback, as it helps us better understand how we can place highly qualified candidates in the right positions.
This monthly blog series will recap the poll results and share our thoughts. Did you miss August's results recap? Read the poll results here.

Explore our employer poll and candidate poll pages to learn even more about the candidate hiring journey.
Candidates Want Help Negotiating Their Salaries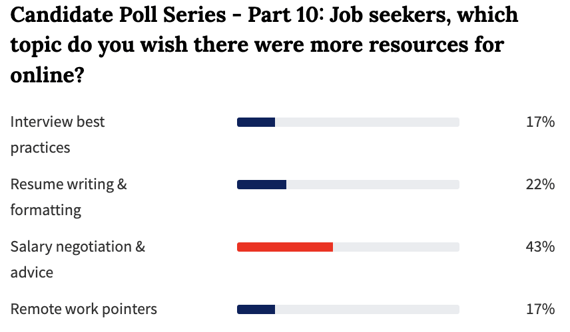 In a recent candidate poll, we asked which topic job seekers want more online resources for. The top answer was salary negotiation advice with 43% of the votes, followed by resume writing and formatting at 22%, and a tie between interview best practices and remote work pointers at 17%.

Pew Research Center found that many people are uncomfortable asking for a higher salary, but their findings show that asking for a pay increase can pay off. According to the report, almost 40% of employed U.S. adults surveyed weren't comfortable asking for a higher salary when hired.1 However, for those who did ask, 28% received their requested salary, 38% received a salary higher than the original offer but less than their counteroffer, and 35% received their original offer.1

With the report finding that 66% of employees surveyed received a salary increase when they asked for one, it can't hurt for candidates to brush up on their salary negotiation strategies. To get started, check out the salary negotiation section of our candidate blog.
Late Summer and Fall Is the Busiest Time for Hiring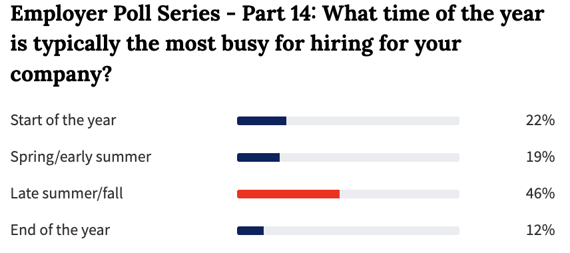 In our recent employer poll, we asked you what time of year is typically the most busy for hiring at your company. Forty-six percent of you voted for late summer/fall, followed by the start of the year at 22%, spring and early summer at 19%, and the end of the year at 12%.

With fall being the peak hiring season for many companies, now is the time to boost your talent acquisition strategy. Check out some of our recent resources that can help you:


Want advice more tailored to your company's specific needs? Reach out to a recruiting expert who can help you develop a customized recruitment and retention strategy.

Both Candidates and Employers Are Interested in IT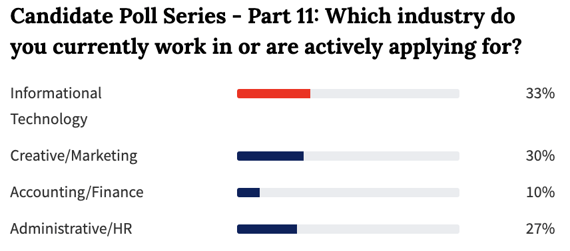 For our candidate poll series, we asked candidates which industry they currently work in or are actively applying for. Thirty-three percent of poll respondents said they work in or are applying for jobs in information technology (IT), followed by 30% choosing creative/marketing, 27% picking administrative/human resources (HR), and 10% selecting accounting/finance.

One of our previous polls found that IT is the department many companies hire for the most. As a follow-up, we asked which area of IT your company is looking to staff the most. Almost 50% of you voted for cybersecurity, followed by software development at 26%, IT support at 15%, and IT management at 11%.

Want help filling your company's open IT positions? Our recruiting experts have in-field experience in IT and other industries like marketing, HR, and finance. Learn more about our staffing services by division.
Candidates Care About Long-Term Remote Work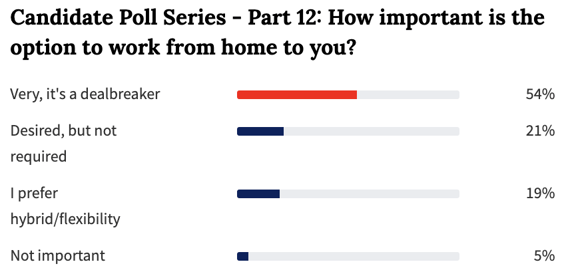 In our candidate poll series, we asked candidates how important the option to work from home is to them. Almost 55% of respondents voted for it being very important and a dealbreaker if not offered, followed by 21% saying remote work is desired but not required, 19% preferring a hybrid schedule, and just 5% saying it's not important.

Buffer found most of the 3,000 remote workers surveyed enjoy remote work and recommend it to others. These are a few of the report's key findings:2
98% of those surveyed want to work remotely at least part-time for their entire career
98% of those surveyed recommend others try remote work
68% of those surveyed have had a "very positive" experience working remotely

Whether you offer employees the option to work remotely or are considering offering it long-term, these remote work tips can help keep employees engaged while working from home.

Key Poll Takeaways About the Candidate Journey
From job searches to interviews, there are a lot of important steps in the candidate journey. Based on the September poll results, these are key takeaways to give employers better insight into how to attract top talent, as well as help candidates find their next job:
Research shows that salary negotiation can result in receiving your desired salary or a higher wage than the original offer.
With fall voted as a busy hiring time for many companies, now is the time to invest in improving your recruitment strategy.
Our poll found that one-third of candidates want a job in IT. For companies interested in IT employees, make sure you actively market your open positions to better reach these candidates.
More than 50% of polled candidates said being unable to work remotely is a dealbreaker. It could be worth looking into offering remote work options to avoid missing out on top candidates.
Your company can still boost hiring at your organization even during difficult economic times. Download the guide to learn how to create a hiring strategy that combats inflation.
Ready to find and place top talent? Speak to a staffing and recruiting expert to determine a hiring strategy tailored to your company's needs now and in the future.
Sources
1 Pew Research Center, When negotiating starting salaries, most U.S. women and men don't ask for higher pay, April 05, 2023. lassdoor, The Most Important Employer Branding Statistics to Know, April 5, 2021.
2 Buffer, State Of Remote Work 2023.