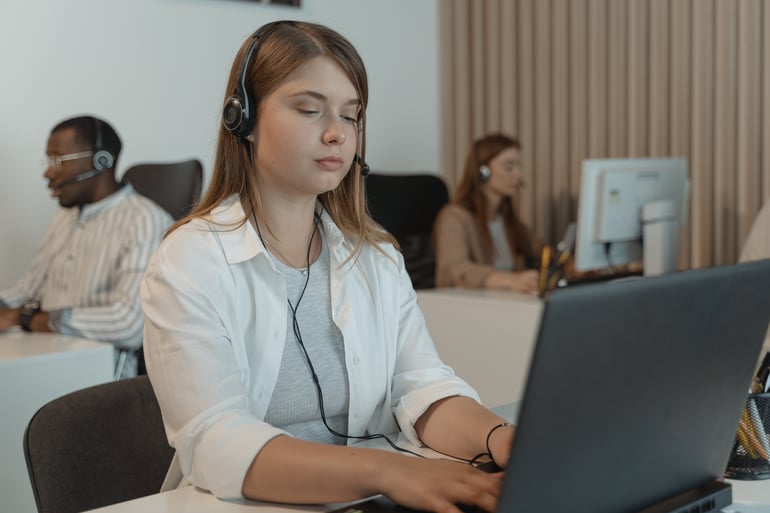 Call (or contact) centers are notorious for high attrition, experiencing average annual turnover between 30% and 45%. This can make it difficult for technical support teams to provide efficient and quality customer service, which can hurt a company's bottom line.
While turnover is typical within call centers, customer service teams can make improvements within their workplace or leverage the help of a customer service staffing agency to help reduce attrition.
The Cost of Contact Center Turnover
A contact center with 100 agents and 45% attrition rate will spend anywhere from $1.6 million to $4.8 million each year on turnover. On the other hand, reducing attrition by 5% can result in savings of up to $600,000.
Factors contributing to these costs include:
Operational slowdowns
New agent onboarding and skill development
Decreased agent morale
Strategies to Reduce Turnover at Call Centers
Call centers looking to prevent costly turnover and better retain their workforce should consider the following strategies:
Calculate Call Center Turnover Rates
Before making internal changes to address turnover, customer support teams should first determine how many agents they lose and how often to justify any necessary adjustments.
To calculate annual turnover, take the number of staff who left the center divided by the average number of staff. For example, if 54 employees quit and the average agents for the year was 81.5, the annual turnover rate is 66%.
Analyze Why Agents Are Leaving
Once a contact center team identifies their turnover rate, they should then dig into what type of turnover is occurring to determine the most significant root causes. If left unchecked, these challenge areas can continue to drive call center agents to leave their jobs.
Internal vs. External Turnover
Consider whether employees leave for other positions within the organization (internal) or leave the company entirely (external). If internal turnover is at play, remember that contact centers can commonly act as an entry point into the company for employees before shifting to other departments.
Alternatively, if most call center workers are leaving the company entirely, this likely indicates that burnout, company culture, pay, or other controllable factors are at play.
Voluntary vs. Involuntary Turnover
Analyzing whether employees are quitting or the center is firing workers will indicate underlying problems, such as hiring too many employees or not properly screening candidates.
Contact centers can help identify potential causes of turnover by:
Sending out polls to allow agents to submit feedback anonymously
Conducting semi-frequent check-ins, or stay interviews, to ask agents directly about any challenges they face and ideas to solve them
Encouraging agents to feel like they can bring up any workplace issues to their managers at any time
Conducting exit interviews to better understand what led to their decision making
Address Burnout Causes
Contact center burnout causes reduced productivity and can make agents feel exhausted or like they want to quit.
Burnt-out employees are:
2.6 times as likely to leave their current employer
13% less confident in their performance
50% less likely to discuss how to approach performance goals with their manager
Strategies to address contact center burnout include:
Prioritizing break time - Agents should have a designated time to eat their food or leave for the day without fear of being roped into more calls
Investing in wellness programs - Contact centers should offer resources to help with mental health and provide a healthier work-life balance
Focusing more on training - Focusing on proper training and onboarding helps ensure agents are better equipped to do their job effectively, reducing frustrations
Identify if turnover occurs more under one manager - If this is the case, that team leader may need to adjust their management style or processes
Revamp Company Culture
One of the biggest reasons for turnover is company culture and whether an employee feels welcomed and respected within the workplace.
Strong company cultures at contact centers include workplaces that:
Recognize and reward hard workers - Agents who feel unappreciated for their work may look for job opportunities elsewhere
Focus on employee values - Consider if your center provides adequate room for growth or skill development, so agents can improve and set professional goals
Make sure teams have the right tools - Contact centers should provide agents with the resources, technology, and tools to succeed at their job
Plan out team building activities - Planning events outside of work or team bonding activities can do wonders to build agent morale and make agents feel like they belong
Promote diversity - Workers should feel welcome no matter their background or culture
Leverage a Call Center Staffing Agency
A call center staffing agency, such as a temporary customer service agency, can help source and place talented agents to fill open positions. An agency can take information about a call center's burnout challenges to better vet and hire better-equipped individuals to succeed for the long term, boosting agent retention.
Staffing agencies can place roles including:
Customer Service Representatives
Customer Care Agents
Technical Support Representatives
Corporate Relations Associates
Member Service Representatives
Customer Support Members
Need Help Addressing Contact Center Turnover or Looking for New Agents?
Sparks Group is a leading contact center staffing agency with decades of experience hiring, interviewing, and placing top contact center agents. If you are struggling with attrition or would like help finding new agents, we would be happy to help.
Reach out to our team today and we can discuss your call center challenges and how our services can help.
---
Sources:
https://qatc.org/winter-2015-connection/exploring-call-center-turnover-numbers/
https://sharpencx.com/blog/what-is-the-cost-of-employee-turnover
https://qatc.org/winter-2015-connection/exploring-call-center-turnover-numbers/
https://www.gallup.com/workplace/237059/employee-burnout-part-main-causes.aspx
https://blog.scorebuddyqa.com/curbing-burnout-in-call-center-agents
https://www.cmswire.com/customer-experience/6-strategies-for-an-effective-call-center-culture/