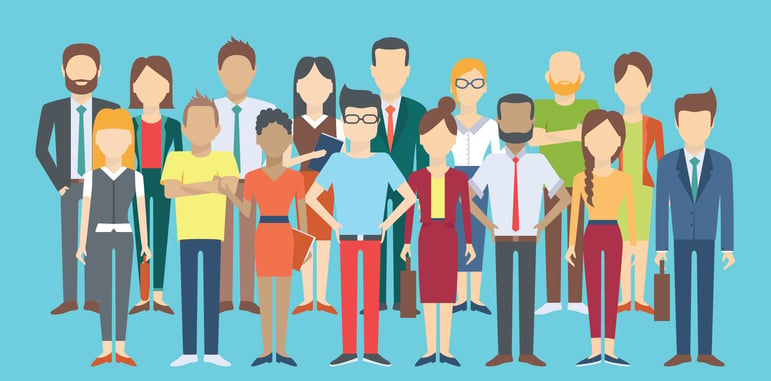 Each quarter, the American Staffing Association (ASA) releases its Skills Gap Index (membership required), which tracks the occupations that U.S. companies have the most difficulty in successfully filling. Data is compiled utilizing over 90 sources, including CareerBuilder's Supply and Demand Portal and other sources including Economic Modeling Specialists Intl. (EMSI).
This quarterly report is detailed both nationally and for four regions (Northeast, South, Midwest, and West) for each of the following sectors/areas (click to scroll):
Each of the tables below will detail data for the hardest jobs to fill in the Northeast Region , which is inclusive of the Washington, DC Metroplitan Area.
Engineering, Information Technology, and Scientific (Northeast Region)
Salary Data ($ Percentiles)

National Comparison

Occupation

Hiring Indicator

Average

25th

50th

75th

HI

Avg. Salary

Computer Systems Engineers/Architects

8

153,538

130,000

140,000

166,875

-2

10%

Information Security Analysts

11

105,124

74,568

101,042

130,332

-1

9%

Medical Scientists, Except Epidemiologists

17

100,368

66,121

87,647

121,959

0

5%

Information Technology Project Managers

22

114,553

83,200

111,467

133,540

-3

4%

Software Developers, Applications

23

104,508

77,116

99,877

127,225

4

1%

Computer and Information Systems Managers

30

157,666

113,676

145,317

184,217

-3

8%

Industrial Engineers

30

89,760

70,320

86,641

106,567

-6

1%

Computer Systems Analysts

47

94,353

69,817

88,949

114,577

3

4%

Network and Computer Systems Administrators

49

86,430

65,137

82,168

104,290

5

3%
Office, Clerical, and Administrative (Northeast Region)
Salary Data ($ Percentiles)

National Comparison

Occupation

Hiring Indicator

Average

25th

50th

75th

HI

Avg. Salary

Parts Salespersons

12

34,820

24,673

31,942

41,929

-1

5%

Clinical Research Coordinators

15

89,545

52,250

83,120

112,375

-5

19%

First-Line Supervisors of Retail Sales Workers

15

44,702

32,159

40,685

53,011

-3

8%

Retail Salespersons

25

27,776

19,860

22,975

29,949

-3

2%

Stock Clerks, Sales Floor

27

25,929

22,360

24,960

28,020

-3

0%

First-Line Supervisors of Non-Retail Sales Workers

32

86,119

55,937

76,693

106,669

-4

18%

Tellers

38

29,311

24,844

28,421

33,160

-1

4%

Cashiers

40

22,287

18,992

20,350

23,631

-3

3%
Professional and Managerial (Northeast Region)
Salary Data ($ Percentiles)

National Comparison

Occupation

Hiring Indicator

Average

25th

50th

75th

HI

Avg. Salary

Sales Engineers

7

105,647

75,031

99,001

129,388

-6

-3%

Sales Representatives, Wholesale and Manufacturing, Technical and Scientific Products

13

100,671

63,216

87,681

122,765

-2

8%

Personal Financial Advisors

14

129,522

66,706

106,607

163,920

-2

11%

Sales Agents, Financial Services

15

90,564

70,000

90,000

90,000

-3

22%

Insurance Sales Agents

17

77,382

43,052

60,407

89,800

-5

17%

Chefs and Head Cooks

19

48,477

32,664

45,007

59,049

-3

7%

Marketing Managers

19

158,676

109,292

146,291

195,089

-3

12%

Management Analysts

25

93,032

65,009

84,022

111,950

-4

7%

Sales Representatives, Services, All Other

25

71,622

42,060

60,862

86,982

-3

13%

Loan Officers

26

85,295

49,931

70,274

106,694

-7

11%

Sales Representatives, Wholesale and Manufacturing, Except Technical and Scientific Products

26

72,717

43,595

61,107

88,161

-4

7%

Sales Managers

27

160,595

104,092

145,326

200,081

-4

18%

Financial Managers, Branch or Department

30

104,829

76,750

98,400

124,800

-6

14%

Market Research Analysts and Marketing Specialists

32

74,284

50,651

68,054

91,871

-2

6%

Business Operations Specialists, All Other

34

79,191

57,541

73,503

93,880

-9

6%

Financial Analysts

36

112,901

70,634

92,476

137,900

1

14%

Managers, All Other

36

81,294

61,022

75,777

96,007

-8

6%

Training and Development Specialists

36

68,520

48,419

64,539

85,468

-4

7%

Preschool Teachers, Except Special Education

46

36,983

23,958

30,753

44,206

2

11%

Public Relations Specialists

47

66,212

44,142

59,833

80,874

-5

0%
Healthcare (Northeast Region)
Salary Data ($ Percentiles)

National Comparison

Occupation

Hiring Indicator

Average

25th

50th

75th

HI

Avg. Salary

Nurse Practitioners

7

110,673

92,651

108,531

124,746

-1

5%

Physician Assistants

8

105,682

89,224

104,889

122,047

-1

3%

Physical Therapists

11

86,203

71,182

84,208

100,165

2

0%

Medical and Health Services Managers

19

119,696

82,495

105,220

138,118

1

10%

Registered Nurses

20

77,837

62,800

76,187

92,405

1

7%

Pharmacy Technicians

21

31,898

24,463

30,226

37,775

-7

-1%

Licensed Practical and Licensed Vocational Nurses

30

49,122

41,940

49,066

56,270

-3

9%

Mental Health and Substance Abuse Social Workers

32

49,128

36,776

45,590

59,617

5

3%

Critical Care Nurses

35

85,181

65,000

81,120

104,000

1

7%

Social and Human Service Assistants

40

35,784

27,416

33,611

42,294

0

4%

Medical Records and Health Information Technicians

42

44,770

34,031

42,288

53,337

-7

7%
Industrial (Northeast Region)
Salary Data ($ Percentiles)

National Comparison

Occupation

Hiring Indicator

Average

25th

50th

75th

HI

Avg. Salary

Heavy and Tractor-Trailer Truck Drivers

1

45,898

36,249

44,188

54,321

-1

7%

Bus and Truck Mechanics and Diesel Engine Specialists

11

49,625

39,022

48,780

59,330

-2

8%

Telecommunications Equipment Installers and Repairers, Except Line Installers

12

62,457

45,731

63,170

79,189

-2

13%

First-Line Supervisors of Food Preparation and Serving Workers

14

38,464

27,020

35,751

47,812

1

10%

Food Service Managers

15

50,047

37,873

47,228

58,489

2

8%

Driver/Sales Workers

21

29,108

19,842

23,441

36,681

-1

3%

Taxi Drivers and Chauffeurs

22

26,151

21,736

24,572

29,028

-1

5%

Cooks, Restaurant

26

27,630

21,801

26,166

31,260

1

8%

Dishwashers

26

22,113

19,096

20,464

23,483

0

4%

Automotive Specialty Technicians

31

47,959

35,620

47,670

53,912

-3

2%

Combined Food Preparation and Serving Workers, Including Fast Food

31

21,449

18,742

19,938

22,481

-4

5%

Food Preparation Workers

38

24,222

19,516

22,280

27,559

2

6%

First-Line Supervisors of Transportation and Material-Moving Machine and Vehicle Operators

39

64,360

47,957

62,308

78,635

-3

7%

Light Truck or Delivery Services Drivers

40

35,604

23,456

31,901

43,370

6

3%

Maintenance and Repair Workers, General

40

42,694

31,112

40,926

53,046

5

8%

First-Line Supervisors of Mechanics, Installers, and Repairers

45

72,389

55,324

70,210

88,132

-1

8%

Waiters and Waitresses

45

26,483

19,321

22,009

30,126

-1

8%