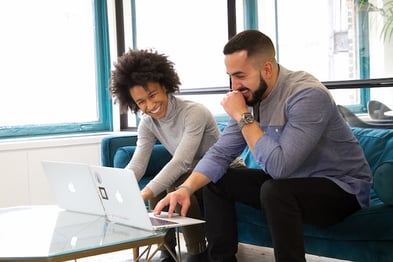 Stay up to date on staffing industry trends in 2023. Every Friday, we post a LinkedIn poll to gain valuable insights from you and your peers. We appreciate your feedback, as it helps us better understand how we can place highly qualified candidates in the right positions.

This monthly blog series will recap the poll results and share our thoughts. Did you miss April's results recap? Check it out here.

Explore our employer poll and candidate poll pages to learn even more about employee retention strategies in 2023.
Employers Surveyed Currently Looking for Full-Time Talent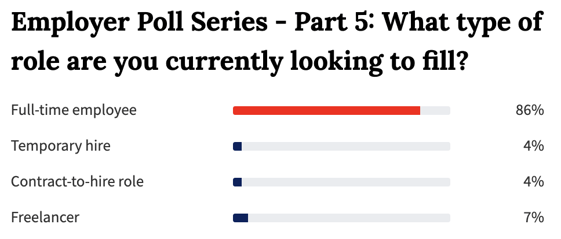 According to our recent employer poll, more than 85% of participants are searching for full-time talent. Only 7% of you voted for freelancers as the type of role you're currently looking to fill, and there was a tie at 4% for temporary hires and contract-to-hire roles.

Based on our spring 2023 poll, some companies are hiring contractors because of the rising cost of goods and services. The poll found that 13% of respondents plan to hire more contract-to-hire roles in 2023 to reduce business expenses and combat inflation. Additionally, Resume Builder found that almost 40% of surveyed companies are replacing laid off staff with contractors.1

Looking for ways to attract and retain top talent for your business? Check out the tips in this blog post.


Candidates Surveyed Use Job Search Websites to Find Open Positions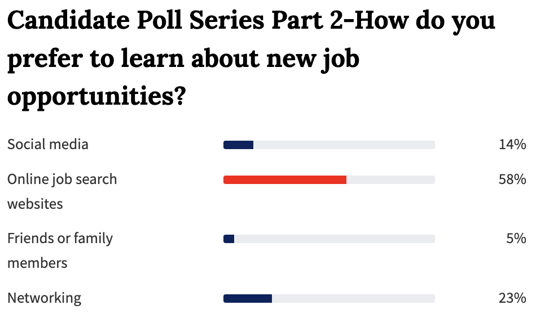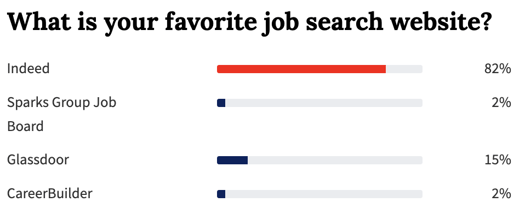 For our candidate poll series, we asked how you prefer to learn about new job opportunities. Almost 60% of you said you prefer to look at online job search websites. The next most popular answer was networking, followed by social media and talking to friends or family members for recommendations.

In today's digital age, it's no surprise that job search websites are the most preferred way to learn about open positions. Since there are several job search websites, we asked you in a follow-up poll what your favorite job search website is. The number one answer was Indeed, followed by Glassdoor and a tie between the Sparks Group Job Board and CareerBuilder.
With the Sparks Group Job Board, you can search for open positions in various fields, such as IT, accounting, marketing, administrative, and more. Plus, there are positions for all experience levels. Whether you're looking for an in-person or remote role, you can find it all on the Sparks Job Board.


Cybersecurity is One of the Most-Desired IT Skills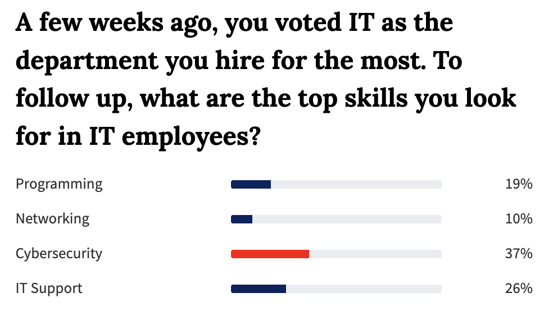 In a previous poll, you voted for IT as the department you hire for the most. To follow up, we asked what is the top skill you look for in IT employees. Our followers voted for cybersecurity as the most-desired skill, followed by IT support and a tie between programming and networking.

With McKinsey reporting that cyberattacks will cause around $10.5 trillion in annual damages by 2025, it makes sense that cybersecurity is one of the most desired skills for IT employees.2 Businesses must invest in IT talent with the right skills and knowledge to protect their sensitive information.

Sparks Group specializes in recruiting and staffing top IT talent for divisions like cybersecurity. By partnering with a staffing firm, you can find and place candidates for cybersecurity roles like information assurance analysts, ethical hackers, information systems security officers and managers, and more.


Recap of Staffing Industry Trends in 2023 from May Polls
Based on the data from our May polls, these are key insights from the latest staffing industry trends in 2023.
Despite economic forces like inflation, many employers are still seeking full-time talent.
You may miss out on top talent if you don't post your open roles on the right job search websites.
If you don't already, you should vet your IT candidates for their cybersecurity skills and knowledge to make sure they can protect sensitive data about your business, employees, and clients.
---
Sources

:

1SHRM, Resume Builder, 1 in 5 companies are "quiet hiring" contractors to replace laid off workers, January 23, 2023.

2McKinsey & Company, New survey reveals $2 trillion market opportunity for cybersecurity technology and service providers, October 27, 2022.