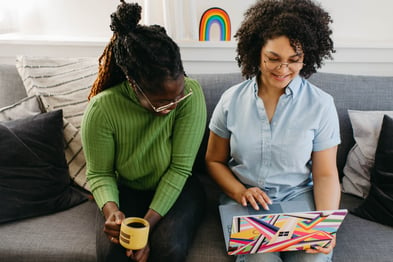 Stay up to date on staffing industry trends. Every Friday, we post a LinkedIn poll to gain valuable insights from you and your peers. We appreciate your feedback, as it helps us better understand how we can place highly qualified candidates in the right positions.

This monthly blog series will recap the poll results and share our thoughts.

Explore our employer poll and candidate poll pages to learn even more about staffing industry trends and insights.
Learn the Most Desired Soft Skills for Hiring and Retaining Talent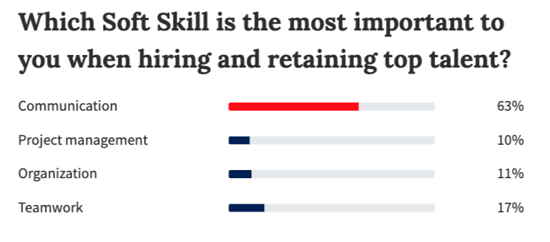 Based on the data from our LinkedIn poll, 63% of poll participants voted "communication" as the most important soft skill, followed by teamwork and organization.

These results align with Pearson's Skills Outlook for 2022 in the US, with communication being one of the top five power skills that employers surveyed want in their employees.¹ Communication skills are necessary for any job function and industry. Employees must effectively share their thoughts with customers to provide high-quality service and with internal team members to boost productivity.

The major takeaway from these findings is to not forget about evaluating candidates for soft skills like communication. While technical skills are important to make sure potential employees would be successful in the role, soft skills shouldn't be neglected. Hiring well-articulate talent who can balance being professional and personable can make your organization stand out from the rest.
Discover Why People Are Searching for New Jobs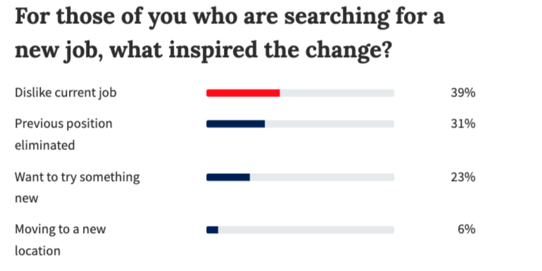 According to our poll results, 39% of poll respondents said disliking their current job is why they're searching for a new one. The next most popular answer was their previous position being eliminated, followed by wanting to try something new.

The U.S. Bureau of Labor Statistics reported that around 3.9 million Americans quit their jobs in January 2023.² Employers can boost employee job satisfaction by providing career growth and upskill opportunities, an inclusive workplace culture, and more. Implementing strategies like these could turn a dissatisfied employee into a happy one.

Ultimately, some reasons employees leave positions are out of an employer's control, such as if the employee is moving and can't work remotely, or if they want to try a new role altogether the employer doesn't offer. However, a reason like disliking their job is something employers could potentially change. If the reason for disliking their job is due to their work environment rather than the role itself, companies can work to implement positive changes to reduce turnover.
Debunk These Staffing Agency Myths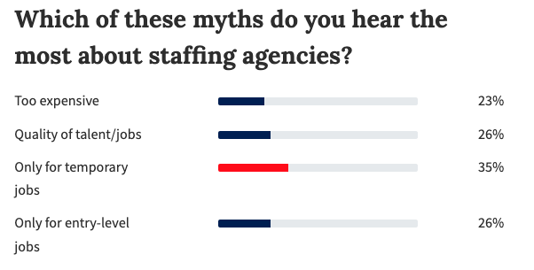 Based on the votes from our poll, the most commonly heard myth about staffing agencies is that they're only for temporary jobs, followed by the quality of talent/jobs and being too expensive.

These myths are untrue, as staffing agencies can provide highly skilled talent for all positions, such as full-time, temporary, and contract-to-hire, while helping businesses reduce labor costs, HR administration expenses, and more.

Staffing agencies can also help organizations cast a wider net when searching for top talent. This way, they can more quickly fill their open roles to meet hiring deadlines, keep headcounts at a constant level, and find ideal candidates for hard-to-fill positions. They also have a deep understanding of specific sectors, so companies know they're receiving only highly qualified applicants for their industry.

Read more about how we debunked common myths about staffing agencies and recruiting firms.
See How Other Businesses Prioritize Mental Health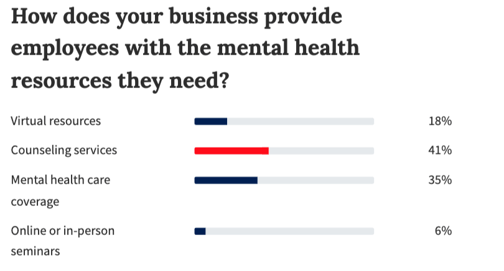 According to the responses from our poll, counseling services are the most common way businesses provide their employees with mental health resources. The second most common answer was mental health care coverage, followed by virtual resources.

A McKinsey Health Institute survey found that 59% of employees surveyed said they cope with at least one mental health challenge.³ That means employers should provide employees with the resources they need to prioritize their mental health and prevent burnout.

If employees are burnt out, they can't bring their best selves to work every day, and this is when more mistakes fall through the cracks. Burnout could also lead to more resignations if their working conditions don't improve. To help employees take care of their mental health, employers should prioritize a healthy work-life balance for their team, such as by not overloading their employees with too many tasks and encouraging them to take time off.
Recap of February's Staffing Industry Trends and Insights
To recap, based on the data from our February 2023 LinkedIn polls, these are the latest staffing industry trends about hiring for soft skills, searching for new jobs, working with staffing agencies, and providing mental health resources:
Communication is one of the most important soft skills.

Disliking your job is a top motivator for finding a new one.

The most heard myth about staffing agencies is that they're only for temporary jobs.

Counseling services are a commonly provided mental health resource.




---
Sources

:
https://resources.credly.com/hubfs/PowerSkills%20Country%20FactSheets/Pearson_Skills_Outlook_CountryFactsheet_US.pdf
https://www.bls.gov/news.release/jolts.nr0.htm
https://www.mckinsey.com/mhi/our-insights/present-company-included-prioritizing-mental-health-and-well-being-for-all