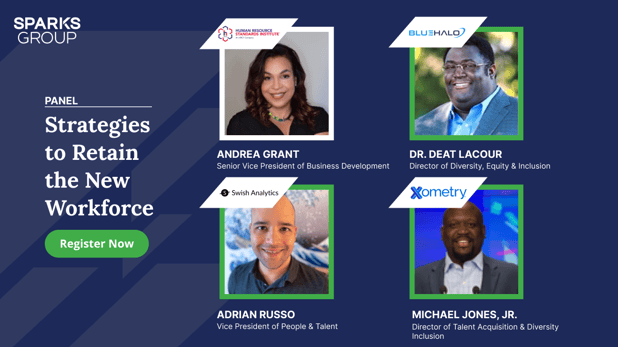 On June 16, we hosted a webinar providing strategies on how companies can better retain their employees by prioritizing diversity, equity, inclusion, and belonging (DEIB) at their workplaces. You can watch the recorded webinar here.
During the event, attendees will learn:
How promoting diversity, equity, and inclusion has a direct effect on reducing turnover
Different strategies for retaining entry-level employees and more tenured roles
How they can make their workplace more inclusive and welcoming to all
We are excited to introduce the moderator and three featured panelists who will share their perspectives on how diversity plays a direct role in employee retention strategies. If you're interested, you can watch the webinar here. If you want to learn more about this topic, check out our recent blog on strategies to reduce turnover during the Great Resignation.
Andrea Grant | Vice President of Business Development, Human Resources Standards Institute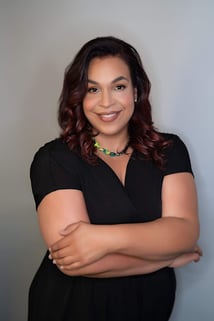 Andrea has more than 20 years of experience in progressive human capital, operations, consulting, and workforce development, supporting for-profit and not-for-profit organizations in the public and private sectors. At HRSI, she deploys a client-focused sales and consulting strategy resulting in deeper, wider, and higher-quality relationships with key stakeholders. Andrea delivers premium service by drawing on her HR background, passion for inclusivity and equity, and ability to effectuate positive change.

She is called to help organizations design and execute critical business and HR programs that identify and leverage talent and leadership with a particular focus on underrepresented groups. She launched her career at Plateau Systems (now SuccessFactors) in a support role and quickly established an official HR department, followed by the Sales, Marketing, and Professional Services departments.

Years later, she joined LHH, where, over the next decade, she took on positions of increasing responsibility, including Account Manager, Vice President, and later Senior Vice President. At Challenger Gray & Christmas, she spearheaded the Diversity, Inclusion, Equity, and Belonging strategy where – along with executive leaders – she determined the best way to manage the business and human sides of the company to create a thriving culture where employees felt they could be authentic and supported by senior leaders.

Andrea is a devoted special needs parent and caregiver to her disabled veteran father, and "giving back" to others is at the core of her being. She has often donated her time and expertise to organizations, such as Adecco's National Corporate Social Responsibility Council, LHH's Global Diversity Council, the Human Resources Leadership Awards of Greater Washington (HRLA), and the Prince William Chamber of Commerce. She serves as a career management coach for prestigious organizations, including Diversity Women Media.

She also is an inaugural founder and member of Capital One's Magellan Program, a customized leadership development and career program for African American colleagues. She recently served as Vice President of Administration for the National Association of African Americans in Human Resources (NAAAHR), Greater Baltimore Chapter.

Michael Jones Jr. | Director, Talent Acquisition and Diversity Inclusion, Xometry Inc.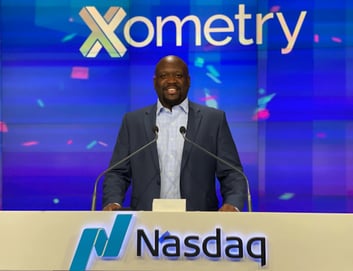 Michael Jones Jr, M.Div. scholar, activist, and philanthropist, resides in Washington, DC, where he is currently the Director, Talent Acquisition and Diversity Inclusion at Xometry Inc.

A graduate from Temple University, Philadelphia and Howard University School of Divinity, Washington, DC, Michael is an ordained reverend and serves as the Executive Minister at New Bethel Baptist Church in Washington, DC and also is a Board Member for the Diocese of Bridgeport, CT - Catholic Academy of Bridgeport.

Michael is currently serving as a 2021 - 2022 Black Theology and Leadership Institute Fellow at Princeton Theological Seminary, and was a 2020 - 2021 Emerging Leaders Impact Fund Fellow at the Greater Washington Community Foundation, and 2020 Forum For Theological Exploration Fellow. Michael will be joining the 2022 United Nations Commission on the Status of Women. The CSW is the largest gathering of gender equity advocates in the world, joining as a delegate representing The Samuel DeWitt Proctor Conference.

In his spare time, Michael enjoys spending time with family, engaging in conversations around theology and politics, being involved in athletics, listening to jazz music, specifically the alto saxophone, which he played for several years, while also enjoying coaching AAU basketball.
Dr. Deat LaCour | Director of Diversity, Equity, and Inclusion, ​​BlueHalo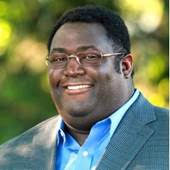 Dr. Deat LaCour is the Director of Diversity Equity and Inclusion at BlueHalo LLC. Dr. LaCour came to BlueHalo most recently from the U.S. Secret Service, where he helped implement programs to build and strengthen a new Industrial-Organizational Psychology research initiative and metrics-based decision making. He will help BlueHalo create and develop similar initiatives and bring to bear his business accomplishments and government experiences that have helped him navigate corporate culture in federal contracting, commercial, and technology organizations.

As an integral part of the company's Talent Acquisition efforts, Dr. LaCour works with the team on a broader view of BlueHalo's culture to attract new talent. Similarly, he works with the Operations and Human Resources organizations on identifying areas for improvement to engage and retain the workforce by examining trends, influences, and issues impacting the company's teams. Dr. LaCour's appointment to DDEI coincides with the company's launch of new initiatives such as the BlueHalo Women's Community of Practice and Veteran's Resource Group. His observations and feedback help inform how BlueHalo builds out these new initiatives while continuing to address important social issues and cultural milestones.

Dr. LaCour is a graduate of Wright State University, a past Professor at American University's Master's program in Organizational Development, and the previous Dean of Complex Change at NTL Institute of Applied Behavioral Science. Additionally, he is the author of the book "Diversity Training: Expand on Strengths or Focus on Deficits." He is also a member of the Society of Industrial-Organizational Psychology and a Keynote speaker for the Center of Human Relations Study at Nanzan University-Nagoya Japan, the Indian Association of Applied Behavioral Science Dehli India, the Human Capital Institute, and the American Society of Training and Development.

Adrian Russo | VP of People & Talent, Swish Analytics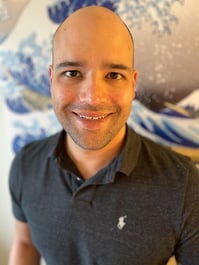 Adrian Russo serves as VP of People & Talent at Swish Analytics, the industry leader in sports analytics and data products. Adrian's unique approach to talent acquisition led to multiple awards, including a spot on the prestigious Mogul List of Top 100 Companies with the Best D&I Plans in 2021.

He presently serves as an Advisory Council Member at the University of South Florida Muma School of Business and a Contributing Writer for New York Weekly.
Save Your Spot- Register for the Webinar!

Interested in hearing strategies from the panelists about how you can reduce turnover at your company through a more extensive prioritization of diversity at the workplace? Sign up for the webinar today to save your spot- see you there!