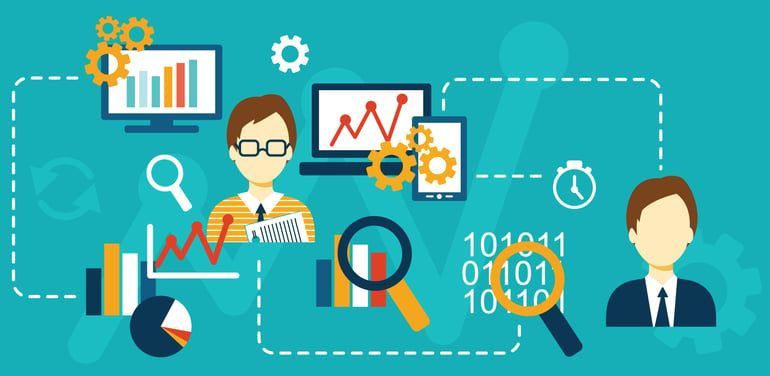 If your hiring process hasn't been updated in years, you're wasting time and money every time you fill an open position. An applicant tracking system allow you to gather pertinent information that can be used to streamline this practice and help you make better staffing decisions.
Major employers like Xerox and Google, innovative startups and smaller companies striving for efficiency are using data to improve the candidate selection process, so don't get left behind. There's really no limit to the amount or type of data you can collect — cost per hire, turnover, referral source, application completion rates, time to hire, offer ratios — so use this to your benefit.
After you start incorporating big data into your hiring process, you'll wonder how you ever functioned without it. Realize the following benefits — and many others — by digging a little deeper to learn more about the numbers that drive your staffing decisions.
Stay on Budget. Use data to learn valuable information, such as the most common source of applicants, so you know where to look for top talent. There's no need to waste time and money advertising for applicants using channels that offer minimal return.
Hire the Right People at the Right Time. Numbers don't lie, so use hiring data to monitor your current staffing levels and determine when it's time to add to your team. Looking ahead to the future allows you to take your time finding the best candidate, instead of feeling rushed when you suddenly realize your company is short-staffed.
Identify Shortcomings in Your Hiring Process. It's easy to keep making the same mistakes when your hiring process is basically a free-for-all. When carefully monitoring every aspect, you can easily identify weaknesses continuously causing you to choose the wrong person for the job.
If you're unsure how to implement an applicant tracking system — or need assistance interpreting data gathered from the process you currently have in place — your staffing partner can help. Sharing these key statistics and asking for additional input will give your recruiter valuable insights that can be used to make the best possible staffing choices for your company.
More Great Content
Your Slow Hiring Decisions Are Costing You Big
Partner with Sparks Group to make every hiring decision a great one. Our experience has helped numerous organizations boost productivity, reduce overhead costs and streamline their talent acquisition strategies.