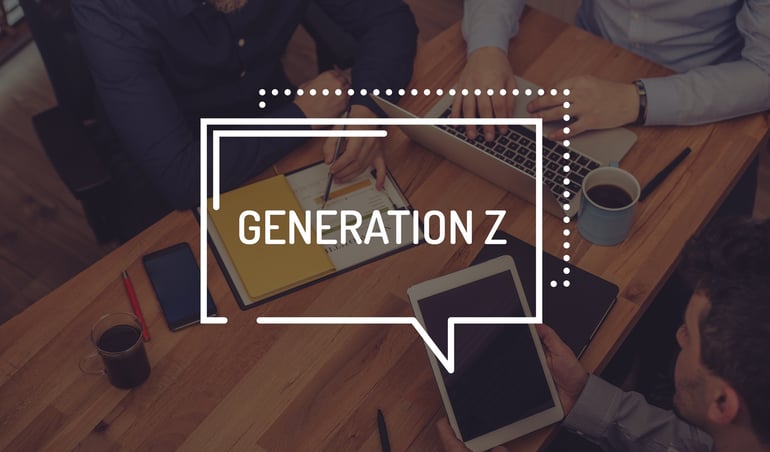 True digital natives, entrepreneurial at heart, and global to their core—meet Generation Z, the new, upcoming workforce to reckon with. Born between the mid-1990's to mid-2000s, this generation consists of 26% of the U.S. population and they are poised to be the most diverse group of individuals in U.S. history. They lived through 9/11 and the Great Recession and have seen first-hand the impacts these events caused their families.
Generation Zers are devoted to making a profound difference in the world and value passion over money. These innovative and creative individuals are just beginning to enter the workforce and are described as having the shortest attention span (8 seconds) of any generation. To engage this group and glean their optimal potential, you must prepare to capture their attention quickly, understand what drives their passion, learn how to effectively communicate on their platforms, and cultivate an environment for growth within your multigenerational organization.
How to Recruit Generation Z
Now that we've learned a little about Generation Z, let's discuss some ways to build a workplace to attract top Generation Z talent to your organization.
1. Speak Visually
This generation prefers live streaming face-to-face interaction over text messaging or email, unlike their millennial siblings. In fact, Millennial Branding concluded that 53% of Generation Z said they prefer communicating through FaceTime and Skype. Even though they are born with digitalization in their bloodstream, "the lines between a digital and physical presence are now one and the same," according to the book Gen Z @ Work by David and Jonah Stillman.
Brand your company using visual content and be consistent across all online platforms. Meet them where they are, whether it be on Snapchat, Twitter or YouTube. But stay on top of changing trends. With 92% of this group having some sort of digital footprint, stay authentic when marketing to this generation because they're adept and self-developed researchers who will quickly detect dishonesty.
2. Cultivate an Entrepreneurial Environment
Gen Z wants to be their own boss and make an impact on society. Their entrepreneurial spirit is contagious and drives their purpose. According to a study done by Millennial Branding and Internships.com, 72 % of high school students want to start their own business someday. They want their ideas to be heard even in the recruiting process. Focus on providing an opportunity for them to initiate "passion projects."
Provide independent, flexible working opportunities where Gen Zers can showcase their own work. Gone are the days of 9-5 careers in the four-wall cubical -- Gen Zers value independence over collaboration in the workplace.
3. Breed Globalization
Diversity is an expectation of Gen Z. Ford Motor Company conducted a study on future trends and stated, "58% of adults worldwide ages 35+ agree that kids today have more in common with their global peers than they do with adults in their own country." Gen Zers have grown up online alongside the rest of the world, making them the most global in their thinking and interactions than any other generation that has come before them. They expect to travel and make a difference in the process.
4. Overcome Generation Differences
Effectively communicating between the different generations should be outlined and practiced among all cohorts. Put aside all assumptions and be open-minded. MarketWatch reported that 52% of workers say they're least likely to get along with someone from another generation. Historical events laid the framework for each generation's personality, and being respectful of others and knowing you can learn something from everyone is crucial in today's world.
One key way to channel generational personality differences is through team building exercises. For example, Gen Z seeks mentorship systems that will help them forge strong skills. Consider partnering new employees with baby boomers or Gen Xers to connect generations, and promote a culture of diversity Gen Zers crave while underscoring that they ALL add value.
So, What Does Generation Z want?
Connectivity to a higher long-term career goal
Feedback on their personal development regularly
Speaking the insights and implementing ideas
Community growth built from real relationships
Room for advancement within an organization
Meaningful benefits beyond 401(k)
Travel opportunities on a global scale to make an impact
Ensuring that your organization's recruiting strategies are aligned to recruit Generation Z candidates is pivotal to future success. Take the time to learn their technology, understand their work habits, listen to their ideas and finally see the world through their eyes. By 2021, this group will make up a fifth of all workers, according to Glassdoor. This rising generation is a force and adopting them is the future of your company.
For more information on Generation Z and how to effectively hire and manage this unique group, contact the team at Sparks Group.