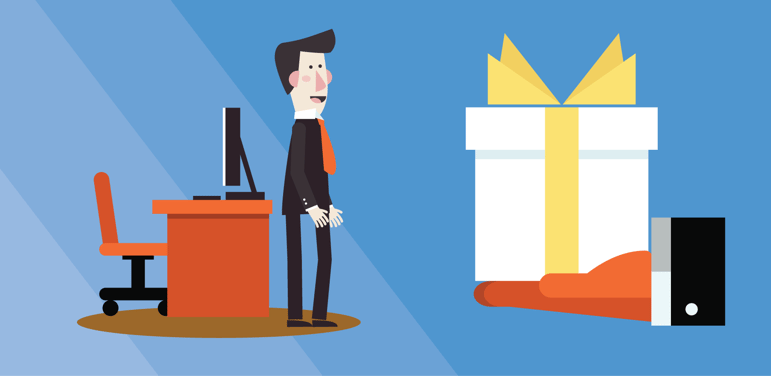 Your employees are the backbone of your organization. You rely on them to keep your company running smoothly each and every day, but do you ever stop to thank them for their hard work? If not, you may want to think about doing so.
Little things like giving your employees a surprise Friday afternoon off, providing flexible working options, and simply acknowledging the hard work your team does each day can make people much more productive.
Benefits of Employee Appreciation
Maintaining an employee appreciation program can be key to attracting and retaining top talent. The more your staff values their jobs, the more productive they are each day. Gallup estimates that lost productivity costs employers approximately $300 billion each year, so showing your appreciation can literally pay.
Related: Four Reasons Why Employee Appreciation Matters
Everyone likes to feel appreciated ─ including your employees. Treat your staff well and enjoy the following benefits:
Better Attitude: Showing gratitude toward your employees increases their level of self-worth. People who feel good about themselves and confident in their abilities come to work each day ready to take on anything.
Increased Job Satisfaction: When employees feel appreciated, they're much more fulfilled by their jobs. This leads to higher retention rates, as happy employees don't typically look for new jobs at other companies.
Enhanced Performance: Satisfied employees know they have a good thing going on with their employer ─ and they don't take it for granted! People work harder when they believe in the company and truly value their jobs.
Improved Focus: Giving employees a positive work/life balance allows them to increase their focus, as they have the flexibility to manage their personal life as needed. It's hard for employees to focus when their mind is elsewhere, so if you allow them to create a schedule that fits their lives, you'll be rewarded with workers who are completely focused on the task at hand.
4 Ideas for Employee Appreciation
It's pretty clear that there are benefits of employee app
Here were some of our favorite's from Fit Small Business's Top 25 Employee Recognition Ideas From the Pros.
Create an applause board, where colleagues can honor employees exibiting the company's core values.
Recognize (and leverage) their subject matter expertise by tasking them with developing new training materials.
Reward tenure and longevity with bonuses at employee milestones (3 years, 5 years, etc.)
Try issuing team awards (rather than individual awards) for exemplary performance.
Need a little help finding the best people for your team? Contact Sparks Group. Our partnership methodology is rooted in a thorough analysis of each client's staffing challenges and business culture. Each of our specialized divisions specialize in placing key talent in Office, Human Resources, Accounting/Finance, Information Technology, and Creative/Marketing roles.
Note: The original version of this article was posted on March, 28 2016