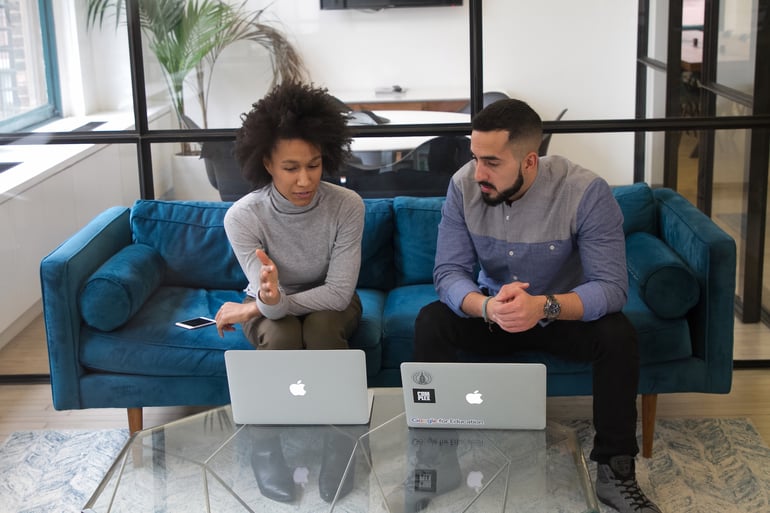 With changes to the business environment, and unemployment increasing across industries and positions, the job market suddenly became more competitive. And with all the different channels that can be used to discover, apply for, and land a job - from social media, to job boards, to referrals and networking - the job application landscape has become more complex. This presents a challenge for job seekers, who may struggle to make it past applicant tracking systems or to secure interviews on their own.
Recruiting agencies provide candidates with the upper hand they need to secure an open position over other candidates. Through their local connections and industry knowledge, employment agencies and their recruiters offer insider tips for knocking your next job interview out of the park and help you land your next job.

Unsure if you should use a recruiter in your next
job search
? Here are five quick reasons why you should consider working with a recruiting agency.
1. Get Your Foot in the Door
Job seekers can struggle to make it past applicant tracking systems designed to weed out unfit candidates and make it to the first stage of the interview process, let alone secure an interview. The ease of applying to an open position means there are more candidates applying to any given position, and sometimes it can feel like the odds are stacked against you.
Recruiters have connections that can help you overcome this challenge. Those relationships allow recruiters to promote your worth and help you stand out in a competitive job market.
Recruiters typically ask job seekers to provide an elevator pitch or short summary of their experience and why they should be hired to pass along to hiring teams at companies with open positions. If the recruiter identifies a job where you would be a good fit, they can pass along this backstory to the employer, which can help distinguish you from other applicants and move you further down the interview process.
2. Saves You Time
While applying to jobs online can be an effective strategy for finding a job, it may not be the most efficient or fastest method. A staffing agency works with candidates to find a job that is the right fit and promotes their career objectives and skill growth.
Recruiters have the skills and the perspective to evaluate candidates for open positions quickly, which means if your background and skills align well with a position being offered, a recruiting agency can connect you with the hiring team fast.
3. Extend Your Reach
A recruiting agency constantly looks to fill open positions, meaning that with each new opening, they may consider pushing you as the ideal candidate. While you can cover ground on your own, having a recruiter's help can exponentially increase your chances of finding your next job, especially if they cast a larger net through their connections.
Even if you aren't matched with a job within a short timeframe, recruiters will keep you in a database so you can be considered for other relevant positions as they become available.
4. Access to More Job Opportunities
Since recruiters are exposed to hundreds of job openings, they might discover a new job opportunity for you that you otherwise wouldn't hear about, or they might know about a position that will open up in the near future. Recruiting agencies also have access to a large network of companies, which expands the breadth of job opportunities you have access to.
In fact, some jobs are only accessible through a recruiter. Recruiting firms often make agreements with companies to try to fill open positions before publicly posting a job ad. This means that they may place a job seeker before opening the applicant pool to the general population if they are the right fit.
Some recruiters have a specialized focus or range of industry jobs, such as in
information technology
,
accounting and finance
,
office
, and
creative
divisions. Even if your primary recruiter doesn't know of any good fit jobs for you to apply to, they may connect you with a colleague with a different industry focus where your skills might be applicable, providing you with even more options.
5. Gain Feedback on Your Resume or Interview Skills
Unlike most potential employers, recruiters want to provide feedback on your job search efforts, such as your resume structure or interview responses.
Typically, a recruiter will start their introductions with interview questions to get to know each candidate. After this call, they may offer tips on how to better highlight their work experience or tackle tough interview questions. They may identify skill sets that job seekers fail to bring up when they interview, which could increase their chances of landing their next job.
This experience can ease you into the job search process and provide a space to practice selling your experience and skills without having the stress of an actual job interview.
Since recruiters are experts in the interview process, they provide insights that candidates otherwise wouldn't know, such as what employers look for in a job seeker. By identifying what each candidate and employer prefer, recruiting agents can prevent non-compatible matches when considering factors such as company size, company culture, and necessary experience, to ensure neither party wastes their time interviewing.
Looking for a job? Sparks Group is a national staffing and recruiting firm that helps place job seekers at companies offering temporary, direct, and contract-to-hire job opportunities. Our recruiters work closely with candidates to prepare them in their efforts to find a job by providing guidance on resume writing and interviewing skills.
Visit our job board
or
contact Sparks Group
today to get a start on finding and landing your ideal job.