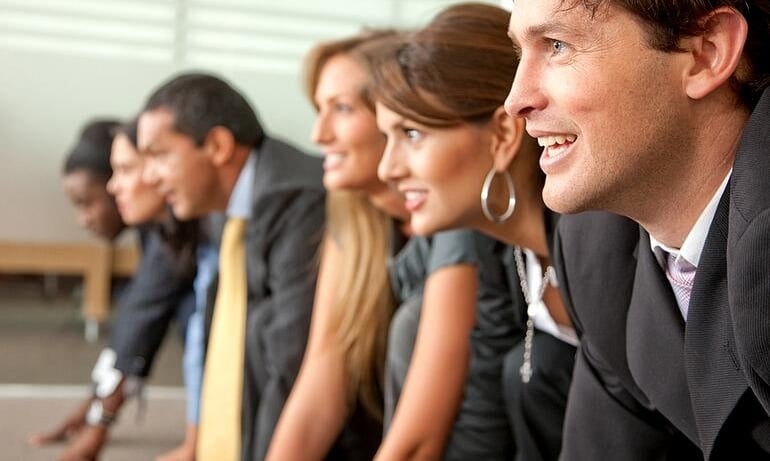 Want to gain an edge on your competitors? Follow these five tips to stand out to hiring managers:

How To Stand Out In A Competitive Job Market
1. Start Networking
People are much more likely to hire candidates with a shared connection, so get out there and network. Attend networking events relevant to your field once or twice per week and spread the word among your existing connections that you're looking for new opportunities. You never know who might know someone at a company where you'd like to work.
2. Be Flexible
It's great to know what you want and go after it. However, if you're willing to be flexible on factors such as location, industry and job title, you'll have more options at your fingertips. Don't settle for a job that you don't want, but expanding your horizons may open your eyes to a career path you hadn't previously considered.
4. Avoid a Cliché-Filled Resume
Keywords like 'team player', 'self-starter' and 'hard worker' are seen on most resumes, causing them to lose their significance and won't help you stand out in a competitive job market.
Instead of incorporating these overused buzzwords into your resume, use examples to prove that you really are a great candidate. For example, if you were the top performing customer service rep at your last company, include this valuable information.
Learn More: Top Resume Skills To Make You An Ideal Candidate In 2019
5. Monitor Your Online Presence
Employers commonly search a candidate's social media pages to see if they can dig up any dirt. Whether you choose to make your Facebook and Twitter profiles completely private or put settings in place to block certain information from the public eye, it's very important to be proactive. Hiring managers know you have a personal life, they just don't need to see explicit details of what you do in your spare time.
Related: How To Find A Job Using Social Media
6. Focus On The Company
During a job interview, emphasize the positive impact you could make on the company, not the reasons you desperately need the job. Use your skills and experience to provide examples of what you could do for the company if hired.
For example, if you're interviewing for an executive assistant position, describe what you would do to make your boss's day run smoothly and efficiently.
Ready to start the year off with a new position? Sparks Group has been connecting qualified job seekers with rewarding employment opportunities since 1970. We have established partnerships with top companies in the Maryland, Virginia, and Washington DC.
Get started on your job search by visiting our jobs board or contact our recruiters for more information.