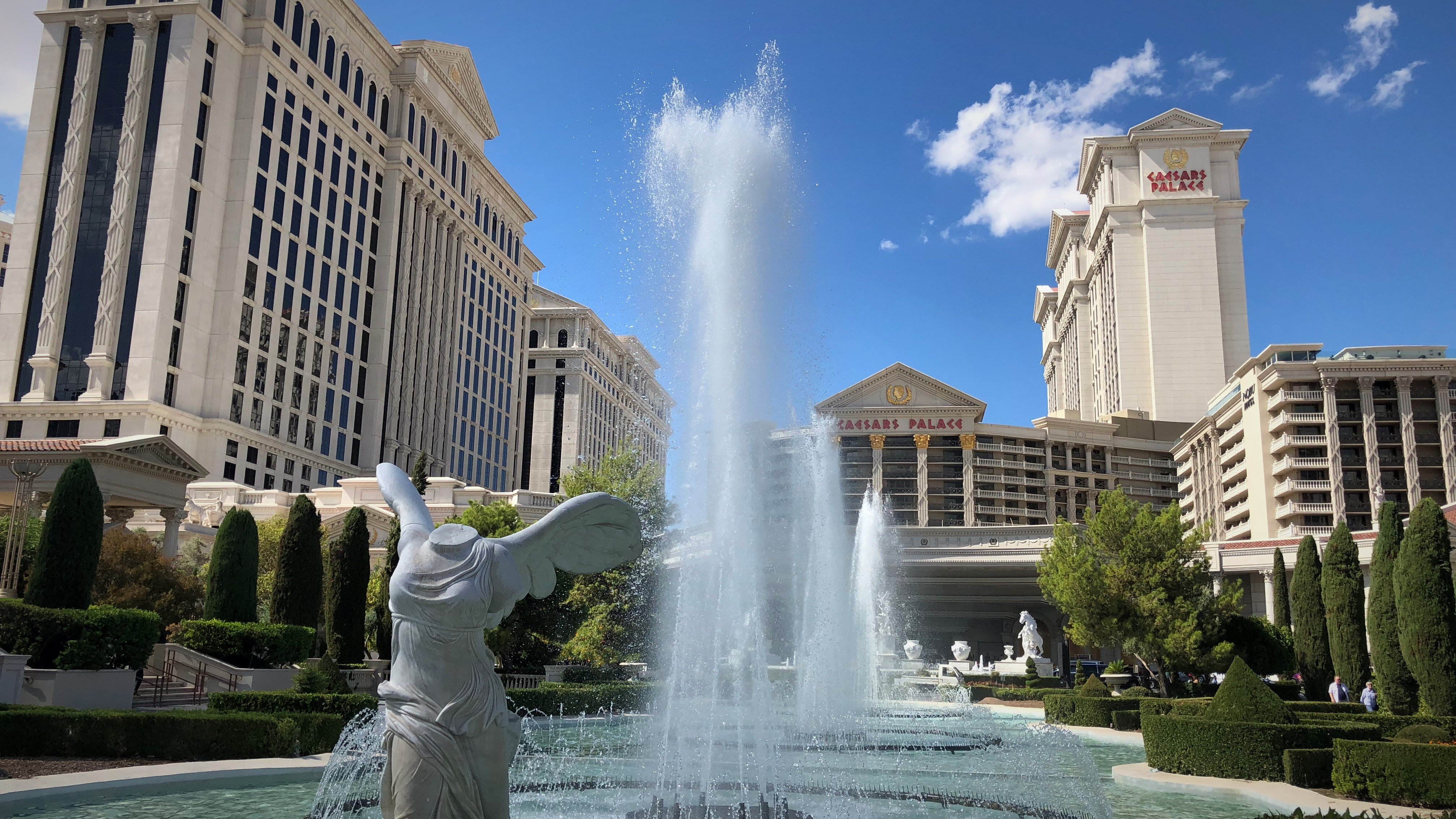 The American Marketing Association held its 2018 Marketing Week Live event October 3-5, 2018 in Las Vegas, NV. Attendees for the event included marketers and leaders representing a diverse subset of industries, including professional services, non-profit, agencies, energy, hospitality, and much more.
AMA defines marketing as "the activity, set of institutions and processes for creating, communicating, delivering, and exchanging offerings that have value for customers, clients, partners and society at large." Content and activities for the event focused largely on the last part of that definition—helping attendees find solutions to their problems and allow them to better bring value to consumers and audiences. Over the course of 2+ action-packed days, attendees engaged in an array of speaking engagements and workshops focused on solving marketing challenges. Sparks Group's marketing team was fortunate to attend the conference. The following provides a recap of an exciting two days.
Day #1 Keynote Speaker: Data's Sweet Spot: Finding the Connection Between Insights, Creativity, Culture and Performance
Jenny Storms, Chief Marketing Officer at NBC Sports Group (NBCSG) was the first speaker of the event and discussed how data is being used to strategically drive business at NBCSG and throughout the greater organization at Comcast-NBCUniversal. Ms. Storms highlighted the importance of a company's marketing department being valued and utilized—are they just a creative content group or a strategic/data-driven organization that facilitates business growth? The secret to evolving a marketing department into the latter is data.
After the merger of Comcast and NBCUniversal, CEO Steve Burke implemented a new cross-division collaboration program known as "Project Symphony" that would utilize the vast resources of visibility and support across the conglomerate's broadcast and cable television networks, film, and theme park divisions. Symphony has been widely covered, including a case study in Harvard Business Review and was massively successful in cross-promoting various NBCUniversal films and programming. In February 2018, NBC Sports Group would be staging two of the largest and most visible events in sports broadcasting—Super Bowl LII and the 2018 Winter Olympics. Coverage of these events would largely stretch across all of Comcast-NBCUniversal's outlets utilizing the Symphony program.
In preparation, NBCSG sought to create detailed persona plans for consumers/viewers (i.e., "why are you connected to the Olympics?") and various athletes that would be competing at the Olympic Games (and in a few short weeks would eventually become household names). Doing so would require building out a massive data warehouse that compiled proprietary and third-party (Nielson) data, contained strong visualization tools that would appeal to all of NBCUniversal's key stakeholders, and provided data that made the business run better. Before, during, and after the data warehouse was being built, Ms. Storms continuously sought feedback and personally evangelized the data to make it relevant for each group's leaders and executives. The program was a huge success with respect to viewership and ad buys for the Games. Ms. Storms concluded that while it would likely be smaller in scale, the same persona segmentation exercise could easily be applied for B2B and B2G marketers as well.
Day 1 Breakout Session #1: Growing Relevance with New Audiences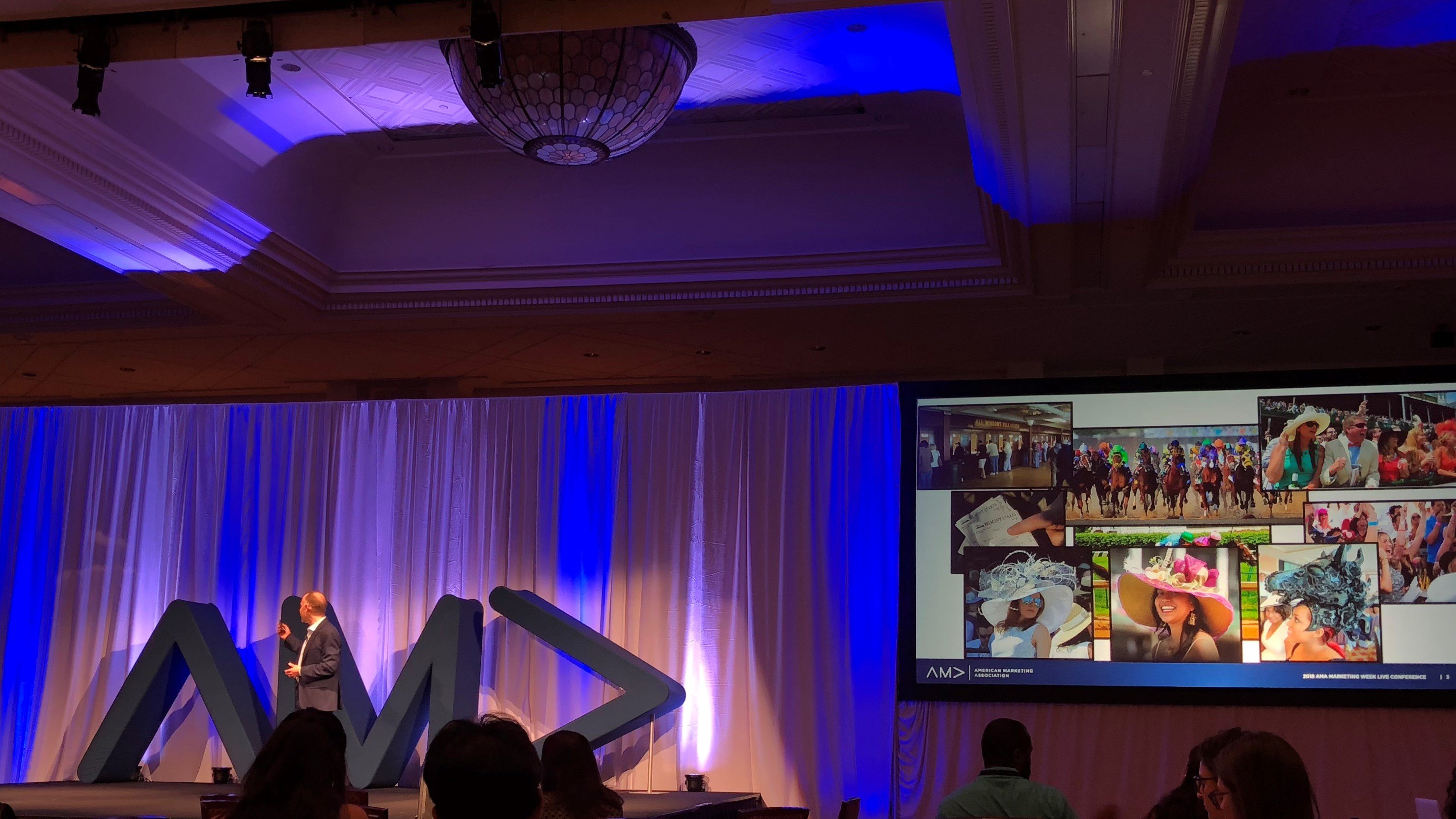 Jeff Koelba, VP of Marketing and Programming at Churchill Downs presented on how to expand a brand's reach to new audiences when the brand is already well known and well thought of. Churchill Downs has a very strong brand, largely synonymous with the Kentucky Derby (and Kentucky Derby Week) and holds a highly rated customer experience. However, in 2018 consumers have greater access to other forms of entertainment than going to the horse racing track. Additionally, states have increasingly legalized casino and sports gambling, providing consumers with greater access to gambling in their own backyard (or in some states even on their phone).
Churchill Downs is hyper-focused on its core customer—those that enjoy horse racing. However, the reasons why its customers enjoy horse racing vary greatly. They are:
Social Seekers: these individuals want to share unique and new experiences with friends and family. They attend horse racing events because of the excitement, great customer service and uniqueness of the events/activities.
Equine Enthusiasts: these individuals enjoy the majesty of horses and long-standing traditions of the "Sport of Kings."
Wagerers: these consumers enjoy the competitive nature of wagering on horses. They view it as a game of skill and seek high-quality insight and data to make wagering more successful and more enjoyable.
Data was collected from a variety of sources including customer surveying, collaborating with other racetracks, and working with sports and entertainment marketers to gather fan experience data. In researching these audience segments, Churchill Downs identified three areas of opportunities for potential growth.
Derby and Derby Watch Parties - the team at Churchill Downs made a massive investment in passive content for placement in lifestyle and entertainment media. Content placements included:

Here's Absolutely Everything You Need to Know Before Betting on the 2018 Kentucky Derby

Kentucky Derby Week – during the buildup to the Kentucky Derby, Churchill Downs stages a "week of unique experiences" complete with social events, live music events, and experiences where customers have the opportunity to get up close to the horses.
Other Events – social occasions were added to the calendar such as "Downs After Dark" (Saturday Night racing), "Family Adventure Day" (weekends with 20+ fully-integrated kid-friendly activities and affordable and healthy food options), and "Twilight Thursday" (racing Thursday nights with live music, discount drinks and food trucks).
Each initiative was hugely successful and has contributed to a 95% increase in non-sports media coverage and social media engagement and significant growth in attendance for all non-Derby events. Mr. Koelba's three takeaways for attendees were:
Deeply understand all of the reasons why people consume your product.
Identify occasions when your product's existing benefits can apply to broader wants/needs.
Seek opportunities to demonstrate how your brand fits into categories where you are not typical part of the consideration set.
Day 1 Breakout Session #2: 7 Trends in B2B Marketing: New Insights Into How B2B Marketers are Navigating Programmatic Advertising
B2B Marketers are increasingly becoming more effective and efficient in driving impactful campaigns. Matthew Hogg, Head of Programmatic at LinkedIn presented the latest trends and best practices in targeting, audience segmentation, ad buying, and more. Using a case study of Coca Cola vs IBM ("Selling Soda vs Selling Servers") Mr. Hogg highlighted many of the key differences between B2B and B2C sales. These include:
B2B purchases are made via committees; B2C purchases are made by individuals
B2B purchases are much more complex and often require trusted experts/consultant
B2B are much more valuable
B2B buying process is very emotional. "I might get fired if I buy the wrong technology."
Trends and Advice:
Start with Who – most B2B marketing today is not customer-centric with only 3% of B2B buyers saying that ads are relevant to them. Compare this B2C companies like Netflix and Amazon, who both use a highly-personalized user interface. Personas for B2B sales are more guesswork; marketers should rely on data.
Brands are overly obsessed with ad targeting. The solution for B2B marketers is relevant reach.
Look for undervalued media assets
Brand marketers are losing the budget battle. A direct response/sales campaign wins short-term, but brand wins long-term. LinkedIn recommends a 60:40 split between brand and direct response/sales.
Create advertisements that a machine can read.
Takeaways for Marketers:
Know your audience segments and don't over target them
Focus on the value, not just the costs
Context always matters
Branding investment is critical to long-term success
Let the robots do the work
Day 1 Lunch Keynote #4: Marketing in the Age of Authenticity
Consumer expectations have never been higher; they now expect instant access, a consistent experience, and authenticity). The addition of various devices and channels has also made the buyer's journey longer and less linear. Alice Palmer, VP of Marketing at Monotype showcased real-world examples and practical steps to building an authentic brand.
According to the presentation, 94% of consumers say they're likely to engage with a brand that knows and understands them. Creating this type of authenticity requires developing and implementing a persona-based marketing strategy. While it can be time consuming and burdensome, persona-based marketing can also be widely successful. Companies that exceed revenue goals are 2.5 times more like likely to use persona-based marketing. Ms. Palmer concluded with the following
Know your target buyers as people
Map your content directly to each stage of the buyer's journey
Align your marketing channels and tactics to the buyer's preferences (for example, do they prefer traditional advertisements or do they prefer engaging with a brand passively via web and social media content)
Day 1 Closing Keynote: Modern Demand Creation
Peter McGuiness, Chief Marketing and Commercial Officer at Chobani presented how, by establishing an in-house creative agency, Chobani was able to augment their brand strategy of "a food focused wellness company that uses food as a force of good."
What Chobani has learned:
Purpose starts with the product you make (or the service you provide). Companies must have a great product in order for people to find your brand authentic and listen to your cause.
Staying ahead starts with staying true to yourself and never outgrowing your ideals, values and beliefs.
Create authentic programs that drive authentic attention.
Day 2 Keynote #1: Unveiling the 2018 Edelman Earned Brand Study – Earned vs Forced Attention
Today's consumers don't just expect brands to provide a great customer experience world class service. They expect the brand to also be part of the solution to societal challenges. President and CEO of Edelman, Carol Potter presented results of Edleman's 2018 Earned Brand Study. Findings of the study included:
Consumers are less trusting of social media.
Business is more trusted than government.
Business is now expected to take initiative on change. 64% think that CEO's should take the lead on societal good and making change.
1 in 2 people are belief-driven buyers

67% of those surveyed bought a brand for the first time because they took a stand on an issue.
65% did not buy because a brand stayed silent on an issue

People believe brands can be effective at solving societal issues/problems.

46% think brands have better ideas for solving the country's problems than the government does.
53% think brands can do more to solve social ills than the government can.
54% think that brands will listen to them.
Ms. Potter provided three guidelines/best practices to marketers for implementing change:
Purpose – Clearly articulate why you exist and make an effort to address that purpose.
Culture – Authentically connect your stand to a relevant moment in culture.
Activism – Confront a controversial issue that has a direct impact on your stakeholders and/or your brand.
Day 2 Breakout Session #1: Intelligent Automation
Automation and Artificial Intelligence (AI) is a hot topic in many industries such as finance and healthcare. However, marketers are using something different--Lou Cohen, Chief Marketing Officer at Wolters Kluwer Legal and Regulatory U.S. presented on what he coined "Intelligent Automation" (IA) where marketers are using tools to help drive more successful campaigns.
Learn More About How AI and Humans Are Partnering Together: eBook: How to Keep the Human in Human Resources
According to Mr. Cohen, marketing automation "enables businesses to automate tasks and workflows for the marketing and sales process." This includes profiling visitors on landing pages, performing lead scoring based on visitor activity, sending automated personalized emails, and making web recommendations to support lead nurturing and engagement. Mr. Cohen concluded that human input (i.e., "creating rules" for automation systems) will continue to be vital in instructing AI systems where to start, what to automate and how to handle processes.
Day 2 Breakout Session #2: Experience Design for Brands
Russ Klein, Chief Executive Officer of AMA spoke about how the principle of "Brand = Promise + Experience" is now obsolete. Mr. Klein's new principle suggests that a strong brand now relies on a great customer/user experience, when combined with effective storytelling. Highlighting the importance of experience design, Mr. Klein challenged the long-standing 4 P's of Marketing (Product, Price, Place, Promotion) with the following thoughts:
Consumer today don't value the product itself; they value the solutions that the product provides (e.g., Is it functional? Is it reliable? Does it solve problems?)

Price is no longer as important as time. Across all industries the #1 source of consumer annoyance is "waste of time."

Place has been replaced by omnichannel. Nearly 51% of firms use at least 8 channels to engage customers. Examples of various channels include website, mobile, brick and mortar store, email, social media, call center, digital ad, and search)

Promotion has been replaced by storytelling. This is where marketers have an opportunity to shine--designing for customer experiences and removing negatives. Mr. Klein cited Amazon, Zappos, Disney and Safelight as examples of companies that excel at this.