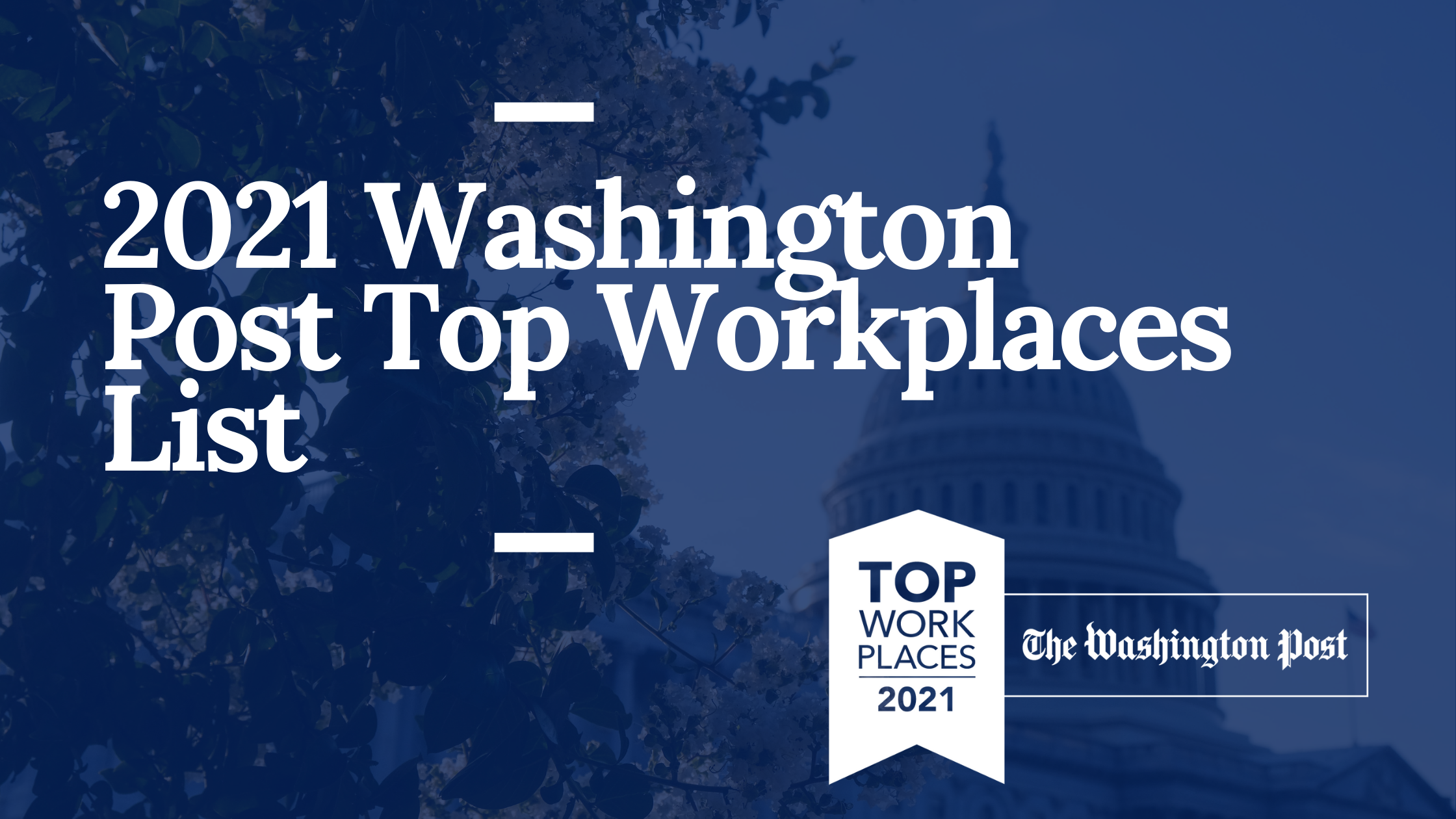 Leading staffing and recruiting services provider is a six-time winner of the Washington Post Top Workplaces Award
Sparks Group has once again been recognized as a Top Workplace in the Greater DC Metro Area by the Washington Post. Conducted in partnership with employee engagement firm Energage, LLC, The Washington Post's Top Workplace program identifies the top-ranked employers in the DC metro region. Results are based solely on responses from their employees, via a confidential survey. Through survey research, Energage measures 15 culture drivers that are indicative of employee engagement and overall satisfaction, which in turn leads to better business results.
The Washington Post hosted a virtual awards ceremony on Thursday, June 17, 2021, to recognize the top-ranked companies. The 2021 Top Workplaces recipients include employers of all sizes, including private and public sector organizations, government agencies, and nonprofits. 2021 marks the sixth time that Sparks Group has been named to this prestigious list, including every year since 2017.
This recognition from The Washington Post continues a long trend of Sparks Group being named by major publications companies as a top workplace and as a best-in-class staffing agency in the markets we serve. Earlier in 2021, Sparks Group was named by Forbes to their America's Best Temporary Staffing Firms, Best Professional Search Firms, and Best Executive Recruiting Firms lists. Additionally, Sparks Group was named as a recipient of ClearlyRated's 2021 Best of Staffing Client Diamond Award, 2021 Best of Staffing Talent Diamond Award, and Best of Staffing Employee Award, honoring client, talent, and staff satisfaction, respectively.
"We are honored to once again be chosen for this award by The Washington Post, said Steve Sparks, Owner and CEO of Sparks Group. "Despite the turbulent past eighteen months, our leadership and management teams have truly prioritized transparency, engagement, and recognition with all of our talented employees. We are delighted that our efforts continue to be validated by the high satisfaction scores we received from our tenured staff via the Washington Post Top Workplaces program. While we continue to thrive in a remote environment, we very much look forward to coming together as a team, in-person, as the pandemic subsides and our employee's personal comfort levels allow."
"Now in its eighth year, The Post's Top Workplaces list continues to highlight the companies in the Washington-area that are leaders in company satisfaction and engagement," said Washington Post Top Workplaces editor Dion Haynes. "Throughout the past 15 months, these companies have had to make quick decisions in order to keep their employees safe while also balancing productivity and efficiency, and their employees have taken note of this great work."
The full list of recipients, along with additional content will be published in a special Top Workplaces magazine on June 18, 2021 and on the Post's website.

###


About Sparks Group
Headquartered in Rockville, MD Sparks Group is an award-winning provider of staffing and recruiting services to businesses throughout DC, MD, VA, NC, and beyond. For half a century, Sparks Group has connected professional, administrative, technical, and creative talent to many of the area's top employers.
About The Washington Post
The Washington Post is an award-winning news leader whose mission is to connect, inform, and enlighten local, national, and global readers with trustworthy reporting, in-depth analysis and engaging opinions. It combines world-class journalism with the latest technology and tools so readers can interact with The Post anytime, anywhere.
About Energage, LLC
Headquartered in Exton, Pa., Energage (formerly known as WorkplaceDynamics) is a leading provider of technology-based employee engagement tools that help leaders to unlock potential, inspire performance, and achieve amazing results within their organizations. The research partner behind the Top Workplaces program, Energage has surveyed more than 47,000 organizations representing well over 16 million employees in the United States.