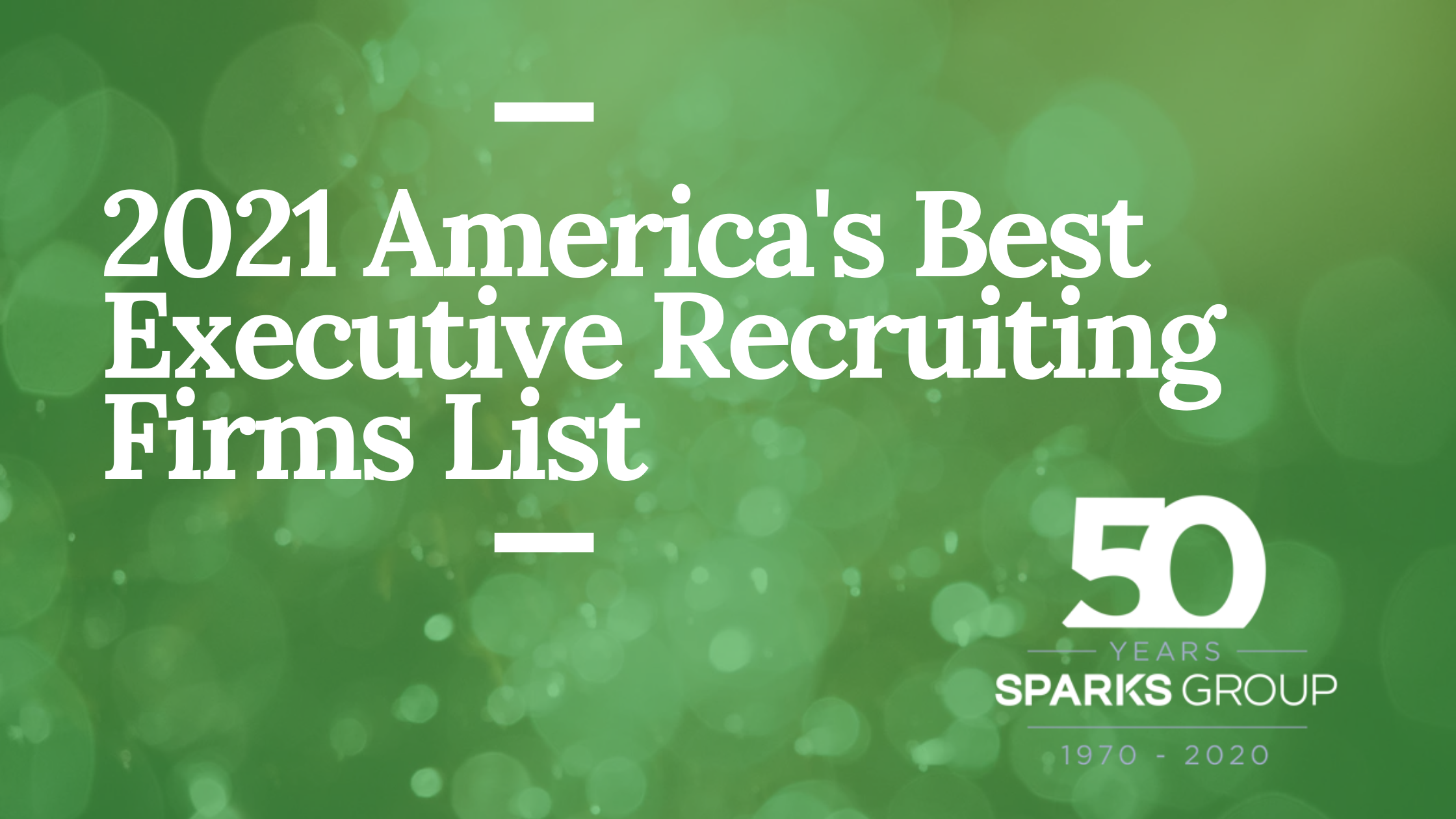 Sparks Group, a leading executive search firm headquartered in Rockville, MD, has been named to the 2021 Forbes List of America's Best Executive Recruiting Firms. Presented annually by Forbes and analytics partner Statista Inc., "America's Best Executive Recruiting Firms" honors the top executive search companies focused on placing professionals in positions with salaries of at least $100,000.
Forbes and Statista Inc. compiled the 2021 list based on recommendations from thousands of external recruiters (e.g., headhunters, HR consultants, staffing experts), HR professionals, hiring managers, and job candidates/executive talent that have recently worked with an executive recruiting firm.
"It is such as honor to be recognized by Forbes," said CEO and Owner Steve Sparks. Each day, our staff do such great things for our clients and the talent we place and making the Forbes lists are a testament to this. I would personally like to thank everyone who played a part in helping us make these lists."
Learn More: Four Benefits of Executive Recruiting Firms for C-Level Hiring
The complete list of "2021 America's Best Executive Recruiting Firms" was announced on May 6, 2021 and can be viewed on the Forbes website.
About Sparks Group
Headquartered in Rockville, MD Sparks Group is an award-winning provider of staffing and recruiting services to businesses throughout DC, MD, VA, NC, and beyond. This year, Sparks Group is celebrating 50 years of excellence in the staffing industry, sourcing exceptional talent to help clients build world-class teams and candidates advance their careers.

About the America's Best Recruiting and Temporary Staffing Firms 2021 Lists
The America's Best Recruiting and Temporary Staffing Firms 2021 ranking is based on an independent survey of peers and clients. Feedback from external recruiters, hiring managers at client companies, and job candidates were considered. Over 31,000 recruiters and 7,200 job candidates and hiring managers were invited to participate. More than 26,000 nominations have been considered in the final analysis.