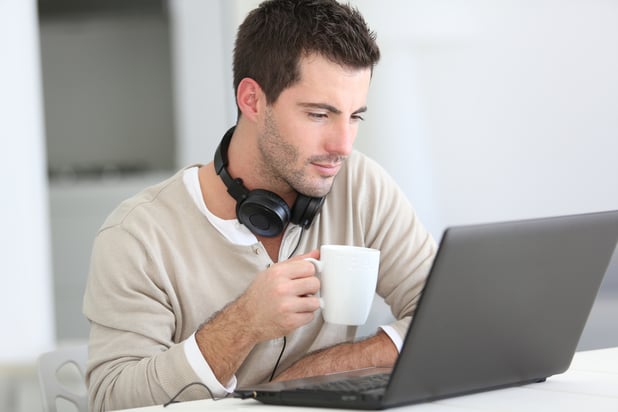 Your place of residence may become your workplace for the foreseeable future, as the demand for work-from-home opportunities increases. Candidates seeking positions in the IT field should stay up-to-date on which remote jobs offer the right pay and flexibility in order to decide where to best spend their job application efforts.
How Remote Work and IT Jobs Work Hand In Hand
Remote jobs are more common in the IT sector than in other fields. An estimated 300,000 IT professionals worked from home in 2015, making up 8 percent of all programmers excluding self-employed individuals.1 Programmers also worked from home more hours at a time than any other job, averaging five-and-a-half hours remotely each day from between 2012 and 2015.
Related Reading: Top IT Jobs of 2020
Work-from-home IT positions are common partially because they require skills that aren't dependent on the location of work. Attention to detail, ingenuity, and project management skills are all increasingly feasible with modern video conferencing and messaging applications. Unlike jobs that rely heavily on face-to-face interaction, IT positions tend to rely on the individual team members and their ability to work without requiring frequent check-ins.
Don't go into the job application process for work-from-home IT positions blind. Below are our top 4 recommended high-paying, in-demand IT positions to capitalize on for remote work:
1. Front-End Developer
Front-end web design makes for great remote work because the majority of website frameworks and code hosting is done in online applications from any physical location. The independent nature of web design is advantageous for a work-from-home environment because web designers are normally given a deadline for a completed website and then they can choose when and where to work to finish by that timeline.
Related Reading: 5 Skills You Should Master to Get Noticed by IT Recruiting Firms
Front-end programming provides a creative outlet for programmers who like to shape how the Internet looks. A successful web developer will pay close attention to user experience and visual design and should demonstrate mastery of time management to ensure projects are completed within the specified timeline. Also important is strong communication skills to be able to update clients on the status of their website changes and negotiate deadlines and expectations. Essential programming languages for website development include HTML and CSS, with an optional preference for knowing JavaScript. With extra time not spent on a commute and with an increased freedom of time management, designers also have more time to take online courses to expand or improve their skills.
Median U.S. salary for a front-end developer: $68,000.2
2. Back-End Developer
Back-end developer positions are in high-demand due to the number of companies requiring complex websites that can support a number of critical business functions. Back-end developers work on the server-side of websites and are responsible for managing the architecture code and data of a website's server, application, and database.
A strong back-end developer candidate will have an understanding of server-side scripting languages, such as PHP, Python, Ruby, Java, Perl, and Node JS, as well as have a basic knowledge of HTML and CSS.3 For soft skills, teamwork and communication skills are important because back-end developers will often work alongside front-end developers and business stakeholders to ensure the desired website can run the way it's intended. Back-end developers should be able to create databases, optimize queries, and understand various web frameworks.
Median U.S. salary for a back-end developer: $72,000.4
3. IT Project Manager
IT project managers are tasked with organizing team members responsible for helping an organization achieve their IT objectives. IT managers must have strong communication skills to be able to work alongside an organization's management team to ensure the two parties align on project timelines and direction. While team chemistry is important for project success, video chat programs and messaging tools allow IT project managers to oversee their teams via the Internet.
Successful applicants for IT project manager positions will be job seekers who have strong technical management, problem-solving, and leadership skills and are able to analyze data, make project decisions based on analytics, and manage a strict budget.
Median U.S. salary for IT project manager I : $84,562.

4. Cloud Architect
Cloud architects are responsible for handling the successful deployment of a company's cloud environment. When working with businesses seeking to move to the cloud, an architect is tasked with determining what cloud features a company needs to gain a competitive edge and enable innovation. This entails deciding which systems, cloud vendor, and APIs will provide the client with long-lasting cloud success while decreasing security risks.
Related Reading: Top Tips for Winning the Cloud IT Talent Battle

A cloud architect should have experience working in several popular cloud environments such as Amazon AWS, Microsoft Azure, and Google Cloud. Cloud architect applicants should also have an understanding of business computing needs and applications, a background in IT engineering, experience with Python, Ruby, and Elixir programming languages, and demonstrate strong written and verbal communication skills.
Median U.S. salary for cloud infrastructure architect: $142, 920.
Work With An IT Staffing Agency
In a world shifting to a remote workforce reality, IT positions provide job seekers with several lucrative career opportunities that provide them with the freedom to work wherever they function best. This drives many applicants to these jobs; however, this can make it more difficult to secure an open position.
Consider working with IT recruiting firms or IT temp agencies to gain a competitive advantage over other applicants and increase your chances of landing your next IT job that allows you to work remotely.
Related Reading: Struggling To Find A Job? 5 Reasons To Work With A Recruiting Agency
Sparks Group is a leading staffing and recruiting firm specializing in assisting IT professionals find their next position at a company that aligns with their career goals. Our recruiters work with candidates to perfect their resumes and hone their interviewing skills to help you land your ideal job.
We provide IT professionals with:
Flexible and streamlined job application assistance
Extensive IT industry knowledge and expertise
Quick results and personal attention
Visit our job board or contact Sparks Group today to get a start on your new career in IT.
Sources:
[1] https://qz.com/950973/remote-work-for-programmers-the-ultimate-office-perk-is-avoiding-the-office-entirely/

[2] https://www.thesoftwareguild.com/blog/front-end-vs-back-end/
[3] https://medium.com/@mobilunity/what-skills-do-i-need-to-become-back-end-web-developer-8cdd16fad6c8
[4] https://www.thesoftwareguild.com/blog/front-end-vs-back-end/