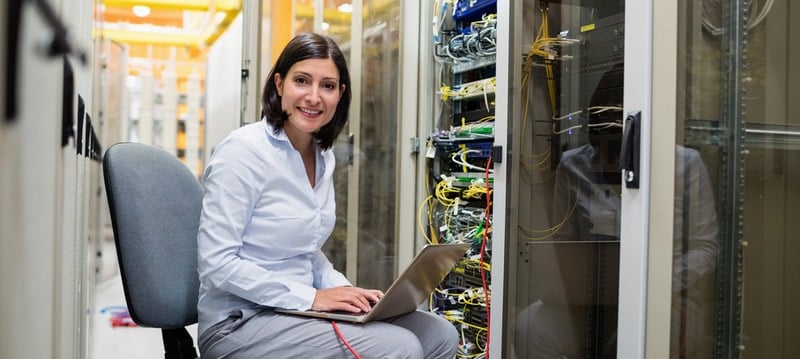 Information technology (IT) jobs often dominate lists of "best" career opportunities – and for good reason. IT jobs tend to be well-paid and in high demand, regardless of location. Further, an experienced and knowledgeable technology candidate can often negotiate for top benefits, work-life balance, and telecommuting considerations, all aspects that appeal most to job seekers.
As the field of IT advances and changes, the demand for different positions rises and falls. The technology positions in highest demand tend to be those that are needed in organizations of all sizes, across many different industries.
Top IT Jobs In Demand For 2020
Each new year brings new business technological needs and IT priorities. Here are the top five IT jobs to capitalize on in the 2020 hiring landscape:
1. Artificial Intelligence Specialist
Artificial intelligence (AI) and machine learning continue to drive technological advancements for what businesses and people use in everyday life, such as in cars, TVs, and manufacturing machinery. Determining how to upgrade and improve these developments requires a professional with the right skills and hunger to determine where AI currently operates and where it can go in the future. Linkedin data found that AI specialist hiring growth has increased 74% annually in the past 4 years.
Recommended skills to succeed as an AI specialist:
Strategic thinking
Experience with AI and machine learning applications and processes
Learn more: The Best Strategies to Find a Job in 2020
2. Full Stack Developer
Businesses continuing to build their online presence and expand their offerings require developers experienced in both front-end and back-end languages to stay responsive to growth demands. Full stack developers can become essential team members in this venture by assisting with software and mobile app development, database expansion, website speed and UI optimizations, as well as providing strategic IT recommendations.
According to the U.S. Bureau of Labor Statistics, the number of available full-stack development positions will increase from 135,000 in 2019 to 853,999 by 2024. The employment of web developers is also projected to grow 13 percent from 2018 to 2028, largely influenced by the increased use of mobile devices and eCommerce.
Recommended skills to succeed as a full stack developer:
Experience using front end languages including HTML, CSS, JavaScript
Analytical and problem-solving skills
Understanding of SEO ranking and optimizations
3. Data Scientist
Businesses are using data analytics to drive business objectives, better understand and cater to their customers, promote cost-effectiveness, and conduct predictive modeling. However, in order to transform massive amounts of raw data into actionable insight a company should recruit a data scientist to focus on the mathematics and analysis that goes into handling collected data to help inform businesses of key trends and insights.
In January 2020, there were 6,542 data scientist job openings. According to Linkedin, data scientist demand is up 37% percent annually this year.
Recommended skills to succeed as a data scientist:
Strong analytical and math skills
Data intuition and data wrangling experience
4. Big Data Engineer
Where data scientists are concerned with analyzing and understanding collected data, data engineers focus on creating and managing the infrastructure and tools required to collect, generate, and store data. Often, these improvements are made to directly support business applications and information systems. There are an estimated 6,941 job openings for data engineers as of January 2020.
Recommended skills to succeed as a data engineer:
Ability to identify new avenues for collecting data
Experience gathering and processing raw data, as well as communicating insights to leadership
5. DevOps Engineer
DevOps engineers are an essential part of any company's tech team, bridging the gap between IT staff and developers to oversee code releases. Company leadership seeking frequent and successful software updates will look to DevOps engineers to stay updated on emerging DevOps tools, processes, and strategies to promote efficient deployments. Business Insider reported 6,603 job openings for DevOps engineers at the start of 2020.
Recommended skills to succeed as a DevOps engineer:
Understanding of the Software Development Lifecycle
Experience in the feature planning, testing, and deployment process
Partner With An IT Recruiting Firm To Find Your Next IT Job
As IT jobs are increasing in demand across the board, companies are competing for a limited pool of qualified candidates. IT professionals have many options to choose from and it can be a frustrating and tedious task searching and applying for companies, not knowing who will deliver the best job offer. However, there are great opportunities for growth, career advancement, and skill development when matched with the right business.
By working with an IT recruiting firm, IT professionals can leverage the insights of recruiting experts and expand their network of companies to choose from. Recruiting experts specializing in the field of IT, like Sparks Group, can match candidates to their ideal job opportunities based on their aspirations, needs, and requirements.
Sparks Group is a nationally-awarded staffing and recruiting firm with a proven record of successfully helping candidates connect with business. Our recruiters work closely with candidates, perfecting resumes and interviewing skills to help you land your ideal job.
Visit our job board or contact Sparks Group today to get a start on your new career in cybersecurity.
---
Sources
https://www.businessinsider.com/best-tech-jobs-2020-ranked-salary-job-openings-employee-satisfaction-2020-1#5-devops-engineer-16
https://www.bls.gov/ooh/computer-and-information-technology/web-developers.htm
https://www.forbes.com/sites/louiscolumbus/2020/01/05/ai-specialist-is-the-top-emerging-job-in-2020-according-to-linkedin/#2f9b989e7495
https://www.cio.com/article/3235944/hiring-the-most-in-demand-tech-jobs-for-2018.html