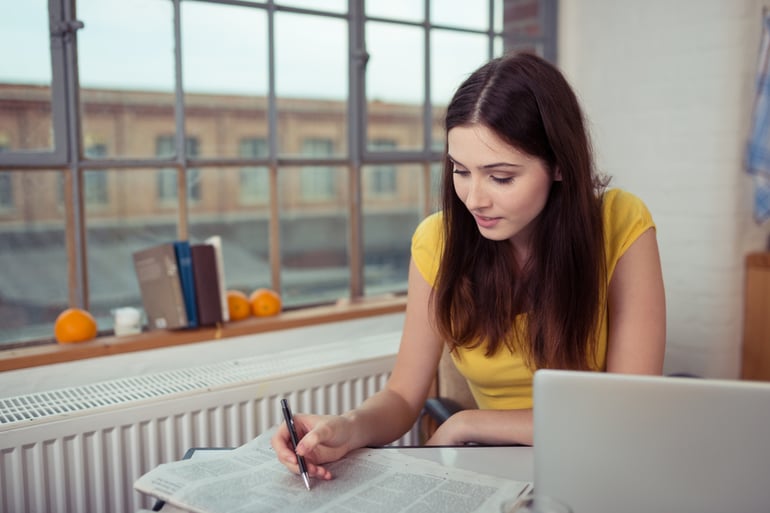 The job market looks incredibly different today than it did just a few months ago. Before COVID-19, the U.S. was enjoying record low unemployment and high job growth, making it a candidate-driven market. Now, the general unemployment rate is rising daily and hitting some industries - like retail and hospitality - much harder than others.
This represents a drastic change from the previous market – now, candidates are in competition with one another for a limited number of jobs, rather than the other way around. And for younger job seekers, this may be their first encounter with this type of job market.
Just because the landscape is changing doesn't mean that a new job is out of the question. Many companies are still hiring – and others have temporarily paused hiring but will pick up again as the restrictions are being lifted and businesses are are reopening. You can use this time to lay the groundwork for a strategic, fruitful job search in the future.
If you will be looking for a job after the pandemic subsides, consider these strategies:
1. Networking

Even in a remote situation, networking is still a powerful tool to use in a job search. Individuals in your professional network may have knowledge of upcoming and/or unadvertised opportunities within their respective organization that they may be able to refer you to. Often, companies have employee referral programs that incentivize candidate submittals, so networking can be to their advantage, as well. Your personal network – family, friends, and acquaintances – may know of job opportunities, or have a connection to someone that does. Put the word out: make sure your network knows that you are interested in suitable opportunities.
Related Reading: Top Resume Skills To Make You An Ideal Candidate In 2020

2. Virtual Networking

So how can you network, when there are no events to attend? Virtual networking may be the answer. The widespread use of video communications platforms, like Zoom, have created a level of comfort with the technology that did not exist prior to COVID-19. There are companies, like Brazen or CareerEco, that offer virtual career fairs in a number of fields.
3. Research
Research potential employers, so that you can conduct a job search that is targeted toward specific employers, rather than taking a scattershot approach. A job search requires effort, attention, and active management – don't spend that effort on a company that will not be a good fit in the long run.
Think about the type of job, company, workplace culture and environment that you would find in your ideal job. Figure out which companies meet these requirements and conduct a targeted job search.
You can begin now, following and engaging with companies on social media, signing up for newsletters or reading their blog. This can help you to establish a relationship with the company and their culture, even in advance of submitting an application.
4. Resume

If you are planning to conduct a job search, take a beat and review your resume. Be sure that it includes important, relevant keywords that appear in job descriptions that interest you. Optimize your resume now, so that it is ready to send out when the perfect opportunity arises. A recruiting and staffing agency like Sparks Group can help you optimize your resume, to present your skills and experience in the best possible light.
Related Reading: How to Write a Resume for Applicant Tracking Systems
It is important that your resume show a balance of hard and soft skills, as employers are evaluating prospects on a variety of skill sets. Hard skills in demand include job specific skills. In technology, those would include software development, data analytics, and cybersecurity; in finance, it may include auditing, or proficiency with budgeting or forecasting. Soft skills such as communication, leadership and teamwork have always been in-demand - but recent events have increased the value of employees that are flexible, agile problem-solvers.
5. Interview
A good interview is key to landing your ideal job – but the good news is that interviewing skills aren't innate. They can be learned. As companies begin to come out of lockdown, interviews may take place in-person, or they may be remote. Be sure that you have a strategy to address either situation, and that you are up to date on both in-person and remote interview etiquette. Some research today could save you an embarrassing situation in the future.
Of course, you can't expect perfection. But taking care of the basics: ensuring that you are ready and arrived on time (whether in-person or virtually), and that you are prepared to discuss yourself, your experience, and the opportunity at hand in a clear, direct manner can go a long way toward making the interview a productive process for all sides.
Related Reading: Top 5 Video Etiquette Tips for Remote Interviews
The job application landscape is undergoing major changes, and it is difficult to predict what the future may bring. However, with some preparation and strategizing, there is no reason that you can't land a new job when the pandemic subsides.
Working with a staffing and recruiting firm like Sparks Group can also help you with a job search. Our team of expert recruiters have decades of proven success in matching candidate to company, providing guidance and helping you showcase your skills and experience in the most effective manner.
Visit our free job portal for a list of available full-time, contract-to-hire and temporary positions at leading companies nationwide. It's easy to apply and we regularly update our postings based on our partner's open positions.