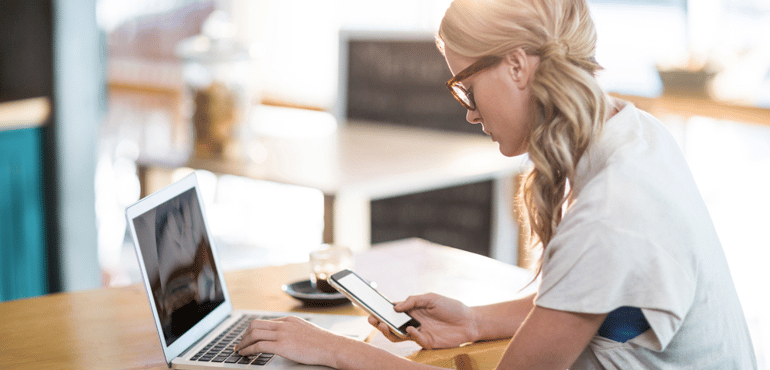 Even in a strong job market, with low unemployment, finding a new job can be a challenge. Job seekers must face an often lengthy and confusing recruiting and hiring process that varies greatly from one employer to the next.
Additionally, as more employers rely on applicant tracking systems (ATS), job seekers must tailor their resumes to pass preliminary resume screening before their resume even reaches a human – attempting to glean keywords from uninformative job descriptions and postings.
One challenge common to all job searches is determining how to get started. There are so many different places to search for jobs and ways to connect with potential employers, that it can be difficult to know where to begin.
However, understanding the pros and cons of different job search methods can help a candidate determine the mix that suits them best, and has the best chance to connect them with their dream job.
Online Job Search
Technology continues to change the way that people go about their daily lives: how we do business, see the world, and interact with one another. It has also changed the way that people seek out new opportunities, plan their careers, and conduct a job search; and the ways that employers source and hire candidates. Some places candidates can search for a job online include:
1. Job Boards
Job seekers often start with online job boards, such as Indeed or Monster. Employers pay a fee to post open positions that can be searched by applicants. Job seekers can post resumes as well, which employers can search by function, skill or location.
There are a number of other job boards, however, that are more niche than the ones above. Examples include Dice for IT candidates and ClearanceJobs for security-cleared professionals. Look for online resources that post jobs based on your location or that post open positions in your field or industry. Posting your resume on a specialized site may help you to get noticed by a recruiter looking for a candidate with your skills.
2. Social Media
As social media becomes more integrated into our personal and professional lives, it is becoming a central function of the job search process, both from the candidate side and the recruitment side. Social media is a channel where employers can build their brand and communicate with candidates, and where candidates can access available positions and connect with employers.
A recent study[1] from Jobvite found that 87% of employers use LinkedIn for recruiting, 55% use Facebook, and 47% use Twitter. Of those, LinkedIn is the most effective driving 73% of social hires overall. Social media is a good way to find open positions that may not be posted elsewhere and to research companies and their culture before submitting a resume to determine if they would be a good fit.
3. Company Website
Some companies post open jobs on their own website, rather than on a job board or social media, so if you have a company in mind, checking their website is a good first step.
Further, many recruiters are working on continuous recruiting, building a talent pool of candidates in advance of an open position. Submitting your resume directly to the company is a good way to become a part of the talent pool, even if the ideal job is not currently available.
Offline Job Search
While the digital world is expanding and becoming a bigger part of daily life, it will never truly take the place of real-world interactions and experiences. Some offline avenues for searching for jobs include:
1. Networking
Research shows[2] that 85% of all available jobs are filled through traditional networking: in part because face-to-face communication provides a strong connection between candidate and employer, and because networking allows candidates to tap into the 'hidden' job market of unposted positions. In fact, 68% of junior job seekers find that face-to-face networking is more valuable than online.
Use your network of established contacts to advertise your interest in a new position. Tell everybody! Professional contacts – former coworkers, professional association members, community partners – as well as personal contacts – friends, family, etc. - you never know who will have a lead on the ideal job for you. Consider expanding your existing network as well, attending local networking events and career fairs.
2. Professional Association
There are currently more than 92,000[3] trade associations in the United States: one for every type of job, from lawyer to dog walker. Joining a professional association can help you expand your network, learn from your peers, and even find a mentor to help with your job search.
3. Staffing Agency
In tight job markets, where companies are competing for a limited number of available candidates, employers turn to staffing agencies to help them fill open positions. Benefits of partnering with a staffing agency include:
Free: There is no charge to candidates for the service.
Feedback: Agency recruiters can give you feedback on the entire process, from resume to interview – and even help with salary negotiation!
Access: Jobs may be forwarded to a recruiter without being posted publicly.
Network: An agency has a wide network of contacts with employers that may not be well-known to the public, but that would be a good match for you.
Contract / Temporary Work: An agency has access to contract and temp work if you are available immediately, and are interested in either using a gig to build your resume or to fill in while you are between regular jobs.
Learn More: Struggling To Find A Job? 5 Reasons To Work With A Recruiting Agency
There are many different ways to conduct a job search today. Depending on your skill level, experience, function, and industry, a mix of different online and offline strategies will probably be right for you.
Finding a job is a challenge, but enlisting a partner can help. Sparks Group is a recruiting agency with a proven record of success in matching candidate to job. Our recruiters have experience with a number of different industries, specialties, and geographic locations and take the time to understand your goals and the type of organization you'd like to work out.
Visit our job board or contact Sparks Group today to get a start on finding and landing your ideal job.
---
Sources:
[1] https://www.jobvite.com/jobvite-news-and-reports/jobvite-index-shows-hiring-patterns-in-linkedin-facebook-twitter/
[2] https://review42.com/networking-statistics/
[3] https://www.npr.org/2011/05/25/136646070/time-for-associations-to-trade-in-their-past