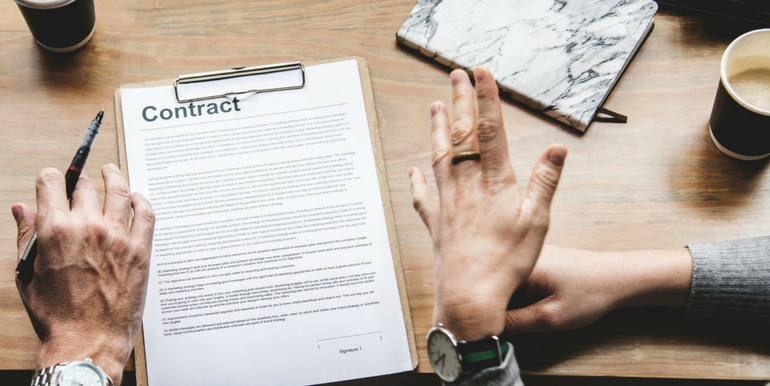 Contract to hire salary negotiation is a critical step for job seekers that are considering these types of employment opportunities. With contract to hire positions, there is generally either a commitment or at least a possibility to convert the employee to a permanent employee of the company after the completion of the agreed-upon contract period (generally a predetermined number of days or hours worked).
However, unlike a full-time position, there is no annual salary to use as a benchmark to compare with similar roles. Instead, contract to hire employees are typically offered an hourly pay rate, with benefits generally provided by the staffing agency.
Follow these contract to hire salary negotiation tips to ensure you are getting the best offer:


1. Determine Your Target Pay Rate
The first step in getting the best offer possible is to set a target on how much you'd like to be paid for your skills and experience.
When considering contract to hire pay rates, a good technique is to look at full-time salaries for roles that relate to the job and breaking them down into a base hourly rates. Then, depending on the requirements of the job, the level of expertise needed, competitiveness of the job market, and sometimes even the urgency of the employer, candidates can aim for higher or lower rates.
Recruiters are great resources for understanding average pay rates, using their industry expertise to explain what is realistic in your job market. By conducting proper research, candidates can gain a much better understanding of what is a reasonable rate to negotiate for and even help them to avoid poor pay offers.
2. Be Clear With Your Goals
The second thing you need to do when negotiating your salary is to clearly explain your long-term goals when communicating with recruiters. Are you using a contract to hire position as a gateway to full-time employment and the benefits that come with it? Or do you enjoy being a contractor with a flexible schedule and taking home a higher salary without the benefits? Additionally, communicating details such as availability and workplace preferences (industry, work environment, etc.) will help ensure that the contract to hire position, the client and the candidate are a long-term fit for one another.
Learn More: Navigate the Contract to Hire Process: 3 Ways to Land a Permanent Job

3. Get as Much Information as Possible
When negotiating pay, it is important to learn as much information about the company and position. Maybe the company is looking for niche skills, experience and/or qualifications you can highlight on your resume. Company changes in new department funding or cutbacks can also impact your negotiation strategy.
Stay on top of these changes by doing your research and building good relationships with your recruiter and key decision makers. You can leverage the information to build a case for a higher salary when negotiating for the best deal possible.
Learn More: How to Get Salary Data You Can Actually Use
Ready to get started in your search for contract to hire positions? Partner with a staffing and recruiting firm, like Sparks Group, to find a contract to hire position at top companies across various industries.
Sparks Group is a highly awarded staffing and recruiting firm with more than four decades of experience in placing candidates for contract to hire, temporary and permanent employment. Sparks Group partners with clients and candidates to learn career or company goals in depth, and match highly qualified talent in rewarding positions for career advancement. With our expertise in various industries, Sparks Group works to make contract to hire positions mutually beneficial for both candidates and employers.
If you're searching for your next role, head over to our jobs board to see a full list of our available roles or get in touch with a recruiter today.