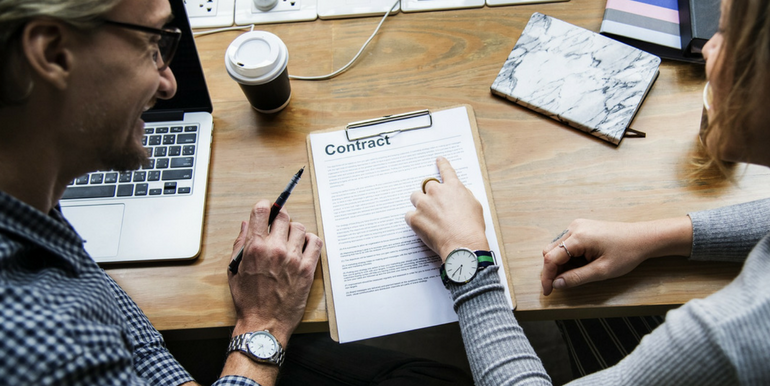 The contract to hire process offers a unique opportunity for candidates to gain experience and test the waters in an unknown industry. The flexibility it provides is ideal for a variety of candidates - those just out of college, professionals looking for a location change, or individuals looking for a full-time job with little experience.
For many, the downside to a contract to hire arrangement is that there is no guarantee that your contract will turn into a full-time position. However, that doesn't mean you can't make landing a permanent job more likely.
If you're in the beginning or middle of a contract to hire position, here are three ways you can land a permanent job once your contract is over:
1. Make Yourself Indispensable
Although this may seem like an ambitious goal, you can begin by making yourself indispensable in small ways. This begins by becoming 100% reliable - showing up on time and staying late when necessary. Saying yes when people ask for help and delivering excellent work. Make a conscious effort every day to add value to the company. By making yourself a core component of the workplace, management won't be able to imagine life without you.


2. Network and Build Relationships
The more people who know who you are (in a good way), the more likely it is that someone will recommend you when it comes time to offer you a permanent position. You should look to connect with senior members of staff, as well as those involved in the hiring process. Start by introducing yourself to everyone at an appropriate time, and then look for ways you can add value to their jobs or discuss the company with them.
Make an effort to network with colleagues outside of your department. This is a great way to fit in, evaluate the company culture, and improve your performance. If you take a genuine interest in all parts of the company, you won't just become well-known and well-liked, you'll become better at your job, too.
Read more: 5 Networking Event Tips to Make it a Success
3. Offer Real Value
Chances are that you will have a professional interview before being offered a permanent contract. This is your chance to show the value that you have added to your company during your time there. So it's important to have hard evidence lined up.
Always be looking for ways to improve how the company operates, whether this is using a fresh perspective to see things differently or by stealing ideas and processes from other companies that you have previously worked at. The more you can show during your contract to hire job, the more they will be encouraged to keep you around.
Not happy with your current position? Do you want to explore other careers or see what else is out there? Working with with a staffing and recruitment firm, like Sparks Group, can help you find the contract to hire position you're looking for.
Whether you're interested in a short-term position, exploring a new industry, or hoping to land a permanent job, Sparks Group connects talented candidates with contract to hire positions at innovative companies in a range of industries.
Head to our job board to explore available contract to hire positions or schedule a free consultation with one of our staffing experts today to learn more about the contract to hire process.