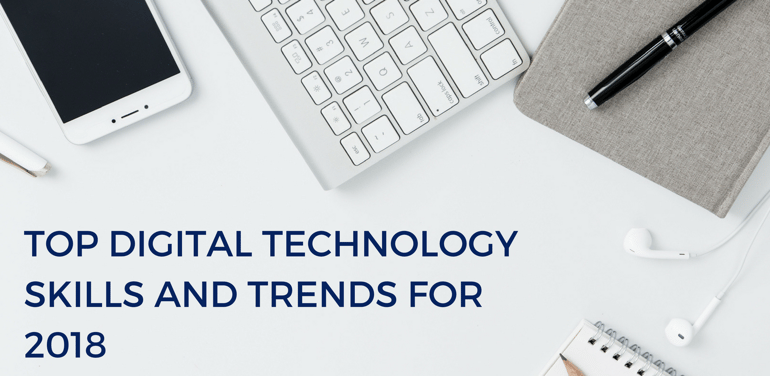 In 2018, the technology industry will continue to see explosive growth in the digital revolution. Global trends are placing an intense focus on security, predictive analytics, artificial intelligence, the cloud, augmented reality and blockchain. While these trends have set the stage for future job seekers, recruiters are struggling with the shortage of qualified candidates for the surplus of jobs available. With that said, you may ask, 'What is the most significant trend in recruiting for these positions?' or 'What skills do I need to get noticed by IT recruiting firms?' The first skill set that comes to mind may include industry certifications or specialized degrees. However, candidates with soft skills have the biggest competitive advantage in today's market. These individuals have proven to communicate, problem-solve, and collaborate with team members more effectively, leading to a higher rate in productivity. Companies today position IT employees to communicate with multiple business units in order to successfully develop and implement programs and solve IT related problems both internally and externally to clients.
Related Content: The Digital Transformation Powers the Hottest Trending Jobs in 2018
To ensure you shine as the elite individuals qualified for these digital technology positions, you will be required to possess both soft skills and hard skills. During the 2017 Gartner Symposium/ITxpo in October, Gartner revealed their Top 10 Strategic Technology Trends for 2018. The report categorized the trends into three groups with their associated jobs included.
Intelligent (AI Foundations, Intelligent Apps and Analytics, Intelligent Things): Artificial Intelligence is built into every technology which allows for more dynamic and flexible systems.
Digital (Digital Twins, Clouds to the Edge, Conversational Platform, Immersive Experience): Blending the virtual and real worlds to create an immersive digitally enhanced and connected environment.
Mesh (Blockchain, Event-Driven Model, Continuous Adaptive Risk and Trust): The connection between a set of people, business, devices, content and services to deliver digital outcomes.
Gartner defined this intelligent digital mesh as the "entwining of people, devices, content and services." These initiatives are achieved by building digital models, business platforms and intelligent services that support the complete entire digital business. Gartner analysts urged CIOs to "push digital innovation beyond experimentation to permeate the business, drive competitive advantage and deliver value."
These trends demand information technology professionals possess experience in the following specialties.
Security Analyst: Extensive knowledge of implementing security measures to protect an organization's computer networks and systems. The U.S. Labor of Bureau and Statistics projects employment opportunities for information security analysts to grow 28% through 2026!
Artificial Intelligence: These programmers help develop operating software that can be used for robots, artificial intelligence programs or other artificial intelligence applications that people use every day.
Data Scientist: Develop data-driven solutions by utilizing their analytical, statistical, and programming skills to collect, analyze, and interpret large data sets. For example, Python is the general-purpose language used by data scientists to manage data processing, visualization and machine learning. Also, it's known to be simpler than Java. Also, Big Data experience is necessary. This is described as data sets so large and complex they are impractical to manage with traditional software tools. Specifically, Big Data relates to data creation, storage, retrieval and analysis that is remarkable in terms of volume, velocity, and variety. Big Data is experienced across every industry and within every company. Specifically, NoSQL is a database technology that enables storing and analyzing large amounts of data. Also, Apache Hadoop allows you to store and process unlimited amounts of data of any type, all within a single platform.
Business Intelligence Analyst: Required experience in database technology, analytics and reporting tools. Candidates must have a bachelor's degree in computer science, information systems or engineering.
With the competitive employer market continuing into the New Year, the Society of Human Resource Management reported that compensation is expected to increase about 3% across all markets. Companies are offering higher compensation, workplace flexibility, and professional development opportunities in order to differentiate themselves from the competition and attract the hottest talent.
Contact Sparks Group today to evaluate your assets and explore new career opportunities in the technology industry!