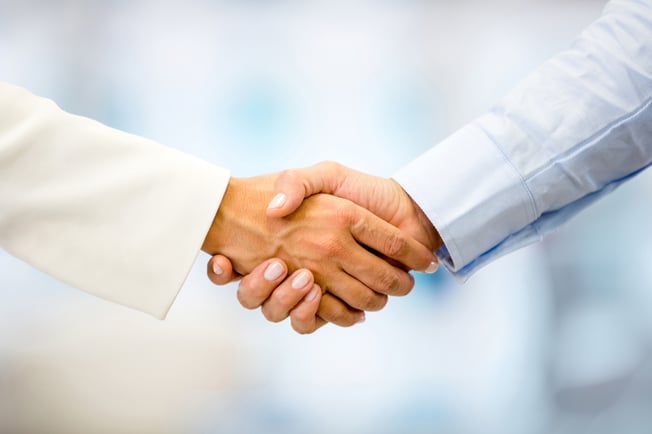 The interview process can be intimidating for any job seeker, between not knowing what the interviewer will ask or debating the best way to position yourself as a top candidate. Below you will find common interview mistakes that can hurt your chances of getting hired and strategies to overcome them.
Wearing Inappropriate Attire
Whether you are being interviewed in-person or virtually, what you wear makes a statement about how serious you are and how you want to present yourself as a candidate. When in doubt about what to wear, you should always overdress instead of underdressing. Make sure your clothes are clean and wrinkle-free. You should opt for conservative colors over flashy alternatives during your interview, so pick navy, black, gray, and dark brown clothes.

For subsequent interviews, keep the same standards in mind and avoid dressing more casually unless the hiring team is specifically directed to do so.
Arriving Too Late...Or Too Early
Always plan out your time with traffic and considerations in mind and arrive early to an in-person interview. Shoot for around 10-15 minutes before the scheduled time to give you cushioning for unexpected delays. For virtual interviews, plan to be ready a few minutes before and test the platform ahead of time to minimize the chance of technical difficulties that can delay you joining the call.

On the other hand, you don't want to be too early for an interview either, as it can interrupt the interviewers' schedules. If you arrive 30+ minutes early you may pull them away from other work, which is disruptive.


Presenting Yourself the Wrong Way
The hiring team will evaluate your behavior before, during, and after the interview, which factors into their perception of you as a strong candidate.
Keep the following tips in mind to avoid coming across the wrong way:
Make eye contact, have good posture, and be energetic when talking.
Pay attention to what the interviewer(s) discusses. Asking them to repeat what they said can come across as disinterested.
Avoid coming across as bragging or taking control of the conversation to talk just about you and your achievements. The hiring team may ask for this information, but don't dwell on it excessively.
Don't talk negatively about your previous work or employer.
Not Preparing in Advance
Preparing for an interview is a crucial part of the hiring process to help you practice responses to job interview questions and get yourself in the mindset of proving why you are the best candidate for the open position.

If you skip this step, you may get caught unaware by a question and come across as disorganized, especially if you take too long to think of an answer or throw out the first thing that comes to mind just to say something.

Read more: 8 Tough Interview Questions and Answers for Job Candidates

Be sure to read up on the company and browse their website since many interviewers will ask candidates about their perception of the culture or the organization's growth direction. Applicants who can speak to the business in an informed manner come across as keyed in and interested in working there, making interviewers consider those candidates over others who don't.

Read more: How to Prepare for an Interview With a Recruiter: 4 Benefits for Job Seekers
Failing to Ask the Interviewer Any Questions
Another common interview mistake is failing to prepare a question or two for the hiring team. Since an interview should be both for the company and the candidate to determine whether they make a good fit, top candidates interested in working at the company should demonstrate this by the question they ask their interviewer. If they ask and you say you don't have any questions, then you may appear uninterested in the job.

Avoid asking about anything the hiring team already discussed and try not to use basic questions that anyone can ask during an interview. Try to come up with questions relevant to the position you are interviewing for, such as what additional skills would best translate for the job or what someone working in that position would say was their most favorite part.
Following Up Improperly
Following up with the interviewer and thanking them for talking with you is one way to stand out from candidates who don't, but there is a delicate timeframe to do this in order to not come across as nagging the hiring team.

Wait until the next day to send your follow-up, which can take the form of an email. Start by thanking them for their time and the chance to interview. Mention something about the interview or the company that you were excited to learn about to demonstrate your interest and then close with saying you are looking forward to hearing from them.

Outside of that note, you should wait to send anything else until the date the interviewer(s) mentioned you would hear back about whether you will proceed to the next phase of the process. If you don't hear back by that date, wait a few days and send a follow-up email asking for an update.

Another exception for reaching out is if your situation changed, such as receiving another offer from a different company. In that case, let the interviewer know but indicate that you would like to work at their organization but have a short timeframe to consider both offers, which can expedite the process if you are a top candidate.

Are you looking for a job? Sparks Group helps job seekers find temporary, part-time, and full-time positions in areas including accounting and finance, administrative and office support, creative and marketing, human resources, and information technology. Our recruiters work closely with candidates to find a job by offering resume writing and interviewing guidance.

We also recently released our Sparks Group jobs mobile app, which streamlines the application process for job seekers. Download it today on the Google Play Store or Apple App Store.
Visit our job board or contact Sparks Group today to get a start on finding and landing your ideal job.