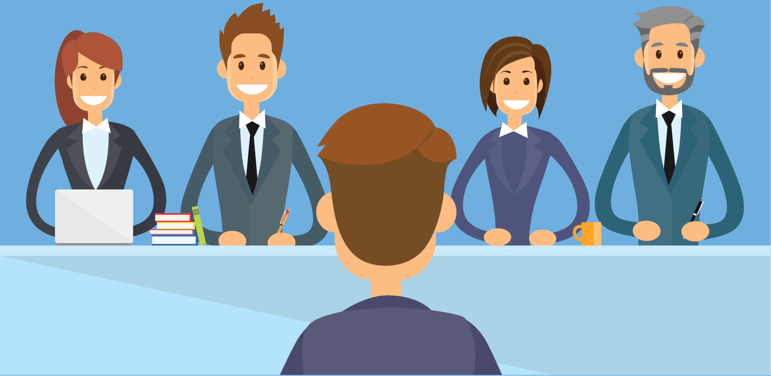 Panel interviews sound intimidating. The thought of sitting across from multiple hiring managers at once, all of whom are firing questions and forming opinions, can be daunting. But it doesn't have to be.
By tailoring your preparation and approach, you can build confidence for a panel interview, sell your skills to their best advantage, make a great impression on hiring managers, and hopefully move to the final phase of the interview process and hiring process.
Here are six interview tips to make that happen:
1. Find out who will be interviewing you.
If you can, learn in advance who will be on the panel: name and job title. Use the company's website or other materials to find out what role each panelist plays in the organization. This information will help you get acquainted with the interviewers and prepare your approach. Talk to your recruiter to learn more about who might be on your interview panel.
2. Make an educated guess at who might ask which questions.
Once you know who is on the panel, you can gain insight into which panelist might ask certain types of questions. For instance, if you're interviewing for an IT position, a prospective team member might want to know about your technical skills, while a prospective supervisor or executive might ask how you communicate your results with non-technically minded departments. Then, prepare for these job interview questions.
3. Build a connection with each panelist during the interview.
At the job interview, begin by introducing yourself to each panel member. During the interview, try to make connections with each panelist by using the same signs of interest and active listening skills you would use if you were speaking to only one interviewer.
4. Remember to address the entire panel.
Although only one panel member will ask each interview question, don't forget to address your answers to everyone on the panel. Make eye contact with each member of your audience as you speak, if only briefly. Don't hesitate to draw connections between the answer you give one panelist and an answer you gave to another panelist, or to make connections between questions asked by different panelists.
5. Tailor your questions for each panelist.
By learning who will be on your panel, you can also come prepared with one or two questions to ask each panelist specifically. This is your opportunity to get a broader "overview" of the company than you might get from one interviewer alone, as well as your chance to target in-depth questions to the individuals who can answer them best.
6. Follow up with each panelist.
After a one-on-one interview, you would send a thank you note to your interviewer. After a panel interview, follow up by sending a personalized note to each member of the panel. Use the note to remind panelists of the connections you made during the interview and to restate your enthusiasm for the position.
At Sparks Group, our experienced recruiters help you connect to great employers and polish your interview skills to a shine. Contact us today for more great interview tips or to learn more about our professional employment opportunities in Washington, D.C., Maryland, Virginia, North Carolina, and beyond!