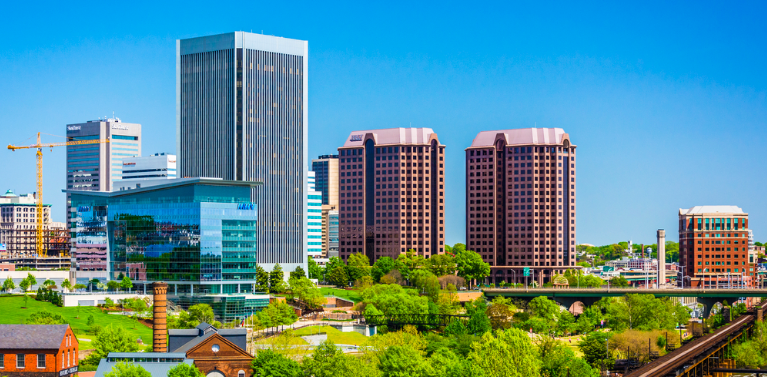 As the state capital of Virginia and a metropolitan hub, Richmond is home to a number of businesses of different sizes and industries. The finance, government, legal, manufacturing, technology, and healthcare industries are just some of the top employment opportunities available to candidates looking to find jobs in the growing market of Richmond, VA.
A few reasons for job seekers to explore opportunities in Richmond is that the unemployment rate is currently lower than the national average, at 3.1 percent, a good indicator for job stability. Richmond was also recently named number 15 of the top 25 metro areas with the fastest job growth, indicating a strong, growing local economy. This strong job market, combined with a high quality of life, have also contributed to Richmond regularly being named as one of the "best places to live" in the U.S.
Here are a few tips to find jobs in Richmond, VA that can help job seekers find the ideal position:
Find Jobs in Richmond, VA
1. Optimize Your Resume
Not only should your resume and cover letter reflect skills that make you an ideal candidate, it should also tell a career story. Give the recruiter a memorable idea of who you are beyond your accomplishments to leave a strong impact.
Consider the circumstances that led you from one position to the next, and what each step added to your journey as a candidate. This helps you to create a valuable story and prepares you for behavioral interviews.
Another tactic is to optimize your resume for Applicant Tracking Systems (ATS). Applicant Tracking Systems are software applications that collect, sort, and rank job applications and resumes. Depending on the company, understanding how to write a resume for an Applicant Tracking System could be a valuable asset to finding a job in Richmond.
2. Network
One recent survey estimated that 85 percent of jobs are filled through networking. While networking is consistently listed as one of the top ways to find a job, networking today fortunately comes in many different forms.
Attend a job fair, join a professional networking association, or increase your activity on LinkedIn. Check out networking events in Richmond on meetup.com to find one that appeals to your interests and works with your schedule. Invest time and effort, and let people know that you are interested in new job opportunities.
3. Social Media
73 percent of companies surveyed have successfully recruited a candidate through social media, so leveraging social media platforms to find opportunities and connect with employers is a worthy search method to utilize.
One of the most popular channels to find a job using social media is LinkedIn, which is built for users to display their professional information and related content. Recruiters commonly use this platform to discover and/or screen potential candidates, so creating a profile could be beneficial in a job search.
4. Richmond, VA Job Boards
Job boards have postings for all different industries, while others focus on specific industries. Professional organizations also maintain job boards; for example, the Society for HR Managers (SHRM) posts open positions for HR professionals at all levels, across a number of different industries.
5. Work With Staffing Agencies in Richmond, VA
There are many jobs, however, that never make it to a job board or get posted at all. In a tight job market, many employers choose to work with staffing agencies in Richmond, VA for their recruiting expertise and diverse, well-maintained talent pool. For job seekers, being a part of a staffing agency's talent pool can help place them in new opportunities within a network of highly sought out companies.
Moreover, a staffing agency allows a candidate a number of different options in types of employment: temporary, direct hire, or contract to hire just to name a few. This gives candidates the opportunity to test out a new employer to make sure that the job is a good fit or to take a short-term position to maintain an income while continuing a job search.
Even in a strong job market like Richmond, VA, it can be difficult for job seekers to connect with their ideal employers. Job boards, networking, and staffing agencies all provide access to different job opportunities, which may not be available through other avenues. Ensuring that your job search covers all the different ways of accessing new opportunities will help to improve your chances of connecting with the ideal position when it becomes available.
Sparks Group is a staffing and recruiting agency that helps job seekers to find jobs in Richmond, VA by matching their skills and aspirations. Our recruiters are specialized in varying industries and areas of focus to optimize the job application process and quickly place job seekers in promising positions.
Connect with a recruiter to maximize your job search efforts or check out our job board to discover new opportunities.
---
Sources:
http://www.yesrichmondva.com/richmond-advantages/Key-Industries
https://www.deptofnumbers.com/unemployment/virginia/richmond/
https://wtvr.com/2017/08/25/the-25-metro-areas-with-the-fastest-job-growth/
https://www.linkedin.com/pulse/new-survey-reveals-85-all-jobs-filled-via-networking-lou-adler/
https://www.topresume.com/career-advice/7-top-job-search-statistics
https://www.richmond.com/business/local/richmond-area-ranked-on-u-s-news-list-of-best/article_94e5fda8-bd6c-5f83-bc55-67abc6877171.html