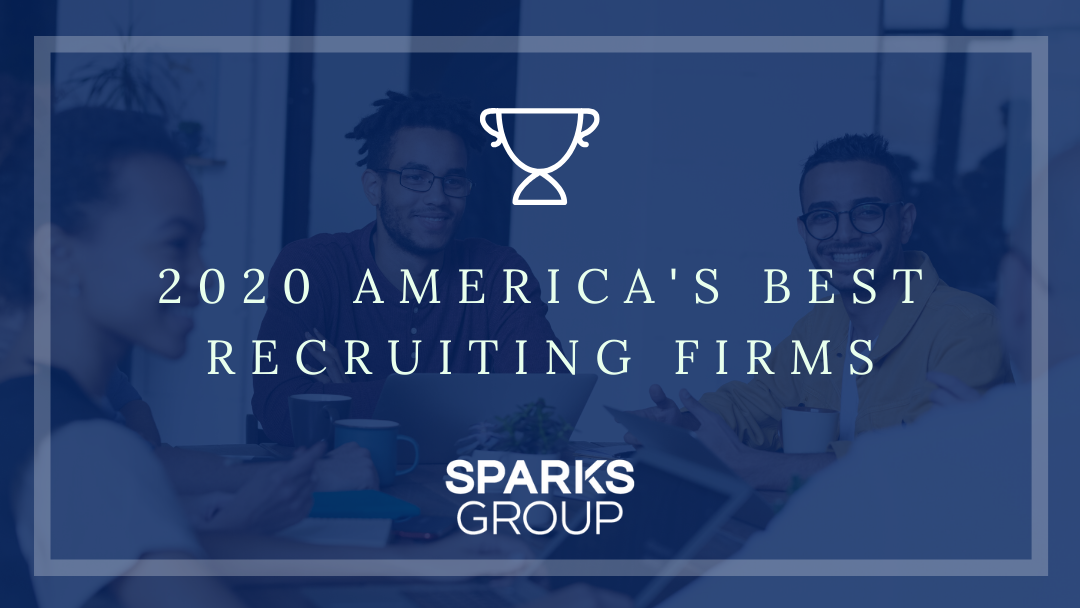 ROCKVILLE, MD – June 1, 2020 – Sparks Group, a leading staffing and recruiting services provider has been named to the 2020 Forbes List of America's Best Recruiting Firms. Awardees had the opportunity to be named in two categories: America's Best Executive Recruiting Firms (defined as filling positions with salaries of $100,000 or greater) and America's Best Professional Recruiting Firms (defined as filling positions with salaries of less than $100,000). Sparks Group is fortunate to be one of only 69 companies to be named in both categories in 2020.
"Our company is honored to be named by Forbes as one of the Best Recruiting Firms in the U.S.," said Evette Baker, President. "Being named to these lists is a testament to the high-quality service that our recruitment, account management and corporate teams provide to our clients and talent every day."
According to the announcement, Forbes and market research partner Statista surveyed 25,000 individuals, including human resources managers, hiring managers, and job candidates. Each of the lists can be viewed on Forbes' website here and here.
This recognition from Forbes continues a long trend of Sparks Group being named as one of the best staffing and recruiting firms in the country. The Forbes lists marks the second national award in 2020 for Sparks Group, who was also earlier named as recipients of ClearlyRated's 2020 Best of Staffing Client Diamond Award and 2020 Best of Staffing Talent Diamond Award in February 2020. Additionally, Sparks Group is routinely named to lists for the area's top workplaces and has been awarded for its commitment to business ethics.
About Sparks Group:
Sparks Group is a national temporary staffing and recruitment agency and provides contingent and full-time talent and business services to great organizations in Maryland, Virginia, Washington, DC, North Carolina, and beyond. Sparks Group brings fifty years of experience placing professionals in challenging and rewarding temporary and permanent positions at the best companies. Each of our four staffing divisions (Office, Accounting & Finance, Information Technology, and Creative) specializes in placing professionals in roles across various areas of expertise.
Contact:
Sparks Group
Shawn Connelly, Marketing/Proposals Manager
(301) 279-2300