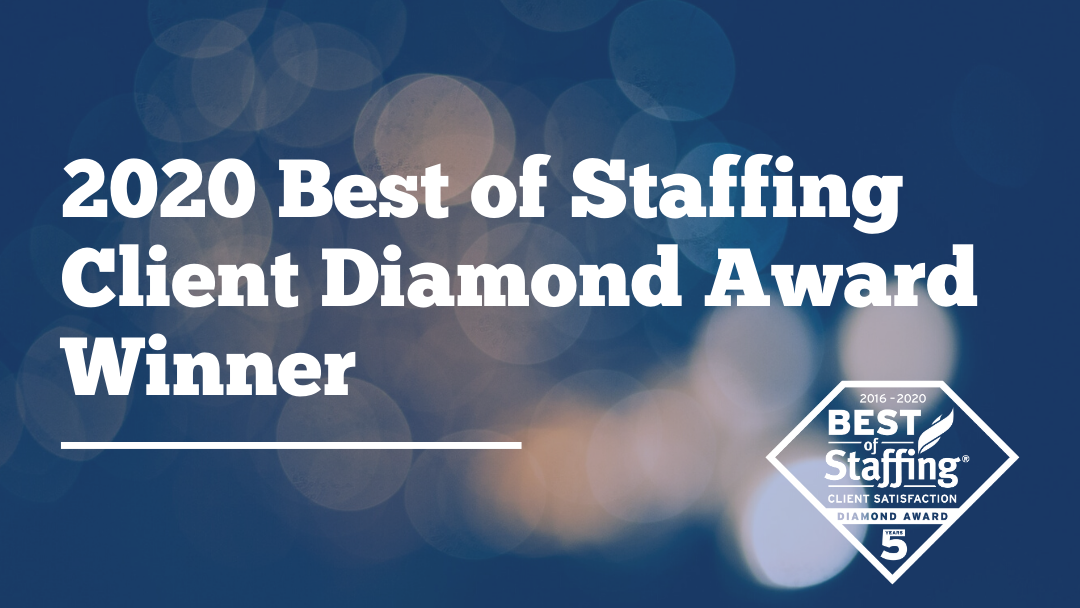 ROCKVILLE, MD – FEBRUARY 4, 2020 – Sparks Group, a leading staffing and recruiting services provider in the Accounting & Finance, Government, Human Resources, IT, Marketing, and Office/Administrative industries announced today that they have earned ClearlyRated's Best of Staffing Client Diamond Award.
Presented in partnership with CareerBuilder, Indeed, and Glassdoor, ClearlyRated's Best of Staffing Award winners have proven to be industry leaders in service quality based entirely on ratings provided by their clients. The Diamond Award honors those firms that have been selected for the Best of Staffing Award at least 5 years in a row.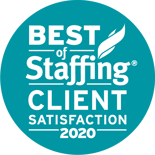 On average, clients of winning agencies are 3.3 times more likely to be completely satisfied with the services provided compared to those working with non-winning agencies. Winners who earned the Diamond Award distinction have won the Best of Staffing Award for at least 5 years in a row, consistently receiving industry-leading satisfaction scores from their clients. Sparks Group received satisfaction scores of 9 or 10 out of 10 from 78.9% of their clients, significantly higher than the industry's average of 24%.
Learn More: What Do Staffing Clients Value Most? 2020 Client Satisfaction Survey Results
With fewer than 2% of all staffing agencies in the U.S. and Canada earning the Best of Staffing Award, just 35% of the 2020 Best of Staffing winners received the Diamond Award distinction. The winners of this award truly stand out for exceeding client expectations. 2020 marks the fifth year in a row that Sparks Group has received the BOS Client Diamond Award, and the ninth year in a row as a BOS Client Award Winner.
"Everyone at Sparks Group takes great pride in being recognized as a recipient of the BOS Client Award," said Owner and CEO Steve Sparks. "It is so gratifying to know the heart and passion we put into making our client's successful is felt on their end. The wonderful words they use to express appreciation for all we do serves as fuel to strive even harder to exceed their expectations."
About Sparks Group
Sparks Group is a national temporary staffing and recruitment agency and provides contingent and full-time talent and business services to great organizations in Maryland, Virginia, Washington, DC, North Carolina, and beyond. Sparks Group brings nearly fifty years of experience placing professionals in challenging and rewarding temporary and permanent positions at the best companies. Each of our four staffing divisions (Office, Accounting & Finance, Information Technology, and Creative) specializes in placing professionals in roles across various areas of expertise.
About Best of Staffing
ClearlyRated's Best of Staffing Award is the only award in the U.S. and Canada that recognizes staffing agencies that have proven superior service quality based entirely on ratings provided by their clients and job candidates. Award winners are showcased by city and area of expertise on ClearlyRated.com – an online business directory that helps buyers of professional services find service leaders and vet prospective firms – based exclusively on validated client and talent ratings and testimonials.
About ClearlyRated
Rooted in satisfaction research for professional service firms, ClearlyRated utilizes a Net Promoter Score survey program to help professional service firms measure their service experience, build online reputation, and differentiate on service quality. Learn more at https://www.clearlyrated.com/solutions.
###
Contact
Shawn Connelly, Marketing Manager
Office: (301) 279-2300
Email: sconnelly@sparksgroupinc.com