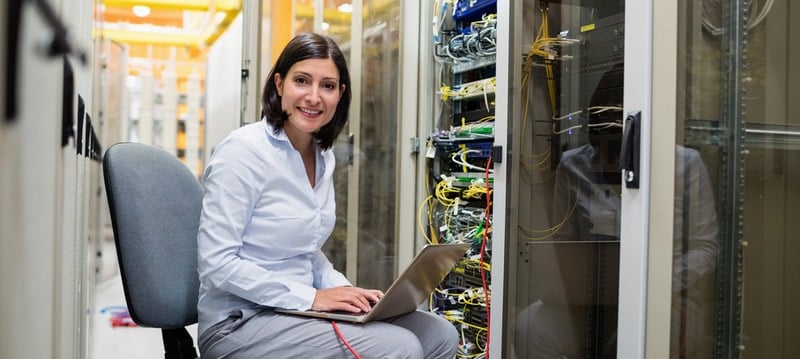 Information technology (IT) jobs often dominate lists of "best" career opportunities – and for good reason. IT jobs tend to be well-paid and in high demand, regardless of location. Further, an experienced and knowledgeable technology candidate can often negotiate for top benefits, work-life balance, and telecommuting considerations, all aspects that appeal most to job seekers.
However, as the field of IT advances and changes, the demand for different positions rises and falls. The technology positions in highest demand tend to be those that are needed in organizations of all sizes, across many different industries.
Top IT Jobs In Demand For 2019
1. Cybersecurity Engineer
As companies grow more concerned about the security of their data and systems, demand for cybersecurity specialists is expected to grow accordingly.
According to the Bureau of Labor Statistics, demand for information security analysts will grow 28 percent from 2016-2025, much faster than the average for all occupations. As companies compete for a limited pool of cybersecurity experts, wages will be pushed higher, reaching $95,500 on average, for a candidate with a bachelor's degree and a few years of experience.
Candidates with certifications, such as the CISSP, additional experience, or specialized knowledge (IoT or Big Data security) will be able to demand significantly higher compensation.
Learn More: 5 Skills You Should Master to Get Noticed by IT Recruiting Firms


2. Big Data Engineer
Businesses are taking advantage of big data to become more cost-effective, improve customer relations, gain business insights, and conduct predictive modeling. However, in order to transform massive amounts of raw data into actionable insight, a company must have a big data engineer with appropriate skills. And as big data complexity and applications grow, demand for employees with these technology skills will grow as well.
3. AI/ML Specialist
New applications for artificial intelligence and machine learning are being found at an exponential rate; and as a result, the number of AI/ML jobs are increasing. A study from the job posting site, Indeed, found that demand for AI candidates doubled from 2015-2018, while the number of AI jobs increased by 119% over that time.


4. Mobile Applications Developer
As the distribution and use of mobile devices grow globally, people are spending more and more time on mobile applications. People who can create applications for mobile platforms, and have knowledge of web development, will be in high demand across industries.


5. Site Reliability Engineer
Site reliability engineers are responsible for ensuring that large-scale, complex technologies are reliable and scalable, ensuring that products and services are available to customers at all times. Site reliability engineers are needed across all industries, as customers expect always-on, 24-7 access, and are growing increasingly intolerant of system errors.
A recent survey from LinkedIn found that the median salary for site reliability engineer is expected to reach $200,000 per year, reflecting a 1400% year-over-year growth in demand for qualified candidates.
Why Work With An IT Recruiting Firm?
As IT jobs are increasing in demand across the board, companies are competing for a limited pool of qualified candidates. IT professionals have many options to choose from and it can be a frustrating and tedious task searching and applying for companies, not knowing who will deliver the best job offer.
By working with an IT recruiting firm, IT professionals can leverage the insights of recruiting experts and expand their network of companies to choose from. Recruiting experts specializing in the field of IT, like Sparks Group, can match candidates to their ideal job opportunities based on their aspirations, needs, and requirements.
Sparks Group is a staffing agency with a dedicated team of recruiting experts specialized in matching information technology professionals with their ideal IT job. Our IT staffing services guide candidates through the job search, interviewing, and onboarding process for a smooth job transition.
Contact our IT recruiting experts or visit our job board to find your next opportunity in information technology.
---
Sources
https://www.bls.gov/ooh/computer-and-information-technology/information-security-analysts.htm
https://www.hiringlab.org/2018/03/01/demand-ai-talent-rise/
https://blog.linkedin.com/2019/january/10/linkedins-most-promising-jobs-of-20