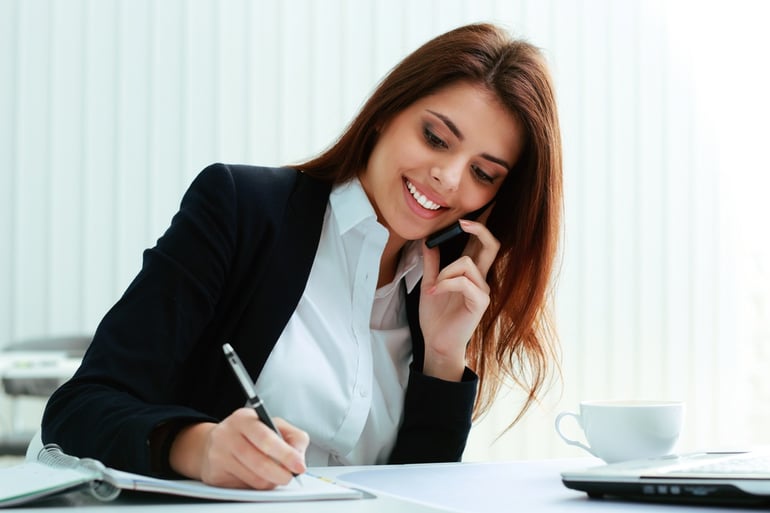 Studies suggest that nearly 90% of human communication is nonverbal so the phone is not necessarily the best showcase for your charisma, confidence and body language to shine. It is also much more difficult as a candidate to read the cues from the interviewer over the phone than it would be in a face-to-face meeting, so making adjustments to your answers along the way can be trickier.
Another big problem with the dreaded phone interview is that we are a mobile society and odds are that at least one of the parties will be on a cell phone. This can be fraught with issues including the potential for dropped calls, bad signal strength and shoddy reception, poor network quality which can make someone sound as if they are slurring, significant background noise, or the dreaded delay, which makes it hard for callers to hear when the other party is done talking. On the other hand, as a busy candidate, you will find that this phase of the interview process is a great use of your time and an easy way to determine if an opportunity is right for you.
Whether you love it or hate it, the phone interview is here to stay. Companies have regionally and/or globally distributed work teams. Telecommuting is on the rise, so many team members may not even be on site at a company facility to conduct an interview. Also, it can be a good use of both the candidate's and the employer's time.
Related: How to Prepare for a Phone Interview
For out of town candidates, there's a clear benefit to both parties to have a quick conversation to ensure there's a baseline fit, before investing in travel time and expenses. So, how can you as the candidate, turn the phone interview into a clear advantage for yourself? This article provides 11 phone interview tips that will help you mitigate some of the inherent problems of the phone interview, as well as help you stand out and make the most of this opportunity.
Use These Tips to Ace Your Next Phone Interview
1. Avoid Using Your Mobile Phone
Mobile devices are awesome, however, they can be unpredictable, so if at all possible, use a landline for this call so that you can guarantee clear reception and service. Disable call waiting if at all possible too. If that isn't possible, be sure to pick a quiet place to conduct the call and check the signal strength on your mobile beforehand, so there will be no surprises. Stay away from using a Bluetooth® device if you must use a mobile phone, as they can compromise call quality too.
2. Dress the Part
We are certainly not suggesting that you need to put on your best suit for a phone interview, but if you're overly casual in your posture, attire, or environment, your voice will reflect it. Sit up straight at a desk or table, with your feet on the floor, and wear traditional business or business casual clothing. You will feel more professional and put yourself in "work mode" and it will come through in your voice. You can even stand up and walk around the room a bit and use hand gestures, if you typically would in live conversation. You'll sound more animated and probably more engaged. If you're a natural skeptic, try this experiment. Put on your comfy pants, lay down on the couch and put your feet up, now record yourself on your mobile phone answering the following question: "Where do you see yourself in five years?"
Now, wear standard business or business casual attire and sit up at a table or desk with your feet in front of you. Record yourself again answering the same question. Finally, stand up, stretch, shake your arms and legs out a bit, take a sip of water and record yourself answering the same question again. Now, listen to all three recordings back-to-back. Which one gives the listener the best version of you? Amazing, right?
3. Power Down
Turn off your computer, radio, TV, and your mobile phone if you are not using it. The last thing you need is a distraction. You want to really focus on the call and nothing else. Do not check your email, tweet, or read texts – they can all wait. The phone interview will typically not last very long and you should afford the interviewer the same courtesy of focused communication that you would for a face-to-face job interview.
4. Look in the Mirror
If possible, have a mirror close by. Check yourself periodically while you're talking. Are you smiling? Do you appear confident? If you are not, your caller will definitely hear it. Before the call, relax, take some deep breaths, stretch if possible, have a few sips of water, spit out your gum, put any snacks away, and take a good look at yourself. Smile, be confident and convey an upbeat mood and attitude.
5. Use Cue Cards
Since it is a phone interview, the caller cannot see you. Make this work to your advantage. Have questions written out beforehand, have your resume printed out and ready for you to reference. Have some notes on the company, position and hiring manager handy. These can be pulled from sources such as the internet, a recruiter or from your own super sleuth detective work. It is recommended to print out a copy of your resume, then highlight key topics that you want to be sure to convey (more on this in the next tip). Write out a few key questions on note cards in fairly large print and have them laid out on the desk or table in front of you. Be sure to ask them and jot down responses as you chat. Have the job description and other data points handy, again highlighted or notated with where you want clarification. This would seem awkward in a personal interview, but use your temporary "cloak of invisibility" to your advantage and you'll sound better prepared, more articulate and more engaged in the interview.
6. Practice Makes Perfect
Be sure you have well rehearsed and compelling answers to the standard interview questions that you know you're likely to get. These include strengths, weakness, why you're looking, and the old standby, "tell me about yourself". Be fully ready to explain any gaps in employment, salary history and any significant career path changes you've made. Be prepared by writing out answers in advance and practice saying them a few times so you're sure they sound natural, confident and credible before the phone interview.
Gather several colors of highlighter pens, a printed copy of your resume and the job description for which you're interviewing. On the job description, pull out the top 3-5 required skills/attributes or experience factors needed for success. Highlight each one in a different color. Now, go to your resume and map those colors/skills back, so that your resume is now highlighted in the same colors and you can easily walk the caller through how your experience specifically matches their requirements.
7. Be Attractive
We are all human and we tend to respond to people who think, talk and act like we do. But there are subtle things you can do to make the interviewer more at ease with your communication style and more interested in taking things to the next phase. Listen to the interviewer. Are they animated or more even keel? Excitable and passionate? Or grounded and soft-spoken? Pay attention and adapt your tone and pace of speaking to match theirs slightly, keeping it very natural. Jot down key words that they use and try to reiterate those in your own dialog so you'll be "speaking the same language". Try to avoid any negative words and stay positive. Ask them questions that show you're engaged, interested in them and their perspective on the organization and the role. Do not ever interrupt the interviewer. If you are on a mobile phone, this may mean waiting 2-3 seconds after they finish talking to speak, just to be sure. Consider the phone interview like a first date and remember that you want to be the one to control whether you get a second one, or not.
8. Be a Sleuth
With all the resources available today, there's no excuse for going into any interview without doing your research. If nothing else, this will show that you're intelligent, interested in the opportunity, and a fairly savvy candidate. Prior to the call use online resources such as Google, LinkedIn, Facebook, or Glassdoor to see what you can learn about the person on the other end of the phone. Make sure your Sparks Group representative tells you about their experience placing job seekers at this organization.
Find out how prior interviews have gone, and what you should expect. Be sure that you've taken time to fully review the hiring firm's web site and understand their organization's mission/vision, their organizational structure, what they do, and some recent news about them. Use this information both to generate better questions to ask, and to tailor your answers to questions so that they not only reflect your personal truth, but also match the company's culture and direction.
9. Get Your Facts Straight
The purpose of many phone interviews is really a brief technical screen. The interviewer wants to spend 10-15 minutes with a handful of candidates to quickly determine if they have the appropriate technical expertise, or hard skills, to do the job. In other words, they want to see if you really know all the things you say you do in your resume. Then if you pass muster, they'll bring you in to assess fit for the environment, soft skills, level of interest, etc. Technical skills does not necessarily mean technology, but can also include the hard facts and processes needed to be successful in any job. Be sure that you fully understand the direct competencies and hard skills needed for the role and if you have any weaknesses in these areas study up prior to the interview. Don't be afraid to use notes either. You're invisible to the interviewer, so allow that to work to your advantage.
10. Bring a List of Questions
The worst thing an interviewer can hear is "No, I don't have any questions". This makes the candidate sound uninterested in the opportunity, or (worse yet), not analytical enough to dig into any of the covered topics. By all means, have some questions prepared. Do not ask about benefits, pay, flex time or related topics at this stage of the game. Keep your inquiries professionally-focused and ask about their expectations, vision, past successes or failures in filling this role, culture, or tools/methodologies/processes used in the role. The best questions are "high octane" – they get you information and cast you in a more intelligent light with the hiring manager.
Learn More: 5 Questions to Ask in an Interview: How to Become a Standout Candidate
11. Lock and Load!
If you feel like you are a good fit for this role, don't be shy. When the interview is over, tell them that you have genuinely enjoyed speaking with them and getting to know more about the organization and the role. Share how you feel you are a good match for their need and (briefly) how you feel you could make an impact. Ask them what the next step would be. Ask if they have any hesitation in moving forward. If they are on the fence or not interested, this gives them the opportunity to share their concerns with you so that you can overcome their potential objection(s). Thank them for their time and be sure that you're helping to drive the next step that you want to achieve.
While phone interviews can be tough, candidates often finding sifting through millions of online job postings to find positions to apply to be the most challenging part of the job search.
Partnering with a staffing and recruiting firm, like Sparks Group, can help streamline your job search by matching you with an employer that fits your skills and experience. At Sparks Group, we take the time to understand your expertise and career goals to place you in a position that will take your career to the next level.