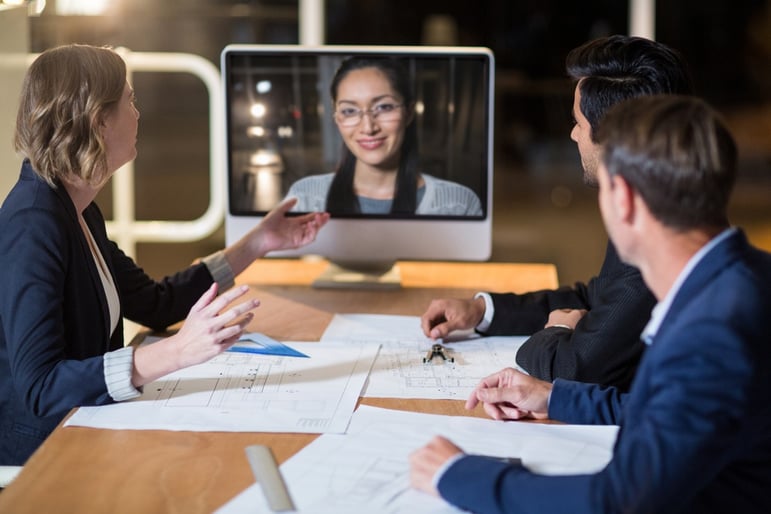 Video job interviews are quickly growing in popularity, especially for candidates seeking positions outside their current area. This type of interview is much more personal than a phone interview, allowing each side to speak face-to-face, while miles apart.
Video Job Interview Tips: 5 Things to Avoid
If you're moving through the interview process and preparing for your first video interview, it's important to remember that this one will be very different than all the others you've had in the past. Get off to a good start by remembering not to commit any of the following five offenses:
Failing to Dress the Part: There's a good chance you'll be video interviewing from your home ─ a place where you typically walk around in t-shirts, instead of business attire. However, it's important to remember that it's still a job interview and you need to look professional. When getting ready for the interview, prepare your look exactly as if you were heading out for a face-to-face job interview.
Not Testing Technical Equipment Out Beforehand: Technical equipment can be tricky, so it's important to test it out beforehand to work out the kinks. Make sure you know how to use the software, that your webcam is positioned properly, and that your sound is working. It's a good idea to place a test call to a friend or family member to practice.
Interruptions: If your home is a noisy place, choosing a quiet spot for the interview is essential. Put your cell phone on silent, unplug your landline, and keep any kids and/or pets from entering the room at all costs. Interruptions are highly unprofessional and make it appear that the interview is not your top priority.
Interviewing in a Messy Area: Just as it's important to choose a quiet area for the interview, it's also imperative that the area appearing on camera behind you is pristine. Stacks of papers and other items in the background make you appear sloppy and disorganized ─ two characteristics you do not want your interviewer to associate you with. Opt for a space with nothing, or as close to nothing as possible, in the background to minimize distractions and keep the focus on you.
Not Looking at the Camera: Maintaining good eye contact with your interviewers is essential throughout the meeting. While it may not seem natural to keep looking at the camera, you must constantly remind yourself to do so. Incessantly looking down may cause you to appear distracted or uninterested, which will certainly not score you any points.
Ready to get started in a rewarding new career? Contact Sparks Group. We have a variety of diverse and challenging contract and full-time employment opportunities throughout Washington DC, Maryland, Virginia, and North Carolina.