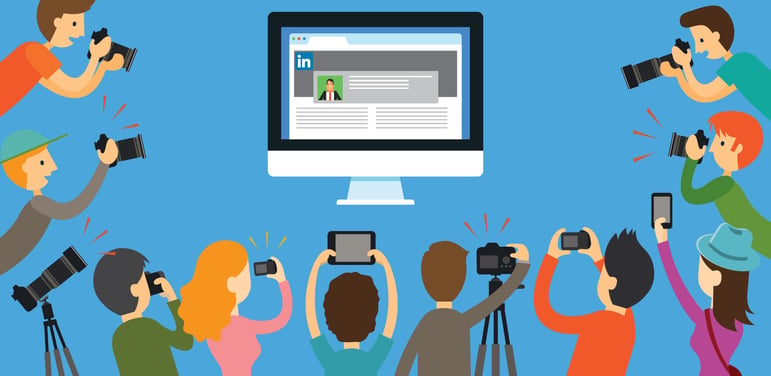 As staffing experts, recruiters know exactly what hiring managers are looking for and their expansive networks are filled with contacts that can help you land your dream job. Consequently, having a recruiter on your team can be invaluable.
Use these 10 LinkedIn profile tips and best practices to help you get discovered by recruiters in your field, and hopefully find a great job.
1. Complete Your Profile
A LinkedIn profile filled with information makes you look like a consummate professional and helps you appear in more search results. If you haven't already added your professional history, and/or details on interesting projects you've completed, add them immediately.
Learn More: LinkedIn Profile Tips - How Much Work History Should You Share?
2. Post a Professional Headshot
Unlike many other social media platforms, LinkedIn is all business, so your profile photo needs to match the tone of the site. Pictures of kids, significant others and pets are great, but they should be left out of this one so that you're the sole focus. If you have a professional headshot, use that. If you don't, ask someone to take a picture of you looking impeccably groomed, standing against a plain white wall
3. Join LinkedIn Groups and Participate in Discussions
Put yourself out there by joining groups relevant to your industry, profession, city and alma mater. Simply being in the groups isn't enough to catch the eye of a recruiter. Increase your visibility by contributing to discussions and adding value to the conversation.
4. Share Content on a Regular Basis
Stay on the minds of recruiters you're already connected with by posting regular status updates. Share interesting articles relevant to your industry or take the more direct route of making it clear you're seeking opportunities — only if the latter won't get you in a sticky situation with your current employer.
5. Optimize Your LinkedIn Connections
LinkedIn has more than 433 million members, so if your network is on the small side, search around for colleagues, classmates, friends and family and ask them to connect. Some of these people probably have recruiters in their networks, and they're more likely to find you with a shared connection.
Learn More: How to Make Connections on LinkedIn (with Potential Employers!)
6. Follow Sparks Group (Shameless Plug)
If you're not already following Sparks Group on LinkedIn, you're missing out on a constant stream of job postings and career tips that can help you get hired by some of the best companies in DC, Maryland, Virginia, North Carolina, and beyond. Follow us today!
7. Publish LinkedIn Blog Posts
Put yourself in the spotlight by writing blog posts and publishing them on the LinkedIn platform. Position yourself as a thought leader by writing on topics relevant to your field. Use the Google AdWords Keyword Planner to find keywords and phrases to incorporate into your text to boost its search rank.
8. Endorse Your Connections
Help your contacts out by endorsing them for skills you can vouch for. Not only is this a nice gesture, there's also a good chance they'll return the favor by giving you an endorsement.
9. Ask for Recommendations
Increase the credibility of your profile by asking people you know and trust to write you a recommendation. These testimonials appear on your profile and look pretty impressive to recruiters trying to learn more about you. Be sure that recommendations are from individuals who have firsthand experience with your work.
Learn More: Do LinkedIn Recommendations Seal the Deal? Or Ruin Your Chances?
10. Update Your Profile Regularly and Notify Your Network
Little things like learning a new skill or completing an project may seem trivial to you, but you never know what will catch a recruiter's eye. Update your profile often, and when you do, make sure you have your settings marked to notify your network of profile changes, so the revisions you've added will appear in your contacts' newsfeeds.
Finding the right opportunity in the Maryland, Virginia, DC, and North Carolina can be a challenge, but you don't have to go it alone. Sparks Group is here to assist in your search every step of the way. We've been helping talented professionals like you find rewarding opportunities since 1970, so contact us today to get started!