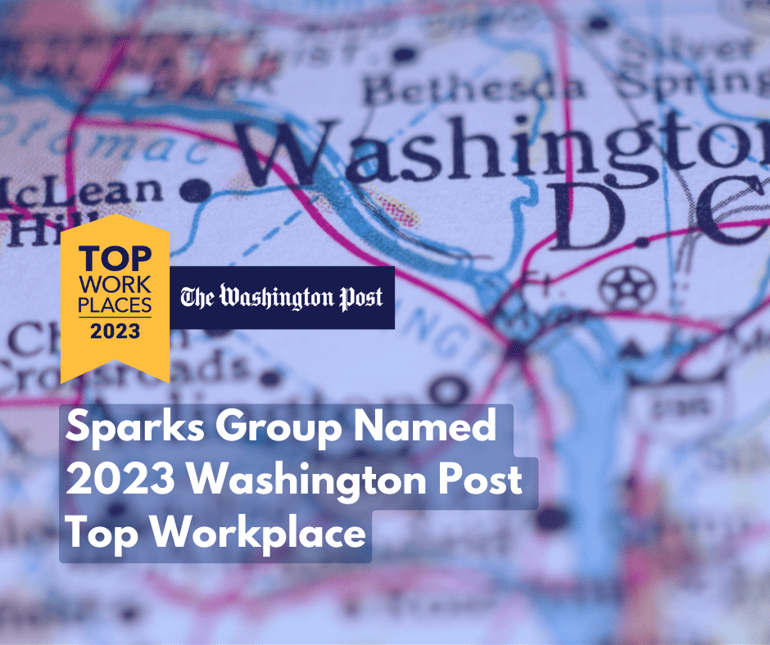 Leading staffing and recruiting services provider is a seven-time winner of the Washington Post Top Workplaces Award
Sparks Group has once again been named one of The Washington Post's 2023 Top Workplaces in the Washington, D.C. area. Selection is based solely on employee feedback gathered through an anonymous third-party survey administered by research partner Energage, LLC, which measured several aspects of workplace culture, including alignment, execution, and connection. This year's honorees include government contractors, real estate firms, consulting groups, and tech companies.
"We are humbled and grateful to be recognized by The Washington Post again as a Post Top Workplace," said Owner/CEO Steve Sparks. "We strive everyday to create a great work environment for our employees with the expectation they will let this shine throughout their interactions with our clients and candidates. I couldn't be more proud of our team and what we stand for when it comes to serving all of the communities we touch."
"For the past ten years, the Top Workplaces list has been a credible guide to companies, old and new, in the D.C. region where employees feel valued," said Washington Post Top Workplaces editor Bronwen Latimer. "As a new generation enters the workforce, the Post is more committed than ever to highlighting the changing landscape of work and how these companies are thriving in it."
This recognition from The Washington Post continues a long trend of Sparks Group being named by major publications companies as a top workplace and as a best-in-class staffing agency in the markets we serve. Earlier this year, Sparks Group was named as a recipient of ClearlyRated's 2023 Best of Staffing Award for Client, Talent, and Employee satisfaction honoring client, talent, and staff satisfaction, and inclusion on the inaugural 2023 Best Staffing Firms for Women List.
The full list of recipients, along with additional content was published in a special Top Workplaces magazine on June 16, 2023 and on the Post's website.
About Sparks Group
Headquartered in Rockville, MD Sparks Group is an award-winning provider of staffing and recruiting services to businesses throughout DC, MD, VA, NC, and beyond. For half a century, Sparks Group has connected professional, administrative, technical, and creative talent to many of the area's top employers.
About The Washington Post
The Washington Post is an award-winning news leader whose mission is to connect, inform, and enlighten local, national and global readers with trustworthy reporting, in-depth analysis and engaging opinions. It combines world-class journalism with the latest technology and tools so readers can interact with The Post anytime, anywhere.
About Energage
Energage is a purpose-driven company that helps organizations turn employee feedback into useful business intelligence and credible employer recognition through Top Workplaces. Built on 16 years of culture research and the results from 27 million employees surveyed across more than 70,000 organizations, Energage delivers the most accurate competitive benchmark available.