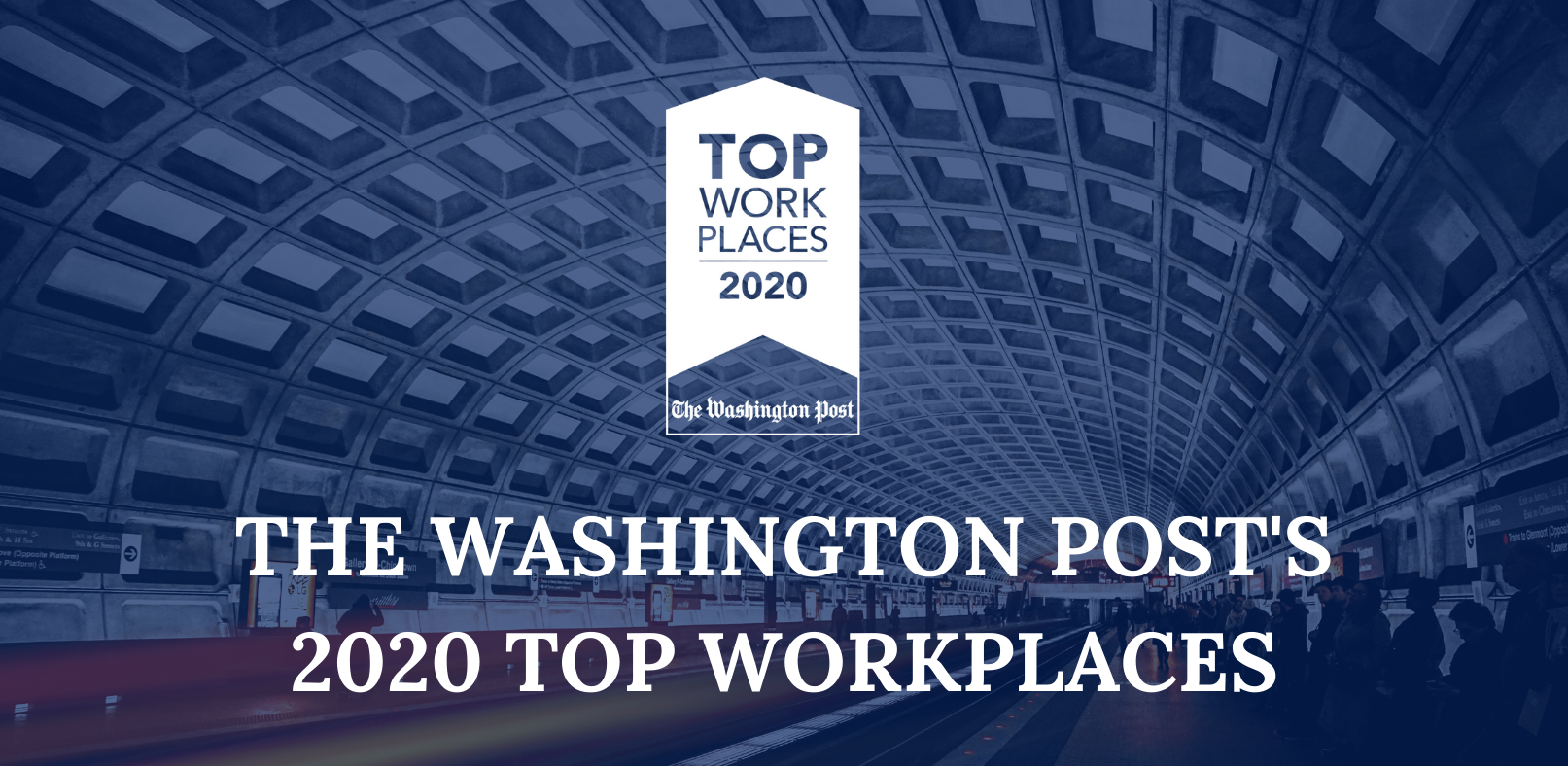 Staffing and Recruiting Firm is Chosen as a Top Workplace for the Fourth Consecutive Year
ROCKVILLE, MD – June 15, 2020 – Sparks Group, a nationally-recognized temporary staffing and recruiting firm has been named one of The Washington Post's 2020 Top Workplaces in the Washington, DC area. Selection is based solely on employee feedback gathered through an anonymous third-party survey administered by research partner Energage, LLC, which measured several aspects of workplace culture, including alignment, execution, and connection.
This year marks Sparks Group's fifth recognition by this program following its previous selections to the list in 2014, 2017, 2018, and 2019. Two hundred companies including government contractors, nonprofits, NGOs, schools, and businesses were named to this year's list. All recipients will be honored at a reception for Top Workplaces awardees in October 2020.
"I could not be more proud of our team," said Owner/CEO Steve Sparks. "After all we have been through the past few months, it is so easy to find the bright side of life when we have the opportunity to work with such dedicated professionals who are passionate about helping others find jobs and help clients find workers. Our work is not always easy, but the rewards are endless. Thank you to everyone for putting your heart into the mission."
This recognition from The Washington Post continues a long trend of Sparks Group being named as a top workplace. The Washington Post List marks the second national award in 2020 for Sparks Group, who was also earlier named as recipients of ClearlyRated's 2020 Best of Staffing Client Diamond Award and 2020 Best of Staffing Talent Diamond Award in February 2020. Additionally, Sparks Group has been awarded in the past for its commitment to business ethics.
"Now in its seventh year, The Post's Top Workplaces list continues to highlight the companies that are leaders in the Washington-area in terms of employee engagement and satisfaction," said Washington Post Top Workplaces editor Dion Haynes. "We had a record number of employees participate in the survey this year, making it clear that these organizations have made cultivating an atmosphere of support and respect a priority."
The full list of recipients, along with additional content will be published in a special Top Workplaces magazine on October 14, 2020, as well as on WashingtonPost.com. All recipients will be honored at an awards ceremony in October.
###
About Sparks Group
Headquartered in Rockville, MD Sparks Group is an award-winning provider of staffing and recruiting services to businesses throughout DC, MD, VA, NC, and beyond. For half a century, Sparks Group has connected professional, administrative, technical, and creative talent to many of the area's top employers.
About The Washington Post
The Washington Post is an award-winning news leader whose mission is to connect, inform, and enlighten local, national and global readers with trustworthy reporting, in-depth analysis and engaging opinions. It combines world-class journalism with the latest technology and tools so readers can interact with The Post anytime, anywhere.
About Energage, LLC
Headquartered in Exton, Pa., Energage (formerly known as WorkplaceDynamics) is a leading provider of technology-based employee engagement tools that help leaders to unlock potential, inspire performance, and achieve amazing results within their organizations. The research partner behind the Top Workplaces program, Energage has surveyed more than 47,000 organizations representing well over 16 million employees in the United States.