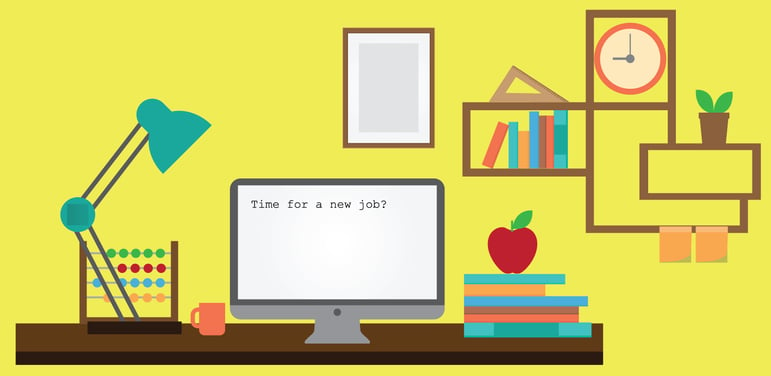 You outgrew diapers at age three, playground games at twelve, and pop music at seventeen. But there's no age limit on outgrowing your job. A bad day or two isn't a sign that you've outgrown your job. But if the occasional bad day has turned into the occasional good day, chances are good that you've grown beyond the job you have.
Related: 10 Ways Working With a Recruiting Firm Can Help Your Career
Here are 3 signs you need a new job:
Your job is one endless pile of boring tasks.
Everyone has one or two job tasks they'd rather not do. But if nothing in your to-do pile excites your interest – or worse, if you feel like nothing you do matters in any way – your job is certainly the wrong fit for you. Start by asking your boss for more responsibilities, or finding a co-worker with an interesting project and offering to help. If your company has a cross-training program that will let you explore opportunities in other departments, jump on it. It's a great way to learn more about what excites you.
You never want to go to work.
Have you started identifying with the Garfield cartoons in which the cartoon cat laments Mondays and hides in his bed instead of looking forward to the day ahead? If Garfield's "Monday" is every day at your job, it's time for a change. Even if you stay in the same position, an employer who offers more engagement and a better fit with your co-workers can liven up your outlook and get you happy to head out the door.
There's no way up.
You might have plenty of work to keep you busy, interesting co-workers, and great benefits. But if there's no clear path to advancement, it's time to ask yourself whether this is exactly the job you want for the rest of your life, or if it's time to shake things up. Start by talking to your manager about a clear path to promotion and concrete steps for getting there. If your manager can't give you a solid map, don't hesitate to find an employer who can.
At Sparks Group, our recruiters can help you grow into a great new job with a company that offers the right fit for your work style and career goals. Contact us today to learn more about our professional job opportunities in DC, MD, VA, NC, and beyond.