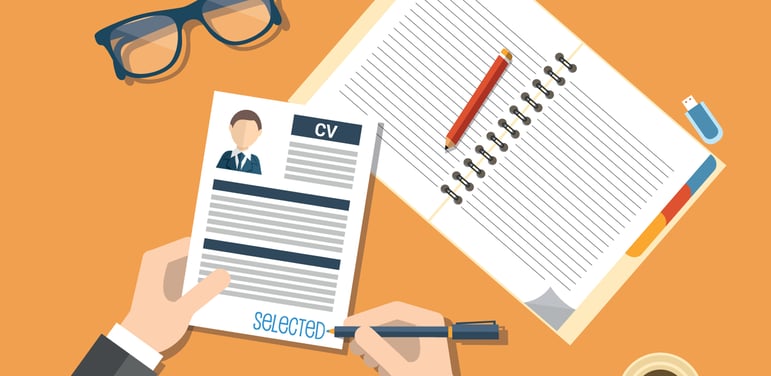 Our goal at Sparks Group is to get the maximum value out of our candidates' and clients' time. This means sending clients resumes that get noticed, get interviews, and make placements! To get noticed in today's hiring climate, you need to embrace some updated resume writing and job seeking strategies that capitalize on key business trends. An overarching change in the employment world is the wide-ranging use of automated Applicant Tracking Systems (ATS) to drive talent acquisition. Nearly every Fortune 500 company has a variation of an ATS in place, as do nearly every staffing company, consulting firm, and direct placement agency.
The Software as a Service (SaaS) model that now dominates the ATS market means that even mid-market and smaller firms can adopt ATS at a fairly low cost of entry. What does this mean for you, the job seeker? It means that in all likelihood, unless your resume has a 90% match to the stated job criteria, no human being will physically touch nor directly view your resume if you apply via the web, which is the leading point of entry for today's job applicants. Here at Sparks Group, we us an ATS so creating a resume that will work well within our system will afford you more opportunities. Furthermore, many of our clients also use these systems to filter the submittals they receive, so once you've decided to work with Sparks Group and we present you to clients, these tips will yield better results for us both.
Keywords – Learn to recognize and use them!
Almost every job description or online posting you see will have keywords embedded throughout the narrative. You need to learn to recognize those terms used often in your career field or desired role and pepper them throughout your resume.
Moreover, placing as many of these keywords as possible near the top of your resume will improve your match criteria (or, how the ATS sees you as matching up to the job). Think of the ATS as an online matchmaker! In fact, the technology that drives these systems is very similar to how many online dating services select potential mates for members. It is also what drives many SEO (Search Engine Optimization) tools and techniques. It's all about speaking the same language.
Check out the following excerpt from a current online job posting for a Healthcare IT Project Manager with a leading healthcare provider; what keywords do you see?
Essential Functions:
Deliver on-time, on-budget projects to meet or exceed customer expectations.
Manage supply and demand to ensure adequate resources are available and delivery commitments are met.
Act as the primary interface to the business partners and interface with the IT Business Segment Partners for issue resolution and project initiation.
Manage project financials, estimates, timelines, status reports, issue logs and remediation plans.
Basic Qualifications:
Minimum of 6 years experience managing IT projects including creating and maintaining project budgets along with cost accounting of resources.
Minimum of 4 years experience as the primary project manager on highly complex and large scale IT Development projects.
Experience driving projects with a strong customer focus
Proven expertise to build, track and monitor project plan(s) using either MS Project or Clarity Resource
Management to ensure that the project remains on track with regard to schedule and budget
While there are many possibilities in this excerpt for keywords that the recruiter or hiring manager may select to use in their search criteria, here are a few definite words and phrases likely to be a part of the search string: "IT Development Projects", "Project Management", "Manage Project Financials", "MS Project or Clarity", "Project Budgets"
Take the time to browse several job openings for your particular desired job and take note of the keywords that come up repeatedly. You can do this easily on any online job board by searching on your desired job title, or on an aggregation site like www.indeed.com, which pulls open jobs in a defined regional area based on your own keyword searches.
Most likely, you are going to see a lot of the same words used repeatedly since cut/paste and boiler-plated job descriptions are fairly common. You will probably notice several keywords that pop up in almost every job opening for your skill set, which you can incorporate liberally into your own resume template. Then, you can further customize each individual resume you send out to reflect keywords for more specific selection criteria associated with that particular job.
Back to our prior example, here is a further excerpt from the Healthcare IT Project Manager job description above:
Preferred Qualifications:
Healthcare experience either in health plan operations or care delivery
Technical background is highly preferred as projects are geared towards technical integration and the building of SOA services.
Spot any keywords? How about "Healthcare" or "health plan operations" or "SOA"? If in fact you have this experience, you should definitely incorporate it into your resume in a very visible and targeted manner. Ideally this should be placed in the career objective or summary of qualifications at the top of the document to improve your odds of becoming a "searchable match" for the job. Obviously, if you do not have these preferred qualifications, you cannot and should not fabricate them, but do not miss the chance to really highlight these skills if you do possess them.
Perhaps you have SOA experience, but you've called it "Service Oriented Architecture"? If so, change your term, or add it parenthetically, to match their term, "SOA". Perhaps you are not a Healthcare PM, but you are an IT PM with good integration experience and operations experience. Use all of these words frequently to improve your match criteria and increase your chances of getting selected for review.
Maybe you have been a consultant and worked across multiple industries, if healthcare was one of them, by all means, make that clear. Even if you do not have healthcare experience adding your desire to move into that high growth field in your career objective will dramatically improve your match results.
Here is some sample verbiage to incorporate into an "ATS-optimized career summary" for a Project Manager applying for the above role:
Customer-focused Project Manager seeking new opportunities in the growing Healthcare IT field, leveraging ten years of experience successfully delivering high value software development, integration, and technology infrastructure projects, on time and on budget, while exceeding client expectations. Specific expertise includes leading a collaborative team of IT peers and business partners to drive a high visibility SOA Services implementation project for a major financial institution.
By simply updating the career objective/summary, you have now successfully matched several of the keywords and critical job criteria, which will enhance your chances of getting your resume prioritized by an actual person. Additionally, you have also made it very easy for the hiring manager to quickly determine exactly why you are the right fit for the position. The truth is that you have to do a lot of work up front to ensure that your resume gets seen in the age of automation. Doing so can have a much higher payoff and is ultimately less time-consuming than spending weeks or months submitting resumes.
More Great Resume Writing Tips